How to stop a cat from playing in the litter box: it can be challenging. If you have cats you may have gone through the litter box drama. What can be done about it?
To stop a cat from playing in the litter box, you have to spend some time educating your cat and make him understand your commands. Teach him a command that makes him understand that he should not play in the litter box, and when you give the command, pick up your car and move him far away from the litter box. Some cats play in the litter when they are kittens. You can also wait for them to grow up. In most cases, it is just a phase. In any case, it is better always to train a cat from a young age.
Let's see what else can be done about it.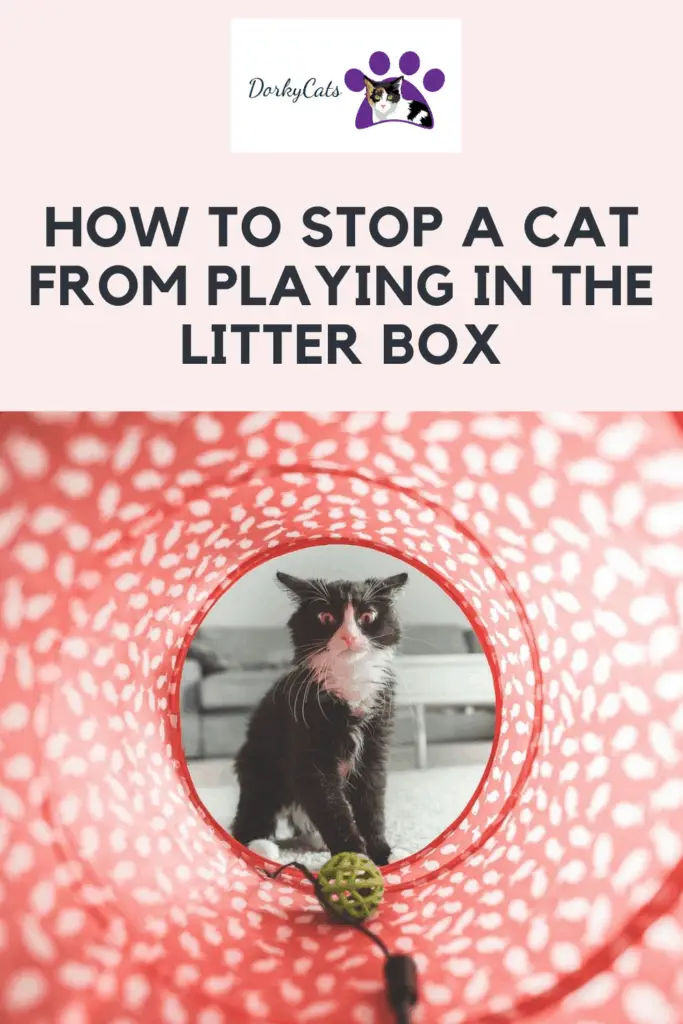 HOW TO STOP A CAT FROM PLAYING IN THE LITTER BOX
Cat normally play in the litter box when they are kittens, when they hit the one year mark usually they do not do it anymore.
Kittens go through a crazy period through the day when they run like mad from one point to another, attack random objects, and go to the litter box digging, especially when it is clean or recently changed.
Here some things you can do to prevent cats from playing in the litter box and scatter the litter all over the floor:
TRAIN YOUR CAT OR KITTEN
This is something I learned from experience, after raining my own cats. I eventually started to make them follow commands. One command they know for sure is the word "NO." If I say NO at any point in time, my cats stop in their track and look at me. They change their minds about what they were doing and go away from the "forbidden" spot.
But I got here training them from the beginning. When I saw them doing something not ok, I would say "NO" and move them away.
Done enough times, they associate the word NO with " Don't do it." It requires a bit of time and patience, but it is better to teach them some commands, in the long run, to know how to behave.
2. BIGGER SIZE AND HIGHER LITTER BOX
If you want to prevent the litter from spreading all over, while you train your cat or wait for your cat to grow older, you can get a bigger litter box with higher sides and even with a lid. In this case, even if the cat goes in it and starts digging and playing, the litter will remain in the box.
3. WAIT FOR YOUR CAT TO GROW OLDER
You can wait for your cat to grow older. Eventually, he will stop digging in the litter box and find adventures in other places of the house. But it is better to train them not to do it, even if it takes some time.
4. BETTER CATS TOYS
Try to get some fancy toys for your cat or kitten. He may be liking them much better and spend time playing with them instead than in the litter box. If there is a toy your cat likes, like a ball or so, he may want to chase the ball instead of digging.
Those were suggestions on how to stop a cat from playing in the litter box. If you have some more ideas, please leave it in the comments below.
WHY IS MY CAT PLAYING WITH HIS POOP?
Cats, especially kittens, do not care what they are playing with, as far as it is exciting and looks like a ball. Sometimes poop is covered in litter and could resemble a nice rolling object to chase, at least based on cats' logic.
Cats do this when they are kittens mainly. They like to play with anything. They like to play.
If you know how to stop a cat from playing in the litter box you are already half of the way. What you can do about it is to scoop the litter box often and train your cat to not do it with the method I listed above.
It really crazy when cats start to play with poop, but it is amongst the weird things cats can do, you have to be prepared when you sign up for a cat!
RELATED QUESTIONS
Here some related questions on "How to stop a cat from playing in the litter box" and related answers:
Why cats are scratching litter box excessively?
Cats scratch the litter box excessively for several reasons; one reason is the cat disappointment about the litter box state. If your cat doesn't have enough litter, he may keep scratching and scratching.
The cat can be stressed or anxious and thus decided to release some of the stress scratching the box. Another reason is cats who want to mark the litter box with their scent. In this way, the cat can mark territory.
The cat can also think that the litter box is not big enough to experience some health issues. Another good reason for cats digging in the litter box is just an instinct, or the cat is just playing around.
Why is my cat peeing right next to litter box?
If your cat started peeing right next to the litter box, try to clean the litter box and keep it as clean as possible. Cats are very picky; therefore, this is the first thing to look for.
My male cat has never done anything outside the litter box, he is really educated, but sometimes he poops out of the box when the box is dirty.
If, despite cleaning, things are the same, check with the vet if there is an issue; maybe the cat starts to get sick.
CONCLUSION
How to stop a cat from playing in the litter box? I hope we gave you a complete answer. If you have more questions, leave it in the comments below.
Read also:CATS USE THE LITTER BOX AFTER YOU CLEAN IT | SIMPLE REASON