CAN CATS SENSE BAD ENERGY? 10 REMARKABLE THINGS ABOUT CATS
Can cats sense bad energy? How many of you have given your cats superpowers? Or believe they could see, smell, and predict things we can't? Is it true, or is it just fiction?
Cats can sense bad energy and alert you when there is something wrong. Some cats can tell you when something terrible is about to happen, illnesses, and even life-threatening situations. But on the other hand, there is evidence of cats even saving human lives.
Let's dig more into this and see what cats can do.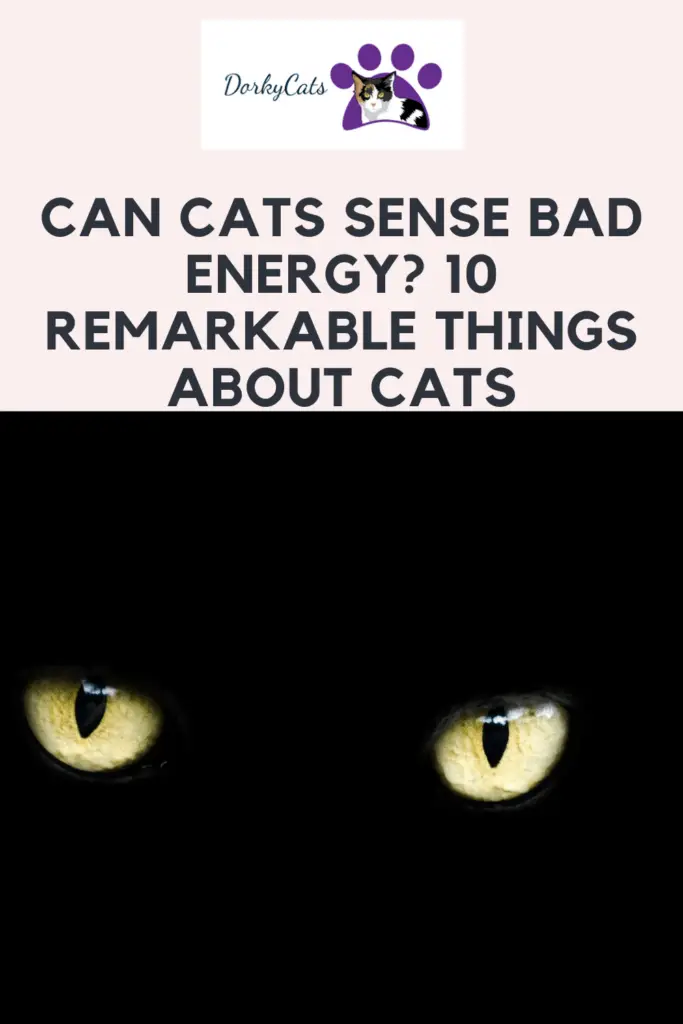 CAN CATS SENSE BAD ENERGY FOR REAL?
Cats never stop to surprise us. Many attribute them superpowers; others follow a scientific approach strictly referring to their enhanced sense of smell and wider ability to see paired with all their other senses.
What is the deal with finding out if cats can sense bad energy? Well, we will bring many real-life examples of cats showing they are extraordinary.
Can cats sense bad energy? I let you be the judge. Here are the top 10 life examples of a cat's ability to detect bad energy or catastrophic events about to happen:
Can cats sense bad things, or are they just acting on some sort of random instinct? The following examples will show you undoubtedly; that cats can go beyond science!
The video above summarize it all. Here is a summary of what those cats were able to do.
10. TARA THE CAT
Tara stood up to the vicious dog to save a young boy. Tara is a famous cat. She was able to spot a dog biting the house kid and made a run to protect the boy. She was interviewed many times and has become really famous.
She was awarded a medal too. This is an incredible story of a cat who did not just do what cats do but has been sensing danger and has acted.
9. MASHA KEPT AN ABANDONED BABY FROM FREEZING TO DEATH
It is another incredible story. In a snowy winter, Masha found an abandoned baby, and she kept him alive by cuddling with the baby to keep him warm. Not many cats would cuddle with another animal or even a human baby outside in the street.
8. THE CAT THAT HELPED END A SUICIDE STANDOFF
In this case, the cat did not do much; he was brought to the scene, but hey! It is still a remarkable effect. Cats can do what others can't. Maybe this was not a case of a cat who did sense bad energy, but a cat who could absorb and make evil energy dissolve.
7. TOMMY THE CAT DIALS 911
Can a cat sense bad energy and a sense that bad things are happening? Apparently yes! This cat figured out his owner had a stroke and that he was supposed to call 911. The owner previously tried to attempt to teach the cat to push the button in case of an emergency.
How do you really know if a cat would ever really do it? Nevertheless, Tommy could sense the danger and called 911; when the police arrived, he found the cat on the phone and the floor owner.
6. MAJOR TOM SAVES OWNER FROM SINKING YACHT
Cat and owner happily resided on a yacht, a funny place for a cat to be. Nevertheless, the boat started to sink when the owner was sleeping in the middle of the night. However, the cat did jump on the bed and woke up the owner, who was able to take only a few things before leaving the yacht into a life raft.
"He kept head-butting me and got me up, and eventually, after checking the wind and doing the normal course check, I noticed the bow heavy, heavy in the water … the whole boat was flooded," he told ABC News. "It was too dark and too dangerous to enter and try and find a leak. I had to make the quick decision to get the cat and get on the life raft as quickly as possible."

 Grant McDonald – Cat Owner
After 5 hours, they were somehow saved by a Chinese boat:
"We lifted Major Tom on a rope, there were massive swells, and I had to grab onto the rope ladder and hope for the best, and then the life raft disappeared 10 meters underneath me, and I managed to climb seven meters to the gantry," he said. "I actually thought I was going to die."

Grant McDonald – Cat Owner
5. BABY, THE FELINE FIRE DETECTOR
Baby was 13 years old at the time of the event, a pretty shy cat, and not so active based on the owner's description. One night, the cat owner and wife were sleeping on the couch, unaware the house was on fire.
Baby started to jump on the owner's laps until he was awake. Only then did he realize there was a smock in the hose.
4. FIDGE DETECTS A POTENTIALLY DEADLY CASE OF CANCER
A cat named Fidge started jumping on the owner's left breast repeatedly. Since it was unusual for her cat, she went to the doctor only to find out she was just in time to be cured. So, Can cats sense bad energy? What do you think?
3. PUDDING SAVES HIS DIABETIC OWNER
Here is another incredible case of a cat who saves the owner from a diabetic seizure. The cat kept jumping on the owner's chest and face to wake her up. The cat was later trained as a therapy cat due to her ability to help her owner out.
2. DUCHESS WARNS FAMILY OF PYTHON ATTACK
Cats should be afraid of cucumbers and similar objects, right? Well, not for this cat. At night, the cat owner was roused up from the cat hissing near her bed only to find a 6-foot python wrapped around her sleeping daughter's arm. She was able to take the daughter away un-armed, thanks to her cat's prompt actions.
1. HOMER, THE BLIND "WONDER CAT" WHO STOPPED AN INTRUDER IN HIS TRACKS
It is an excellent story of a blind cat adopted by a kind woman, the cat had a severe eye infection when he was a kitten, and the eyes had to be removed.
He was able to wake the owner when an intruder came into the room as he started growling at something. Not satisfied with the intruder's reaction, who kept being there, the cat decided to jump on him scratching and biting until the intruder left. Great story!
CAN CATS SENSE IF SOMETHING IS WRONG?
Based on the above stories, we can for sure say that cats can sense if something is wrong, and they have a great instinct to protect others. Therefore, it is not true that cats are selfish.
Scientifically, one can say that they know what something is not as it should be due to their incredible senses. Dogs may do a better job at it; however, cats are not inferior to them by far.
Some people attribute magical powers to cats. We do not need to go that far to observe that cats "seem to know better" or "see something others do not see." If you have a natural bond with your cat, you can benefit from understanding how he behaves in different circumstances.
---
Here are some ideas for cat toys to keep your cat happy
Preview
Top Rated
Product
Migipaws Cat Toys, Interactive Automatic 7 Holes Mice...
boqii Cat Toys for Indoor Cats Smart Balls, [Upgrade Plush...
MeoHui Interactive Kitten Wand Fishing Pole Toy 2PCS...
Youngever 24 Cat Toys Kitten Toys Assortments, 2 Way Tunnel,...
Preview
Product
Migipaws Cat Toys, Interactive Automatic 7 Holes Mice...
Preview
Product
boqii Cat Toys for Indoor Cats Smart Balls, [Upgrade Plush...
Preview
Product
MeoHui Interactive Kitten Wand Fishing Pole Toy 2PCS...
Top Rated
Preview
Product
Youngever 24 Cat Toys Kitten Toys Assortments, 2 Way Tunnel,...
---
CAN CATS SENSE ENERGY?
Cats can sense more things than we think possible; they can pick up on changes in gestures, voices, emotions, and energy; they can tell if something is wrong based on changes in routines and habits.
Even you doing something different is a sign for them. This is because cats have an incredible smell and can also detect changes in human bodies. For example, cats can detect changes in the hormone levels in a body by smelling their owners.
CAN CATS SENSE WHEN OTHER CATS ARE DYING?
Cats can sense when other cats are not well. I have often seen my cat comforting the other cat who wasn't well; cats can do this. In addition, they are usually protective of other cats who are not doing well.
It is also possible for cats to understand that something is wrong with other cats because of habits changes or changes in behavior.
For example, one of my kittens was sick, and my older cat was confused about it. He did not understand what was happening, but he kept going to her and kissing her. He is usually a solitary cat, but I saw him often next to her.
DO CATS PROTECT YOU WHEN YOU SLEEP?
In general, cats sleep next to you for affection and their own protection. However, cats will protect you when you sleep if something is wrong in the house if there is an intruder, a fire, or other dangers.
The above examples show cats protecting their owner, especially when sleeping. But remember that not all cats have the same personality; some could just go and hide if there is a danger.
Unlike dogs, cats might not respond so well to training. But it is not uncommon for cats to protect the owner and other pets from danger when they sleep.
WHAT CAN CATS SENSE ABOUT HUMANS?
Cats are becoming widely used as therapy pets. They can sense when a person is stressed, in pain, or when there is an emotional storm inside someone. Especially, the most friendly cats can help a person release stress and improve their mood.
Cats can sense many things about humans, for example:
Their emotional state
Their mood
If they are a threat
If they are sick
If they are in fear
If you are scared, cats can pick it up from the way how you move or if you speak too loud. Also, chemical unbalanced in your body can change the way you smell, and cats can figure there is something wrong.
When humans are stressed or anxious and are generally sweating, cats can sense it and understand that something is wrong. Cats use all of their senses to figure out the state of their owner and, of course, their prey.
CAN CATS SENSE SPIRITS?
Although there are many theories about cats sensing the presence of spirits, there isn't a piece of scientific evidence or research that backs them up. However, if spirits are made of a sort of energy, cats might be able to sense their presence.
Cats have an acute sense of hearing and smell and can even sense vibration and changes in the environment humans can't detect. Most of us will never know if it is a ghost, a spirit, or other things.
Read also: DO CATS LIKE TO BE IGNORED? MYSTERY SOLVED
FREQUENTLY ASKED QUESTIONS
Can animals sense good energy?
If animals can sense bad energy, they can feel good energy too. They can even pick up on energy forces we can't perceive easily, like electromagnetic and electric fields. They can hear things that we can't and be able to alert on those things.

Can cats sense if you're a good person?
Cats can sense if another person is "good" because they do not threaten them. I can tell more when my cat likes someone because he is timid, so if he goes near someone the first time the person enters the house, I know my cat trusts the person.
Can cats sense death?
Cats can sense death because of their enhanced sense of smell. A story went viral of a cat in a nursing home that always slept near those about to die. So, definitively, there is some truth in the fact that cats can sense death approaching.