HOW TO PREVENT HAIRBALLS IN INDOOR CATS?
How to prevent hairballs in indoor cats and remedy in case a cat creates too many hairballs? Indoors cats can develop hairballs from time to time or even develop a constant hairballs problem.
To prevent hairballs in cats, brush them often, make sure they have enough fibers in their diet to facilitate elimination, use special food designed for hairballs elimination, use anti-hairball products regularly, exercise cats, and give them a lot of water.
Let's see what can be done to prevent and remedy hairballs problems in cats.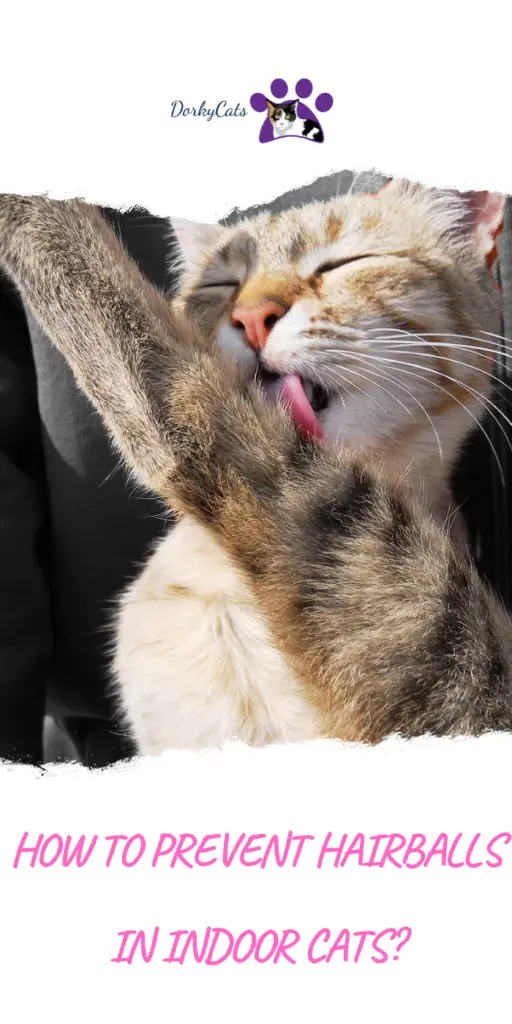 WHAT IS AN HAIRBALL IN CATS?
Cats collect hairs in their stomach due to their routine grooming action of licking their fur. Cat's tongues are pretty rough purposely to collect dead hairs and clean their bodies. However, when it is too much, all the hairs collected in the stomach create a hairball.
Most hairs can pass through the digestive tract and end up being disposed of with feces. The problem begins when hairs are not passing through the digestive system. In this case, those hairs may form a hairball.
When a hairball is formed, cats will try to get rid of it by vomiting. In this way, the hairball may look like a tube when on the floor, and people may mistake it for poop. Unfortunately, I am one of those people.
My cat started vomiting hairballs when he was three years old, and when I saw it on the floor for the first time, I thought he was having some sort of poop attacks. However, when I observed closely, I saw that it was a tight ball of hairs.
WHAT ARE THE SYMPTOMS OF HAIRBALLS IN CATS?
Hairballs can create a blockage in the cat's stomach, which can be dangerous for cats. Some symptoms can indicate that a cat has a hairball problem. Here are some of the symptoms:
Vomiting
Gagging
Not eating
Lack of appetite
Lethargy
Retching
Constipation
Diarrhea
The problem is not so much if a cat vomits hairballs. Cats do that. But if they try to vomit or gag without producing hairballs, a cat may have a problem and could be the principle of a blockage.
If you observe your cat having such symptoms, the first thing to do is check with the vet what to do. It is not uncommon for cats to create more hairballs when they become older because they get better at grooming themselves and because their fur can grow longer or change shape through the first years of their lives.
HOW TO PREVENT HAIRBALLS IN INDOOR CATS?
There are some precautions and preventive actions one can take to lessen the hairball problem in cats. However, remember that cats will continue to groom themselves. Therefore it is almost impossible to eliminate hairballs.
Here are some excellent tips to reduce hairballs:
1.BRUSH YOUR CAT OFTEN
If you remove loose hairs from your cat often, less of it will end up in your cat's stomach. In addition, brushing your cat every day or every other day can significantly diminish the fur removed by routine grooming actions.
Long hair cats can need more care and grooming. But unfortunately, those types of cats are also the ones that can have more hairballs problems.
2. VACUUM CLEAN OFTEN
Some cats instinctively use to ingest their fur if they find it lying on beds, their cat bed, floors, or other surfaces. Unfortunately, I caught both of my cats doing it. Sometimes, I managed to get it out of their mouse, but I cannot watch them all the time.
One of my cats regularly throws up hairballs, and he is also the one who likes to ingest fur he finds around. Therefore, I clean the house every day and vacuum clean as much as I can. It can help reduce hairs ending up in my cat's stomach.
3. HAIR BALLS PRODUCTS
There are over-the-counter products that can facilitate the passing of hairs through the cat digest system. Here are some products one can use:
Table could not be displayed.
Some of those products contain laxatives to help cats poop out everything or other elements that enable things to get through the digestive system.
4. CAT FOOD THAT HELPS HAIRBALLS ELIMINATION
Food rich in fibers can prevent hairballs by helping your cat's digestive system pass things through. If the digestive system is in good shape, hairballs should be fewer. So even feeding cats quality food helps them stay in good condition.
It is essential to read the label on cat food and see that the ingredients are coming from real animals and that there is no junk. Here are some examples of cat food that can help to eliminate and preventing hairballs:
Product
IAMS PROACTIVE HEALTH Adult Indoor Weight Control & Hairball...
Hill's Science Diet Dry Cat Food, Adult, Urinary & Hairball...
Hill's Science Diet Dry Cat Food, Adult, Hairball Control,...
Blue Buffalo Cat Food for Indoor Cats, Wilderness Hairball...
Purina ONE Natural, Low Fat, Weight Control, Indoor Dry Cat...
NUTRO WHOLESOME ESSENTIALS Natural Dry Cat Food, Hairball...
Overview
Product
IAMS PROACTIVE HEALTH Adult Indoor Weight Control & Hairball...
Overview
Product
Hill's Science Diet Dry Cat Food, Adult, Urinary & Hairball...
Overview
Product
Hill's Science Diet Dry Cat Food, Adult, Hairball Control,...
Overview
Product
Blue Buffalo Cat Food for Indoor Cats, Wilderness Hairball...
Overview
Product
Purina ONE Natural, Low Fat, Weight Control, Indoor Dry Cat...
Overview
Product
NUTRO WHOLESOME ESSENTIALS Natural Dry Cat Food, Hairball...
Overview
It is also possible to choose premium food that helps cats build up a strong coat and healthy fur to prevent hair loss. Fish oil or a little bit of butter can also facilitate the passage of anything stuck in the digestive system.
5. DRINKING WATER
Water can facilitate the passage of food through the stomach. So make sure your cat starts drinking a lot of water. To incentivize your cat to drink more water, you could try using an attractive water fountain. Usually, cats like to see moving water and, as a consequence, drink more.
6.NATURAL REMEDIES
It is possible to use natural hairballs remedies for cats. For example, olive oil, butter, canned pumpkin, and similar elements can help cats digest their food and facilitate hairs passing through the digestive system. In addition, adding more fish to the diet can help digestion because of the lubricant elements in it.
Coconut oil can be another great element to use to help cats' digestion. It should be mixed with cat food so cats can eat it without problems.
7. USE WIPES
A dump wipe or towel can be used on cats' fur to remove any loose hair so that cats will not ingest it through their cleaning. Odorless wipes with no chemicals are the best choice. It can be used after brushing or in between brushing sessions.
HOW LONG DOES IT TAKE FOR A CAT TO PASS A HAIRBALL?
Cats digest similarly to humans. Food travels from stomach to small intestine, to large intestine, and finally, poop it out. The whole procedure takes between 10 to 24 hours.
This is why you see cats using the litter box once a day or twice a day. Typically, cats poop at least once a day. Hairballs should pass like food. It may take a bit longer because of the thick consistency, but it should take between 12 to 72h.
Cats having problems passing hairballs should be helped with the remedies listed above or with the help of a vet.
FREQUENTLY ASKED QUESTIONS
How often is it normal for cats to throw up hairballs?
Cats should not throw up hairballs too often. Once or twice a month can be considered normal. Cats throwing up hairballs too often may need help to pass through hairballs or have other problems. The problems can range from diet to health issues. It is always better to consult the vet if similar problems come up with cats.

Why does my cat have so many hairballs?
Cats should be able to pass hairballs with no problems. However, long-haired cats can have problems with it at some point in their lives and may need extra help. However, if cats have too many problems with it, it may be due to other issues or digestive problems.

What can a vet do for hairballs?
A vet can visit a cat and recommend a course of action. For example, he can recommend a product to remove hairballs or see that the cat has a blockage, performer, or surgery. In addition, veterinaries can perform an examination to determine why cats vomit hairballs often and tell you how to remedy the situation.