WHY IS MY CAT FOLLOWING ME TO THE BATHROOM? 8 REASONS
Why is my cat following me to the bathroom? I am a proud cat owner, and each time I go to the toilet, my cat decides to follow me and sit on my lap, although I can hardly touch him in normal circumstances.
Cat follows you to the bathroom because of curiosity. They know you are vulnerable, and they like to get your attention when you can't move around. In addition, they like to stay in the same room as the owner and want to guard you and play simultaneously.
Therefore let's see what can possibly drive your cat into the bathroom and often on you in the most private moments.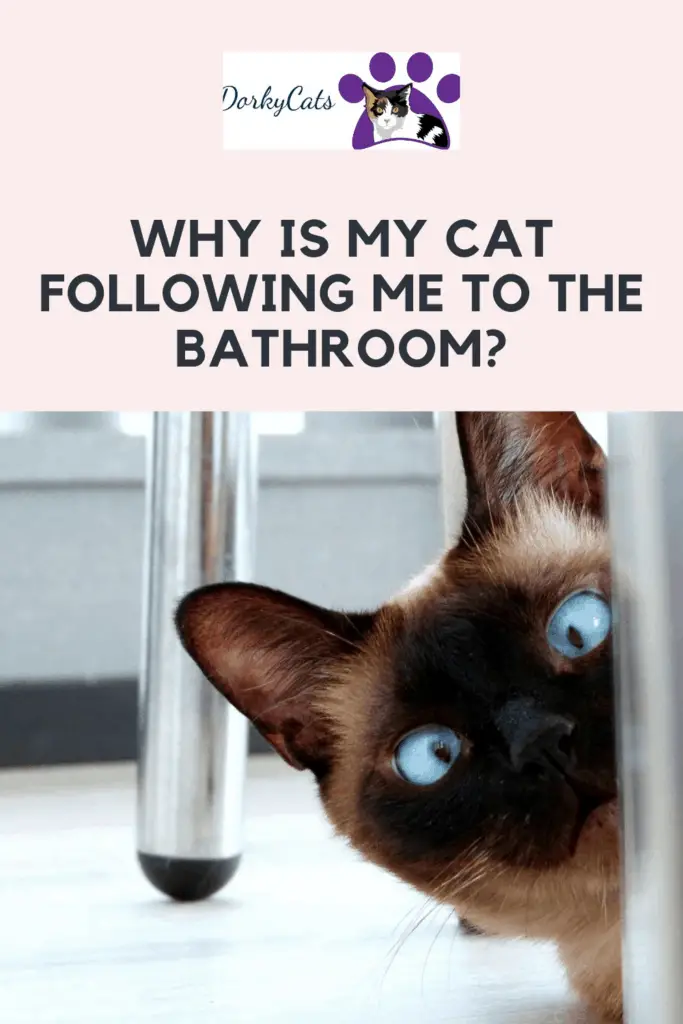 WHY MY CAT FOLLOWS ME?
Cats are curious; it is challenging to keep them out of what you are doing. Have you tried to work at home? They are all over you while you type, write, and move. Any movement is good enough for them to start playing or for " a good hunt"!
I decided to test my cat (Coco) out of my curiosity. So one day, I stood up and went on moving from one room to another, I had a big house at that time, so I had to walk a bit when moving from one room to another,
When I looked back, he was behind me all the time. Whether I went to the kitchen or went back to the bedroom, he was behind me again when I went to the living room.
So there are no doubts, you are your cat attraction. If I got him another cat friend, I thought he would forget about me and play with the new friend. She was a friendly lady cat. I thought maybe he would ignore me and choose to be with the new girlfriend, but the experiment failed.
As a result, I had two heads looking at me in the bathroom.
My cat likes to sleep in the same room; he wants to sleep in the same bed if I leave him enough space. Cats follow you because they like you and feel secure if you are around.
WHY IS MY CAT FOLLOWING ME TO THE BATHROOM?
Cats have different personalities. However, they have in common the ability to stalk others. Specifically, stalk you. A bathroom is a safe place for them to be when you are in there. In addition, they do not like when you close the door.
Because you are closing the door, they have to get in there with you, or your cat will wait behind the closed door meowing and scratching it until you get out.
So why do cats follow us to the bathroom? Here are a series of reasons your cat does it:
1. HE WANTS TO PROTECT YOU
Cats can sense that you are vulnerable when doing your private business. They are also vulnerable when using the litter box. So he tends to come with you and guard the room for dangers and protect you.
I agree with this because my cat often comes to the bathroom in that moment of privacy and usually sits down near the door looking outside the bathroom and giving me the shoulders. I often tell my cat ( Yes, I talk to him!): " Are you guarding me?".
2. CURIOSITY
Despite any best intent, cats like to control their territory, and they are very curious about anything that moves. After all, there may be something good to hunt. They want to see what you are doing and want to play.
The fact they follow you to the bathroom doesn't necessarily mean they want something located in the bathroom. They could wait for you to come out, but they can't stand not knowing what is in there and what you do.
3. HEY LIKE OBJECTS IN THE BATHROOM TO PLAY WITH OR SLEEP
There are many objects cats like to play with within your bathroom, like toilet paper. For example, my cat follows me to the bathroom and pretends to jump on my knees precisely while I am on the toilet so that he can better reach the toilet paper on the shelf near it.
He also likes to sit on me and receive cuddles and scratches under the skin. However, if I would sit on the couch, he would not come on my lap. He does it only when I am sitting on the toilet.
Horrible!
I may have the only cat in the world that doesn't jump; however, he likes to go into the sink and sleep there when he does.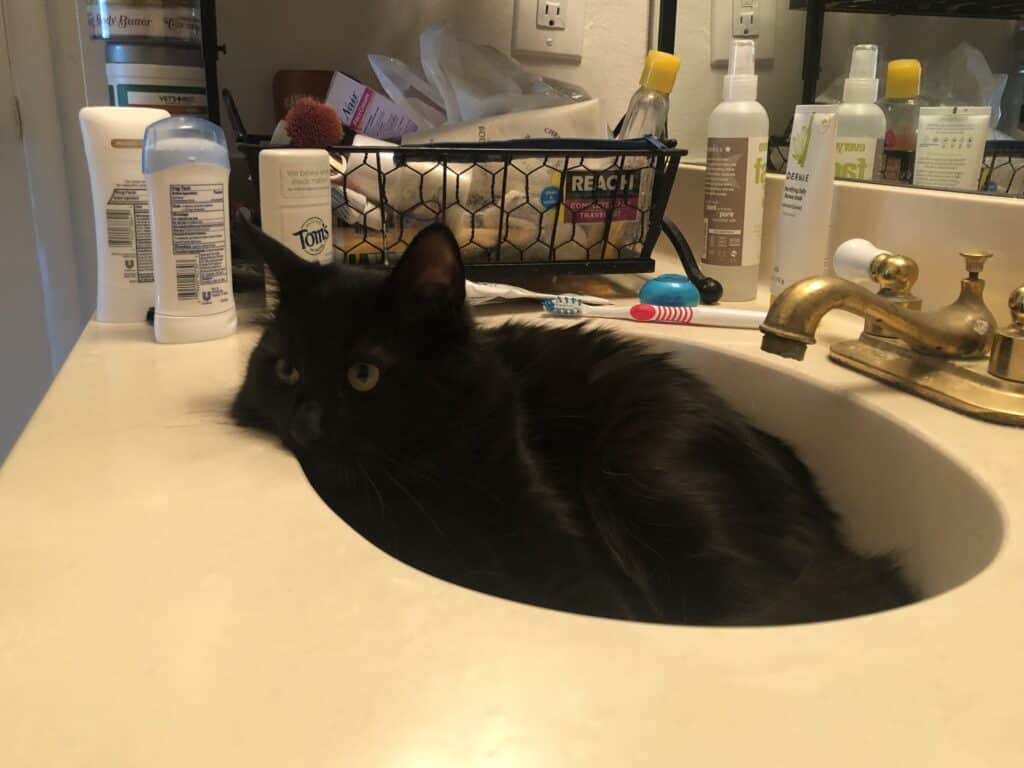 This is Coco being comfy on one of his beds. He likes the sink, and he doesn't care that it drips water on him.
He likes the rug in the bathroom sometimes. I find him sleeping on it. It may be that there is more than one place in your bathroom where he likes to sleep.
Cats like toilet paper, as you may know, and like places where there are tons of things they can throw on the ground.
I had expensive cufflinks; I think I spent $200 for them. One day I left them near the sink.
I did not find them for months. I thought I lost them until my sink was clogged, and I finally found my expensive cufflinks. Then, unfortunately, my cat could throw one on the floor, and one fell into the bottom of the tub.
4. IT IS THE COOLEST ROOM
When I leave the door open, especially in summer, he likes to go to the bathroom to sleep; there is water in the toilet and sink, and it is the place in the house with a ceramic floor instead of carpet. The floor is way cooler than any other surface.
5. THEY ARE FASCINATED BY THE WATER
Cats may not like water when it comes to taking a bath, but if they see it flowing from the tap, they could stand there staring at it for hours. In addition, they try to poke it and play with the water with their paws.
One of my cats sneaks in the bathroom to watch the water flowing when I wash my teeth. She likes to stand there and stare!
6. THEY DON'T LIKE CLOSED DOORS
Cats are naturally curious, and they do not like to wait behind closed doors. Therefore, I do not close the bathroom door when I am alone in the house, but if there is someone else, I do.
My cat usually starts meowing and protesting when I am in the bathroom. Then, when I come out, he stands just right outside, and when he sees me coming out, he gives me the last loud meow ("What the meow are you doing? How dare you to leave me outside?).
7. YOUR CAT SIMPLY LIKES YOU
He likes you. Because of it, he goes where you go. If you are used to being often at home, you may have seen that your cat likes to be in the same room. My cat, for example, knows when I am about to go out and usually starts meowing goes near the door in an attempt to follow me outside.
8. ROUTINE
He may know the time when you get up for work, when your shower, and other habits. He likes watching you while you prepare and maybe get some attention. The bathroom is usually part of the beginning of the day.
Knowing that you are awake, cats are prepared to follow you to the bathroom to watch all of your moves.
You may also like: WHY DOES MY CAT EAT GRASS? REASONS, ADVICE, AND MORE
FREQUENTLY ASKED QUESTIONS
Why does my cat follow me everywhere?
Your cat follows you everywhere because you are the best entertainment in the house. You are a bit, you move, and they love you. Cats like to stay in the same room as their owners because they feel protected, loved and because they love their humans.

Why does my cat wait for me to get out of the shower?
You just disappeared behind closed doors. How dare you? He is, for sure curious to know where you went, and he is waiting for you to come back. Surely he can't follow you with all that water around!

Why does my cat follow me to the bathroom at night?
Cats follow you to the bathroom at night because they are curious to know where you are going. Typically, cats are awake at night and enjoy a bit of company and the excitement of some potential play and company by their loved humans.

Why does my cat go in the toilet?
Cats are curious about the toilet and especially the water inside it. They like to find a way to play, and sometimes they even drink from it out of a bad habit. It is also possible cats go in the toilet because they do not realize there is a hole (when the toilet table is up), and they fall into it.