WHY DO CATS MEOW WHEN THEY WAKE UP? 3 REASONS FOR IT
Why do cats meow when they wake up? Have you ever been woken up by a meowing cat, only to find out they weren't actually in distress but wanted breakfast? If so, you're not alone!
Cats meow when they wake up because they want to eat, they have not seen you for a while and enjoy some attention, or they simply want you to give them some good scratches and some treats.
Cats are notorious for their early morning vocalizations, and their meows can range from cute and endearing to downright annoying. But why do cats meow when they wake up and is there any way to get them to tone it down?
In this article, we'll explore the reasons behind cats' morning meows and share some tips on how to keep your feline friend from becoming a furry alarm clock.
So please grab a cup of coffee and prepare to learn about the fascinating world of cats and their wake-up calls!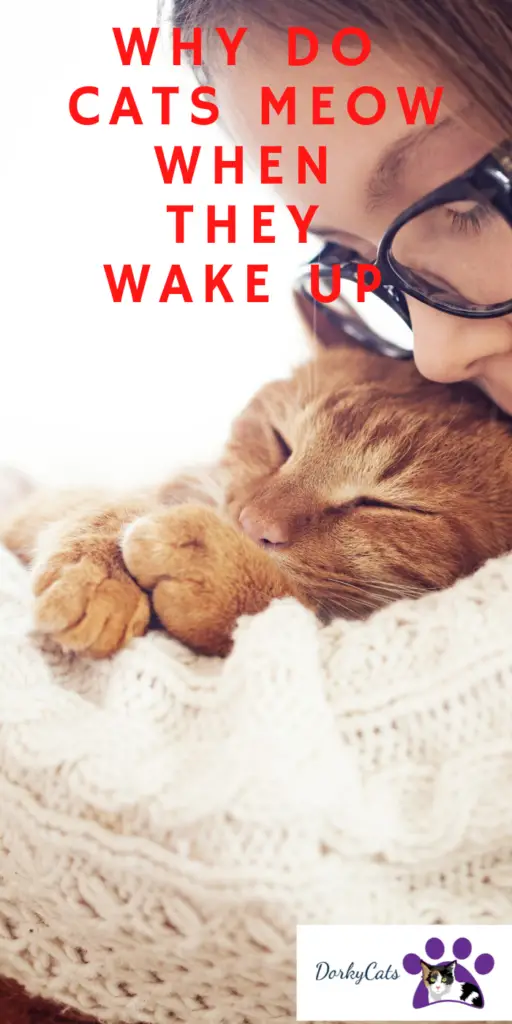 WHY DO CATS MEOW WHEN THEY WAKE UP?
Cats may meow when they wake up for a variety of reasons. One common reason is that they may be hungry and ask for food.
Here are some of the most common reasons:
1. THEY ARE HUNGRY
Cats are naturally crepuscular, meaning they are most active during dawn and dusk and may be hungry after a long nap.
2. LOOKING FOR ATTENTION
Also, cats may meow to get attention or communicate with their owners. For example, they may ask for petting or acknowledge their owner's presence.
3. CONFUSION
It is also possible that cats may meow when they wake up due to confusion or disorientation after a deep sleep. In any case, meowing is a natural way for cats to communicate and is expected behavior that many cat owners observe.
4. THEY WANT TO SAY HELLO
Cats can meow at people to say hello, even if they haven't seen their owner for a while. Cats are social animals and use a variety of vocalizations to communicate with humans and other cats.
5. NIGHTMARE
Cats can have nightmares, just like humans and other animals. Cats, like us, experience REM (rapid eye movement) sleep, which is the stage of sleep associated with dreaming.
During this stage, the brain is highly active, and the body is essentially paralyzed to prevent the cat from acting out its dreams. However, knowing whether a cat has a nightmare is difficult, as they can't tell us about their dreams.
Some signs that a cat may have a bad dream include twitching or moving their legs, vocalizing (such as meowing or growling), and breathing or heart rate changes. In addition, if your cat seems distressed during sleep or wakes up suddenly and appears anxious, it may have had a nightmare.
Meowing is one way that cats express their emotions and communicate their needs and desires.
When your cat sees you after a period of sleep, she may meow to greet you and express her happiness at seeing you again. Some cats may also purr, rub against you, or even bring you a toy or gift to show affection.
WHICH TYPE OF MEOW CATS DO WHEN THEY WANT TO GREET YOU AFTER A NAP?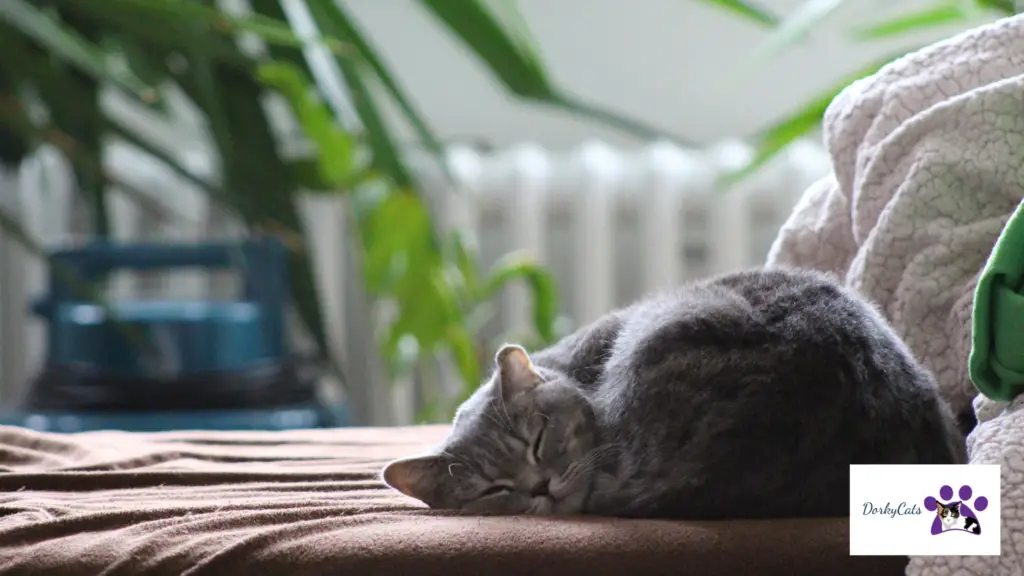 Depending on their personalities and the situation, cats may use different types of meows to greet their owners. Here are some possible meows your cat may use to greet you:
Short meow: A short, high-pitched meow may be a cat's way of saying "hello" or "hi" to its owner. This type of meow is usually friendly and may be accompanied by purring or rubbing against its owner.
Chirp or trill: Some cats may make a chirping or trilling sound when they greet their owners. This type of meow is often reserved for close companions and may signify affection or excitement.
Loud, long meow: A loud, drawn-out meow may be a cat's way of getting its owner's attention or expressing its desire for food or attention. This type of meow may also be used as a greeting, especially if the cat is particularly vocal.
WHY DOES MY KITTEN MEOW WHEN WAKES UP?
Your kitten may meow when she wakes up for various reasons. One of the most common reasons is that she may be hungry and is letting you know it's time for her to eat.
Kittens have small stomachs and require frequent meals, so it's not unusual for them to meow for food when they wake up from a nap.
Another reason your kitten may meow is to get your attention upon waking up. Kittens are social creatures and often seek interaction and playtime with their owners. So your kitten may be meowing to let you know she's ready for some attention, playtime, or cuddles.
Additionally, some kittens may meow when they wake up due to confusion or disorientation after a deep sleep. This behavior is more common in younger kittens still adjusting to their surroundings.
In any case, meowing is a natural way for cats and kittens to communicate, and it's important to pay attention to your kitten's meows and determine what she needs or wants.
OLD CAT WAKING UP MEOWING – WHY?
There could be various reasons why an older cat wakes up meowing. Here are some possible explanations:
Cognitive decline: As cats age, they may experience cognitive decline, leading to disorientation, confusion, and vocalization. Your older cat may wake up and meow because she is unsure of her surroundings or has forgotten where she is.
Medical issues: Meowing is sometimes a symptom of underlying medical conditions, such as hyperthyroidism, high blood pressure, kidney disease, or arthritis pain. Your older cat may be meowing to communicate discomfort or pain.
Hunger: Older cats may have decreased appetite or require more frequent feeding due to changes in their metabolism.
Attention-seeking behavior: Some cats, particularly older cats, may meow to get attention or seek companionship. If your older cat is experiencing anxiety or separation anxiety, she may meow when she wakes up to express her distress.
If your older cat's meowing is persistent or unusual, it's a good idea to take her to the vet to rule out any underlying medical issues.
Your vet can help you determine the cause of your cat's meowing and recommend the appropriate treatment or management plan.
LEGGI ANCHE: WHY IS MY CAT PURRING SO LOUD? 5+ REASONS