WHY DO CATS SMELL YOUR BREATH AND MOUTH?
Another funny and weird cat behavior. Why do cats smell your breath? If your cat uses to come near your mouth and nose and smell, it is customary to ask oneself what is going on with him? Is he just being weird, meaning a cat? Or is he doing it for a reason?
Cats smell your breath to know if you are breathing, check if you are well, and gather other information. They can find out what you have recently eaten, if there are smells that should concern them, to know you better and in general because they are curious.
Let's see all reasons why cats smell your breath.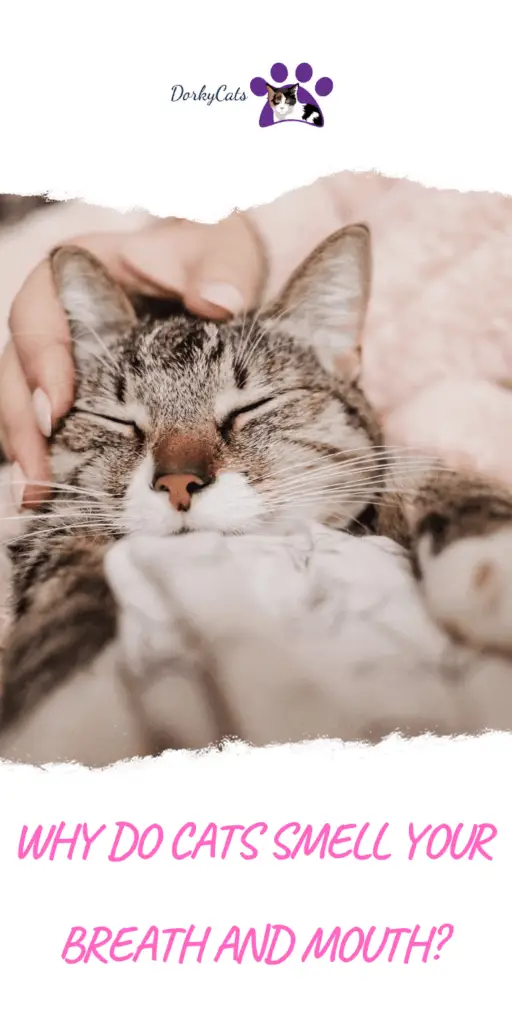 WHY DO CATS BREATHE YOUR BREATH?
It is established that cats can be busy putting their nose (literally) into anything and that they are found to do weird things with no apparent logic. It is also established that cats have no sense of personal space; they may decide to do the most bizarre stuff as putting their butt in your face and licking your hair, to name a few things.
One of the latest addition to the cat catalog is "breathing your breath" or "check if you are breathing."
Have you seen you cant sneaking on you while you are in bed, coming close to your mouth and nose, smelling, and then go away? It is just one thing that cats do to check if you are breathing and still alive. Or at least it is the impression I get most of the time.
But, there are more reasons for cats for this action. It looks weird. In reality, it is less mysterious than we think.
WHY DO CATS SMELL YOUR BREATH?
What are the possible reasons for cats smelling your breath? It is notorious that cats use a lot of their sense of smell. They either smell any object they come in contact with or try licking it.
It is estimated that cat's sense of smell is 9-16 times as strong as humans and have an estimated 45 to 200 million odor-sensitive cells in their noses. In contrast, humans only have 5 million odor-sensitive cells. (Ref. Wikipedia).
So, why do cats smell your breath and what they understand out of it?
If cats smell your breath or mouth, they most probably try to understand what food you have eaten recently and if it is something they can get too. Cats may decide that you are a good source of food for them and stay close to you to find out where you keep the goods.
GENERAL INFORMATION ABOUT YOU
Cats' sense of smell is way more sensible than ours and allows cats to perceive and understand many things. They can know if you are a danger to them if you have some scent they do not like, they can see if you came in contact with someone who is a three for them. They can also perceive if you have something that is not good in you by smelling your breath.
Cats can perceive even a little variation of scents and chemicals of particles coming out of your mouth. It is not a mystery that cats can smell things coming close to them, way before we can even see anything on the horizon.
Some cats like smell your breath and to sleep near it. It happens because it is warm and they like it. For them is a source of reassurance and comfort. I believe kittens may like it even more since it can resemble the mom cuddling them.
THEY CHECK IF YOU ARE STILL ALIVE
If you have been in bed for a while without moving too much, cats may wonder what is up with you. They may jump on the bed and come close to your mouth, where they know the air is coming out, to see if everything is as it should be. As soon as they see that air is still coming out and that you are moving, they feel better.
It is funny to see them moving close and put their mouth near to yours, but it is evidence that they are smart too. They can figure out how human works and how to check if everything is ok or not.
Cats can be curious. When they are interested, they like to smell the object of their curiosity. Therefore they smell you, your face, your nose, and your breath. They want to associate smells with things, so they know that you have a particular odor and other items have a specific different smell.
If you have a cat, prepare to be smelled all over, it is typical cat behavior, invasive but normal for cats. Maybe you have seen cats do this with each other. They smell each other nose, mouth, and breath. It is adorable to see.
WHY IS MY CAT OBSESSED WITH MY MOUTH?
Cats can be obsessed with smelling over and over particular objects, places, or individuals. Some cats may like the smell of someone's mouth and try to reach for it several times. We could argue about this particular obsession with cats. However, it is not different from any other weird obsession cats may have.
Even though cats may easily be obsessed with smelling things, it seems their main activity throughout the day.
Human mouths contain smells that are coming from inside the body. Cats can capture so many little shades and understand so many things. Additionally, cats perceive the daily variation and changes in our smell. For them, it is a source of new things to learn and smell every day. What is today inside my human?
---
Here some cat toys ideas to entertain your cat
Preview
Top Rated
Product
Migipaws Cat Toys, Interactive Automatic 7 Holes Mice...
boqii Cat Toys for Indoor Cats Smart Balls, [Upgrade Plush...
MeoHui Interactive Kitten Wand Fishing Pole Toy 2PCS...
Youngever 24 Cat Toys Kitten Toys Assortments, 2 Way Tunnel,...
Preview
Product
Migipaws Cat Toys, Interactive Automatic 7 Holes Mice...
Preview
Product
boqii Cat Toys for Indoor Cats Smart Balls, [Upgrade Plush...
Preview
Product
MeoHui Interactive Kitten Wand Fishing Pole Toy 2PCS...
Top Rated
Preview
Product
Youngever 24 Cat Toys Kitten Toys Assortments, 2 Way Tunnel,...
---
CAN CATS SMELL CANCER?
With their superior smell, cats can sense changes in someone's body. It is not uncommon to find cats sitting or giving attention to their owner's particular body part. Some owners that spotted this individual behavior have seen doctors and were able to uncover early cancers. They could get their cure ahead of time and survive.
If cats are obsessed with their owner's smell, it is even possible they have smelled some unusual element. There isn't significant research about this aspect of cats' abilities. Still, you can see the stories of people who have gone to the doctor following their cat's unusual behavior related to one of their body parts.
Those stories come from real people and real experiences. The sense of smell and other cats' senses are superior to ours and many other animals. Cats are great hunters and can perceive further than we think possible.
RELATED QUESTIONS
Here some related questions and answers:
Why do cats smell your face?
Cats smell your face to find out about you, where you come from, to see if you are dangerous, or a source of new interesting things. Cats also smell your face to know you smell and record it in their memory.
Why do cats sniff your face when sleeping?
Cats smell your face when you sleep to find out if you are ok, or if you are awake and if you would wake up to do things for them. Typically, they want food or that you play with them.
CONCLUSION
I hope we were able to shed some light on cats smelling your breath. If you want to add something or have a question, leave it in the comments below.