HOW TO STOP MY CAT FROM PEEING IN THE SINK? 7 WAYS
How to stop my cat from peeing in the sink? Sometimes cats decide that sinks are a better alternative to their litter box. It is not pleasant for cat owners nor hygienical, even though cats have a different opinion. But, how to make them shift their peeing habits?
It is possible to stop cats from peeing in the sink by cleaning the litter box often, making sure your cat likes the litter box, removing any stressing factors for your cat in the environment, and using a cover or an object to prevent access to the sink.
Let's see what can be done to stop cats from peeing in the sink.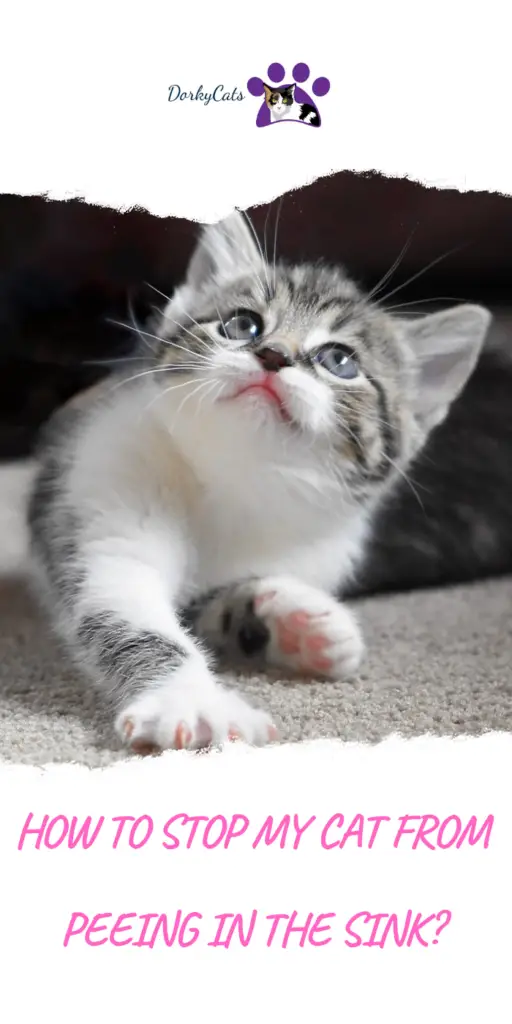 WHY DO CATS PEE IN THE SINK?
Cats like sinks in different ways. Some cats like to sleep in there, and some cats like to pee in it. It is possible to find cats peeing in the bathtub or on the shower floor. As long as they sleep in a sink, cats owner are more likely to tolerate the intrusion, but when it comes to peeing and pooping in a sink, it becomes a different matter.
Typically, cats could start peeing in the sink because the litter box is not clean; they don't like it, there are changes in the environment that make them stressed, a potential health issue or they are old, marking territory, and knowing water go down (they are smart).
Here are all the reasons for cats peeing in the sink:
1. DIRTY LITTER BOX
Some cats are really picky about their litter box. They are picky about how clean it is, about the litter, and sometimes about the box's size.
If it is dirty, cats may go somewhere else to do their private businesses. But, how dirty is dirty? Usually, one cleans the litter every day, removing the clumps and dirt; however, some cats would not use the litter box if used already once or twice. It means that a cat owner has to double shift and clean the litter box twice a day.
In some other instances, if there is another cat in your house, and both cats are using one litter box, it is possible a cat may not like the other cat's smell in the litter box and start to use the sink instead.
2. STRESS FACTORS IN THE ENVIRONMENT
If there are new people in the house, changes, another pet, or anything else that can stress your cat, then this may be the reason for peeing in the sink or pooping in it. Cats can develop behavior issues and try to communicate their problems in different ways. Mis-uses of litter boxes are one-way cats have to tell us they are not happy.
Sometimes changes that annoys cats cane be really minor, like changing litter, changing food, new smells, and the list can go on and on.
3. HEALTH ISSUES
If a cat is sick, the illness can cause a cat to pee in the sink. Cats can have urinary tract infections that make them behave that way. If they are too old or develop dementia or another illness, cats can start peeing outside of the litter box and in the sink. If you know that the litter box is ok and that there aren't other stressing factors in the environment, it is time to bring the cat to the vet for a visit.
4. MARKING TERRITORY
Cats spray to mark territory. Sinks are not excluded from the list of objects that cats can spray. If a cat is not fixed, it may develop the habit of marking territory. The presence of other pets or cats triggers a cat to strat marking territory.
5. THEY ARE SMART
Believe it or not, cats are smart. Some cats can figure out that a sick bathtub or shower floor has a hole where the water goes down. In this case, their pee. They choose to urinate there because they know that their pee can go down and disappear somewhere.
One of my friend's cats doesn't have a litter box in the house. The cat pees in the shower drain, yes, precisely on top of the shower drain, and goes pooping outside. Fascinating! Cats can be smart enough to decide that a sink is a perfect bathroom!
HOW TO STOP MY CAT FROM PEEING IN THE SINK?
Here is the big question: how to stop my cat from peeing in the sink? Now that we know why a cat is peeing in the house sink, it is possible to figure out an excellent plan to make him stop.
Here some smart moves to make a cat stop peeing in the sink:
1.FIX LITTER BOX ISSUES
The first thing to do is inspect the litter box and see if there is any problem. Is it dirty? Can your cat use it comfortably? Do you need another litter box? Is the litter ok for your cat?
Observe your cat when he uses the litter box to see if he has any problem with it. Fix anything you find.
2. ELIMINATE ANY STRESS FACTOR
It is time to check if anything is stressing your cat. Is there a new pet or a new person in the house? Is someone or something scaring your cat? Something he doesn't like? It is essential to analyze what changes have been introduced in the environment and do your best to remove the stressing factor or make your cat feel comfortable.
Some cats scare off by little things and become stressed over unusual sounds or smells. Or it can be a different type of food that can create the problem. It is that time when you have to become an investigator.
3. TRIP TO THE VET
To make sure that your cat is fine, bring him to the vet for a visit to rule out health issues and remedy them if your cat is sick.
4. NEUTER OR SPAY
Bad behavior and marking territory can be changed with neutering or spaying a cat. It is not assured that it will resolve all the problems, but cats stop marking territory after they have been fixed in most cases.
5. COVER THE SINK
Cover the sink to prevent cats from going into them and pee. In this way, they will spot peeing in the sink, and hopefully, they go back to the litter box. Sometimes is necessary to fill the sink with water to prevent them from going into it and pee.
6. USE NATURAL PRODUCTS
It is possible to use natural products like essential oils and cat repellents. One sprays them over the surfaces on which a cat should not go. Those products have a particular perfume that cats do not like, and thus they stay away. Keep in mind that it is better to use natural products and non-toxic products for cats. Otherwise, cats can end up being poisoned.
7. TRAINING
If your cat decided that sinks are better than litter boxes because they are too smart, you could teach them to use the toilet instead or re-train them to use the litter box. Smart cats can be trained one way or another, even though it can be challenging with the one who doesn't like the litter box any longer.
HOW TO CLEAN THE SINK FROM CAT URINE?
Well, now that your cat made it to the sink and did the unspoken, how to clean and disinfect the sink?
Arm yourself of backing soda, vinegar, a scrubbing brush, and other disinfectants like bleach, ammonia, and enzymatic cleaners.
First, spread the baking soda to let it soak to urine and the smell. After a few minutes, scrub it away and rinse it off. Then use a disinfectant, like vinegar, bleach, or ammonia to scrub the sink.
RELATED QUESTIONS
Here some related questions and answer:
What smells deter cats from peeing?
Smells that deters cats from coming close to a place are:
Citronella
Lemongrass
Lavender
Peppermint
Geranium
Eucalyptus
Tea tree
Cinnamon
Citrus
How do you discipline a cat for peeing outside the litter box?
Disciplining a cat because it has peed out of the litter box is rarely successful. Not sure the cat can understand that you are punishing them because of peeing outside the litter box. If you catch them while they do it, it is possible to let them realize that it is wrong using words like "NO" and training them to understand what it means.
Can a cat get a UTI from a dirty litter box?
Typically the infection is caused by bacteria that ascend the urethra and then get into the bladder. It doesn't relate to the litter boxes, even though a dirty litter box can cause other types of infections.
CONCLUSION
If you are part of the unlucky category of cat owners whose cat is peeing in the sink, I hope you could find some good advice and tip to use to correct your cat behavior. If you have any questions or want to add anything, leave it in the comments below.