SAVANNAH CAT PERSONALITY AND BREED (ALL YOU NEED TO KNOW)
Would you like to know more about the Savannah cat personality and breed? Specimens of this breed are considered the largest domestic cats in the world, confirming that they are descended from the African serval (Leptailurus serval).
Their large size is one more reason to think carefully before buying one. Although at a glance, the Savannah is a gorgeous cat with a distinctive coat pattern, it is a large hybrid breed that warbles, purrs, and hisses.
Let's learn more about the Savannah cat personality and breed.
WHAT IS THE SAVANNAH CAT GENERAL ASPECT AND SIZE?
The Savannah has long, large, and straight ears like the serval. It also has very fine hearing and can detect hidden odors in grassy areas.
The coat design is mixed. The background color can vary from silver to amber, animated by a series of black spots and streaks.
Furthermore, these cats are communicative. For example, Savannahs have been known to greet owners by wagging their tails like dogs.
CHARACTERISTICS OF THE SAVANNAH CAT:
Characteristic
Description
Notes
In summary
A rather massive hybrid
wildcat obtained
by crossing a
serval with a
domestic cat
In the countries
of origin, servals
are considered
pets
Personality
It seems to have a
character similar to
that of a dog, so much
so that it can be
carried on a leash
Appearance
Strongly influenced
by the domestic
breed used for the
crossing. It has a
spotted coat
In the house
To greet people he
sometimes jumps
towards them
Behavior
Active and outgoing,
he is an excellent
jumper and wags
his tail in greeting
Since these are
huge cats, socialization
is essential
Grooming
Just brush it to
keep the coat
in top condition
Most common health
problems
In some cases, the liver is
smaller than in other
breeds, so attention
must be paid to the
dosage of drugs
Sometimes ketamine
is not well tolerated
as an anesthetic
WHAT IS THE HISTORY OF THE SAVANNAH CAT?
The Savannah was created in 1986 by Judee Frank, a Bengal breeder who successfully mated a male serval with a Siamese. Since the gestation period of the serval is ten days longer than that of the domestic cat, crosses of this type lead to the birth of premature kittens.
Although the young survive, the first-generation males are sterile, while both sexes exhibit strong wild tendencies, making them potentially difficult to manage.
In subsequent matings with domestic cats, however, Savannah's temperament should improve from generation to generation, so much so that F4 cats should be pretty easy to manage and manageable.
THE SAVANNAH BREED IS IN CONSTANT EVOLUTION
It probably takes another generation for the male Savannah to become fertile, although both sexes may be exposed starting in the third generation.
The goal of the breeders is to keep the aesthetic characteristics of the serval intact, such as the long neck and legs and the splendid short, spotted coat, making sure it becomes a friendly companion animal.
It is essential to socialize these cats from an early age. As adults, they weigh between 8 and 14 kg, and males are more corpulent than females.
SAVANNAH CAT PERSONALITY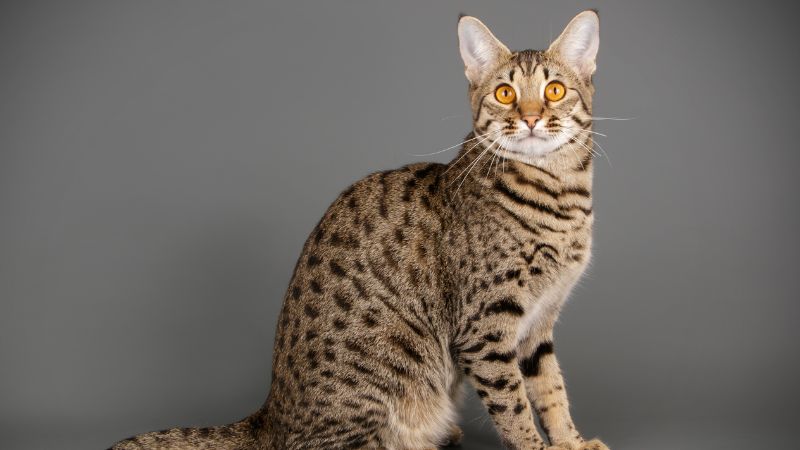 Despite the wild descendants, they are playful, friendly, and loyal cats. It is easy to compare them to dogs in the way they relate to humans. Training them to follow specific commands and even getting them out on a leash is possible.
Unlike most cats, they enjoy the water, and you can find them playing with it or swimming.
While they are domesticated cats, they still retain a wild side manifested in their extraordinary hunting abilities. They can chase small animals and birds effortlessly if they see them entering their territory.
But with other cats and dogs, the Savannah tends to be friendly. The Savannah is a big cat but very agile. He can jump up to 8 ft, so he needs some space where he can give free rain to his need for exercise and play.
The Savannah cat is not a lap cat and is not suited for those families that want a relaxed or calm cat. These cats tend to be very loyal to their humans, and like dogs, they follow them everywhere in the house.
But, they are a bit suspicious of people they don't know. Because of their loyal character and affection demonstrated to their owners, Savannah cats do not like to stay alone for too long.
WHAT IS AN F1,F2,F3,F4,F5 SAVANNAH CAT?
Maybe you have noticed that some Savannah cats are referred to as F1, F2, F3, etc. These numbers refer to the number of generations that have passed since the original serval gene was introduced into the breeding line.
This means that the F1 and F2 Savannah cats are more likely to have wilder behavior than the following generations. They also tend to be bigger cats. Here is what each classification means:
F1: one parent 100% serval and the other parent 100% domestic cat
F2: 25% serval
F3,4: range between 20% and 10%
The Savannah cats that are further away from the initial generation tend to resemble more and more domestic cats. For example, the F5 Savannah cats are almost half the size of the F1.
HOW TO CARE FOR AND FEED THE SAVANNAH CAT
Although Savannah is a big cat, it is not difficult to take care of. These cats are easy to groom; they require only routine brushing to keep their coat in order. You can also do regular grooming actions, such as nail trimming and ear cleaning.
Savannah cats are brilliant and can be easily trained. You can teach them to behave and follow specific commands when at home. Since they are very active, you need to provide enrichment, such as toys, cat trees, and more.
Savannah cats need a high protein intake to maintain their activity level. In addition, the quality of the food needs to be high, and it is better to alternate packaged food with raw or fresh meat and fish.
FREQUENTLY ASKED QUESTIONS
What is the price of the Savannah cat?
Savannah cats are very expensive, especially if you adopt a first-generation cat (F1). The price range between $5000 and $20.000. The price can vary depending on the breeder, the cat's age, and the purity of the breed.
What is the lifespan of the Savannah cat?
Savannah cats can live up to 20 years. Cats owners can help their cats to live longer by providing high-quality food, a good environment, and proper care.

Is the Savannah cat good as a first-time cat owner?
The Savannah cat is not suitable for a first-time cat owner because it is a very energetic cat that requires a lot of mental stimulation. In addition, first-time cat owners might not have enough experience or patience.

Can I adopt a Savannah cat if I have children?
Savannah cats are friendly; despite their appearance, they tend to be nice to other pets and children.