HAVANA BROWN CAT PERSONALITY AND BREED (ALL YOU NEED TO KNOW)
Are you curious about the Havana Brown cat personality? Although recognized as an independent breed, these cats were actually the first Oriental cat variety to be created. Originally, in England, they were called Chestnut Brown Foreign.
The current name instead originated in the United States. At a glance, this cat has a gorgeous brown colored coat, a curvy profile, and is expressive in nature.
Let's know more about the Havana Brown cat personality and breed.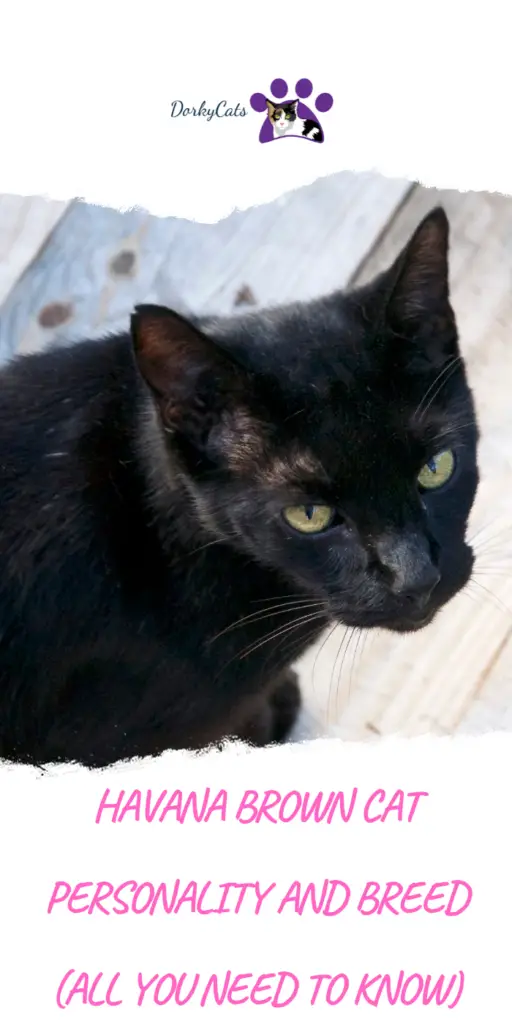 WHAT IS THE HAVANA BROWN CAT GENERAL ASPECT AND SIZE?
The Havana Brown cat is a beautiful cat with green and oval eyes contrasting with the chocolate mantle even more splendidly.
He has an elegant but muscular profile, which is emphasized by the tapered neck and long legs. The shiny coat must be of a warm chocolate shade, possibly with a reddish-orange tinge.
THE CHARACTERISTICS OF THE HAVANA BROWN CAT:
Characteristic
Description
Notes
In summary
Gorgeous Brown
coloring, truly
unique eyes
Today it is less
available than
in the past
Personality
Lively and active,
he appreciates the
company
of man
Appearance
The slender, slender
and elegant profile
highlights its
athletic nature
In the house
Tries in any way
to jump and
climb, so watch
out for
knick-knacks
Behavior
Very affectionate
and outgoing,
he requires
the attention
of those around him.
He knows how
to be an expert
hunter, especially
of birds
Grooming
The smooth
coat needs
minimal care
Just caress it to
enhance the
shine of the hair
Most common health
problems
He can suffer from
respiratory tract
infections, and suffer
from the cold
It should not
be encouraged to be
outside when
it is cold or humid.
WHAT IS THE HISTORY OF THE HAVANA BROWN CAT?
In the beginning, three specimens of Siamese were admitted to the cat shows, which were pointed with green eyes, blue eyes, and a self coat.
In the 1920s, the first group fell in favor of the juried, and as it could no longer be exhibited, it ended up extinct. In the early 1950s, however, a group of British researchers decided to recreate it and began a targeted breeding program.
They got a chocolate kitten by pairing a Siamese chocolate point with a shorthaired black cat. The breed's name derives from a particular brown color similar to that of the well-known Cuban cigar or the Havana rabbit.
Unfortunately, however, due to the numerous contributions of Oriental cats, it is now difficult to find specimens belonging to the original strain.
HAVANA BROWN CAT PERSONALITY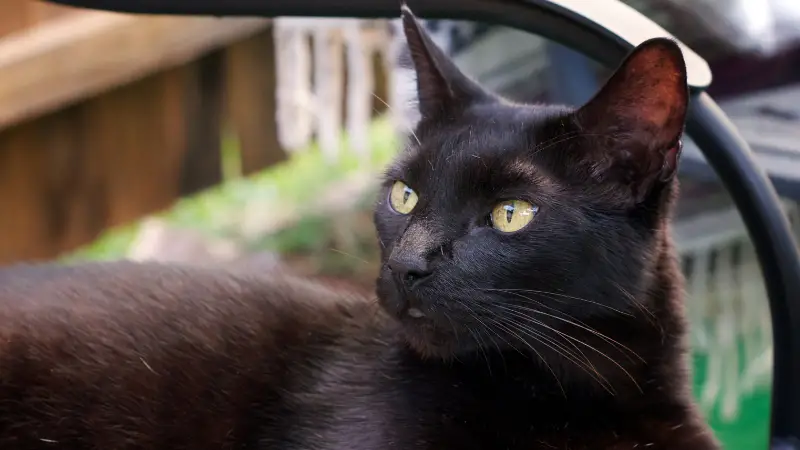 The Havan Brown is a lively cat that uses its thin paws as if they were hands to turn an object upside down or to block a piece of food that is too large to swallow in one bite.
Today its appearance tends to reflect the Russian's later contribution to the direct line of descent. In fact, in feline genetics, Russian Blue is a diluted variant of black. As a result, confirming this hybridization, lilac puppies are born from time to time (which, in turn, is a diluted variant of chocolate).
The Havana Brown's temperament is that of a peaceful, playful, and friendly cat. This cat tends to get attached to a favorite human and loves to play with people or other pets. In general, Havana Brown cats are intelligent, lively, and outgoing.
They get along well with other pets and with children. In addition, they do not like to be left alone for too long and need to get attention constantly. Havana can be talkative sometimes, but their meow is soft and not annoying.
HOW TO CARE FOR AND FEED THE HAVANA BROWN CAT
The Havana Brown cat is not too difficult to take care of; he doesn't require a lot of grooming actions. However, it is necessary to brush him with a soft brush once a week to help him keep the fur in order.
You can also take care of his ears weekly using warm water and cotton. This cat is very active, so he tends to eat a lot. There isn't a particular diet necessary for the Havana Brown, but it is better to feed him high-quality food and limit the carbs.
It is better to provide these cats with cat trees and places where they can jump or climb. Cat toys are also necessary to help him stay active and exercise.
The Havana Brown cat doesn't have particular health problems but can be subject to respiratory infections. In addition, he is sensible to lower temperatures, and it is better not to let him out when it is too cold.
Provide a warm place where he can stay during winter to prevent the development of illnesses.
FREQUENTLY ASKED QUESTIONS
What is the lifespan of the Havana Brown cat?
Havana Brown cats can live up to 15 years of age. However, the lifespan of this cat can be extended by providing high-quality food, a proper environment, and medical care.

Are Havana Brown cats rare?
Havana cats are very rare; only less than 1000 specimens have been available. Therefore, it might be challenging to find a breeder, and it might not be possible to find breeders in every country.
What is the Havana Brown cat price?
Havana Brown cats can be very expensive because they are rare. These cats can cost up to $1500, depending on the breeders, the kitten's age, and the purity of the breed.

Are Havana Brown cats hypoallergenic?
Havana Brown cats are not hypoallergenic. Although they are not shedding a lot, they still can't be placed into the category of hypoallergenic cats.