ASHERA CAT PERSONALITY AND BREED (ALL YOU NEED TO KNOW)
Are you curious to know more about the Ashera cat personality? It is considered one of the most recent hybrid breeds, and in fact, it is very rare.
Furthermore, the heated debate on its origins has unleashed quite a few controversies for some time. In any case, the consensus is unanimous on the incredible design of the coat and its imposing dimensions.
At a glance, it is a controversial breed with a massive build, prohibitively expensive, and of dubious origins.
Let's learn more about the Ashera cat personality and breed.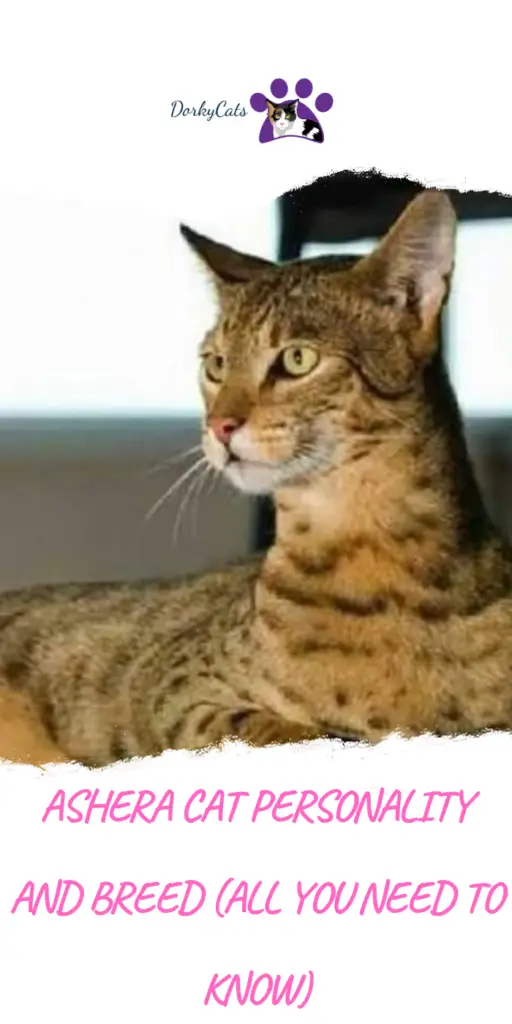 WHAT IS THE ASHERA CAT GENERAL ASPECT AND SIZE?
The Ashera has some peculiar spots on the coat. The spots and bands on the legs are different in each specimen. The coat is very similar to that of the Egyptian Mau, confirming a probable contribution from this breed.
This cat has a big head. Compared to the Asherra, which can weigh up to 18 kg, the typical domestic cats look really tiny.
CHARACTERISTICS OF THE ASHERA CAT:
Characteristic
Description
Notes
In summary
Hybrid breed obtained
in recent years thanks
to the contribution
of wild cats
Controversial breed
with unclear origins
Personality
It depends on the
generation passed
with respect to the wild
cat used for the first
hybridization.
Increasing the intake
of domestic cats over
wild cats should
soften their character
Appearance
Much larger than
a domestic cat
(when raised on
its hind legs can
reach a meter
in height).
The spotted coat
is very special.
When raised
on its hind legs
it can reach
any object
or surface.
In the house
He may be shy and
reserved, but in all
likelihood,
he is more active
then a domestic cat.
Behavior
Sometimes he reveals
a strong instinct
for hunting and is
very skilled at jumping
and climbing.
Grooming
The short and smooth
coat needs little
care, it is often
enough to stroke it
Most common health
problems
No genetic diseases
have been found so far
WHAT IS THE HISTORY OF THE ASHERA CAT?
Apparently, the Ashera results from a combination of crosses between a Serval (Leptailurus Serval) and an Asian Leopard cat (Prionailurus bengalensis) with domestic cats, which took place for the first time in 2006.
A Delaware-based biotechnology company sold the first specimens to breed hypoallergenic cats.
A Pennsylvania breeder attempted to refute this official story, claiming that several alleged Asheras sent to Holland were simply first-generation Savannah crosses sold without his knowledge.
These kittens were picked up immediately upon arrival in Europe and subjected to DNA tests which effectively confirmed the pairing between a Savannah and an Egyptian Mau.
ASHERA CAT PERSONALITY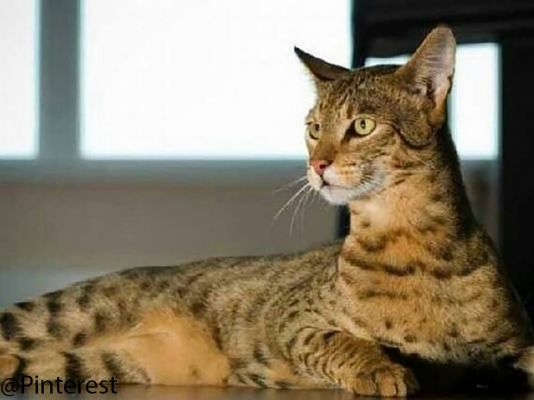 Despite the wild look, big size, and wild descendants, the Ashera cat is very docile and has a relaxed temperament. They are not very local and tend to get along with humans. They actually enjoy their attention and affection.
It is like having a big-sized domestic cat. It is also an independent cat; in fact, he doesn't mind spending some time on his own. The Ashera still retain a developed hunting instinct and like climbing and jumping.
You should have some space to accommodate this cat in your house and possibly provide an enclosed outdoor space for him to explore and run. Don't miss getting him cats, trees, toys, scratching posts, etc.
Ashera cats are very lively but also intelligent pets that can be trained to do tricks or follow instructions. They can resemble dogs at times. Another good alternative is bringing Ashera cats out to walk on a leash.
ETHICAL BREEDING OF THE ASHERA CAT
The Savannah also descends from a serval specimen, hence the similarity with the Ashera. The case of the puppies brought to Holland, however, does not exclude the existence of the breeding program described above.
But certainly, the unpleasant inconvenience has cast a shadow on the actual kinship between the Ashera and the Asian leopard cats.
Above all, the real problem is the price of these felines, which are around very high figures (we are talking about tens of thousands of dollars) and are coveted by unscrupulous breeders.
HOW TO CARE FOR AND FEED THE ASHERA CAT
Despite their size, due to their short coat, Ashera cats do not require a lot of special grooming. Brushing them once in a while is enough to keep their coat in order.
Some versions of the Ashera cats are hypoallergenic. Therefore they do not shed much and do not need to be bathed too often.
The diet for these cats requires more work. They are large cats and need a balanced diet based on protein. They need meat protein, and you can alternate the packaged food with fresh fish and meats.
Try to avoid low-quality food filled with colorants and additives. The Ashera cat is not known to have particular health conditions.
WHY IS THE ASHERA CAT SO EXPENSIVE?
The Ashera cat is pretty rare, and it is also one of the larger cat breeds in the world. For this reason, it can be pretty expensive. Some people have bought these cats for $150.000.
It is common to spend between $10.000 and $100.000, but some people might spend even more. The price depends on the breeder and the purity of the breed. Just make sure you are not sold Savannah cats instead of Ashera.
Due to the scam that involved the original laboratory that bred the Ashera cat, it was decided to stop breeding this cat in 2008. This is because so many rich people were looking for a hypoallergenic cat and paid a lot of money to get one of those cats from this laboratory.
However, it was found that they bred Savannah cats and sold them as Ashera.
It isn't easy to find one of these cats currently. However, an official association at https://asheracat.org/ can be contacted to ask for more information and eventually find out if there are still some specimens of these cats.
FREQUENTLY ASKED QUESTIONS
What is the lifespan of an Ashera cat?
Ashera cats can live up to 25 years, which is way more than any other domestic cats.

Are Ashera cats dangerous?
Ashera cats look only dangerous, but they are not. Instead, they are docile, friendly, and playful cats, despite their size.
Are Ashera cats hypoallergenic?
There is a variety of Ashera that is hypoallergenic. Their fur doesn't produce substances that create allergies. Typically they look like the common Ashera cat, which has a cream color with brown spots.

What types of Ashera cats can be found?
There are four types of Ashera cats:
– Common Ashera
– Hypoallergenic Ashera
– Snow Ashera
– Royal Ashera
Common and hypoallergenic Ashera cats look the same, with cream-colored fur and brown spots. The Snow varieties are white with amber spots, while the Royal Ashera, which are the rarest and exclusive, are cream-colored with spots or have orange stripes.