HOW MUCH TUNA IS SAFE FOR CATS? 9 SIGNS OF POISONING
How much tuna is safe for cats? We all know how much cats love fish; the scent alone is enough to drive them crazy. Still, if you're enjoying a tin of salmon, is it ok to share it with your feline?
Human tuna products are safe for cats in small amounts. However, similar to treat foods, these should be limited to 10% of a cat's overall diet. Of course, many pet food manufacturers include tuna in their food pouches, which are more nutritionally balanced to meet your cat's needs.
Continue reading to discover when you can feed canned fish to your feline and how much is appropriate.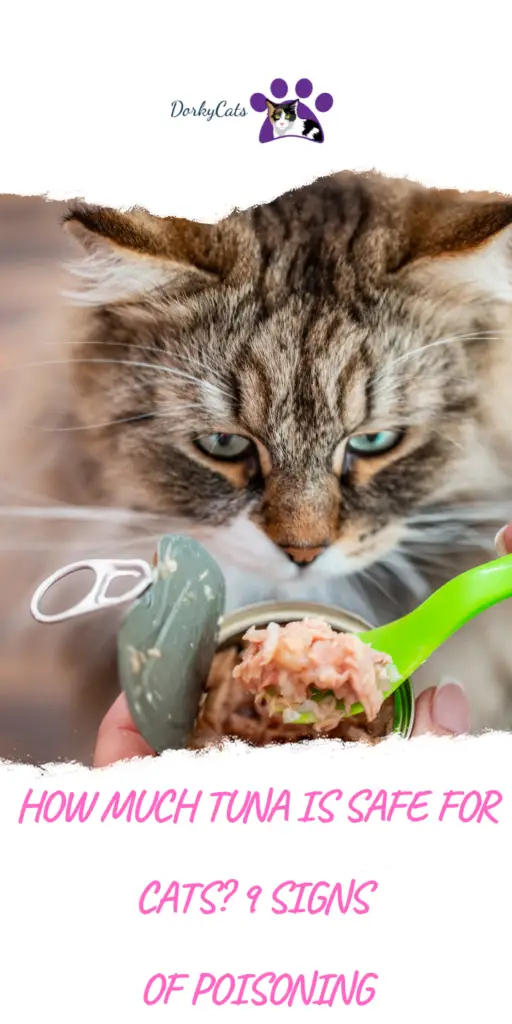 IS IT OK TO GIVE CATS TUNA EVERY DAY?
A well-balanced diet includes protein, vitamins and minerals, essential fatty acids, and several other nutrients. Health issues can surface if your cat overeats one set of nutrients and not enough of others.
Tuna does not provide a well-balanced diet on its own because it does not possess the right nutritional balance for a cat. This fish is too high in unsaturated fat while lacking vitamin E and other antioxidants.
For these reasons, tuna should not be an everyday source of nutrition for your cat. Instead, it would be best if you fed them a mixed diet. The easiest way to do this is by purchasing ready-made cat food designed to balance your feline's nutritional needs.
Cats love the taste of fish, so many manufactured cat foods come in tuna flavor. If your cat just can't get enough of this oily fish, opt for the cat food pouches, which infuse it with other healthy nutrients.
WHAT IS TOO MUCH TUNA FOR A CAT?
On average, 100 grams of tuna contain 100-120 calories. A medium size cat (5kg) should eat 220-300 calories daily. A can of tuna in a day would be too much, considering that your cat also needs other nutrients.
Providing 2 or 3 spoons of tuna once or twice a week can be an excellent treat, or you could give your cat one scoop every other day.
Cats can experience an addiction to tuna, regardless of whether it's designed for them or humans, and while a little bit of what they fancy now and again won't hurt, too much human food can lead to malnutrition.
This is because products packaged for human consumption don't have the correct balance of nutrition for a cat; too much of this treat food can cause mercury poisoning.
An entire tin of tuna is far too much for a cat to enjoy in a single serving. So instead, give them one teaspoon of this fish a few times each week. Remember that tuna should be a treat food and not make up a significant part of a cat's diet. Generally, this means no more than 10% of your cat's overall diet.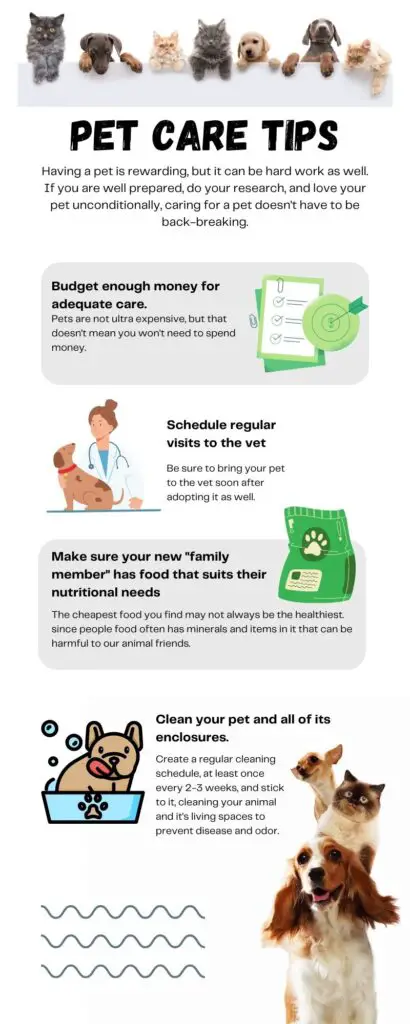 SIGNS OF MERCURY POISONING IN CATS
Feeding your cat a diet of tuna is not adequate for meeting its nutritional requirements. Additionally, this fish contains high levels of mercury; although rare, this can lead to mercury poisoning in your cat. Symptoms include the following:
Dizziness and lack of coordination
Ataxia (a wobbly stance)
Hypermetria (involuntary body movements)
Nystagmus (involuntary eye movements)
Problems with the central nervous system
Tremors
Seizure
Loss of vision
Paralysis
Behaving in an abnormal manner
Mercury poisoning shares several common symptoms with other forms of poisoning. If you suspect your cat is reacting to poison ingestion, contact your vet immediately to get to the cause.
Unfortunately, kidney and neurological system damage can be irreversible, so ensuring that you don't allow them to excessively consuming food containing mercury is crucial.
CAN I FEED MY CATS CANNED TUNA?
You can feed your cat canned tuna if you choose a natural tuna in water, without oil or any other seasoning.
Cats are opportunistic feeders, and the fishy smell that permeates the air when you open a can of tuna is enough to tempt them. The good news is that your feline can enjoy a small helping of this canned treat.
Still, there are some factors you'll want to consider before making that choice.
On a positive note, a moderate amount of tuna can be healthy for a cat as it is low in carbohydrates and offers an excellent source of protein and omega-3 fatty acids. These nutrients help with conditions such as arthritis and skin disease and provide a healthy shine to your cat's coat.
However, not all canned tuna are the same, and some can pose a severe health risk to your cat.
For starters, tuna comes in water, oil, or brine, the latter two of which are unsuitable for cats. Oil is a rich food that can be difficult for your cat to digest, while the brine is full of salt, leading to severe electrolyte balances in your cat's brain and body.
Flavored cans of tuna can also be problematic because they could contain toxic ingredients for your kitties, such as onion or garlic. Therefore, when selecting a tin of tuna for your cat, ensure you thoroughly check the ingredients label first.
Not only this, but overindulging a cat with its favorite treats is likely to turn them into a picky eater who struggles to maintain a properly balanced diet.
HOW MANY CANS OF TUNA SHOULD A CAT EAT?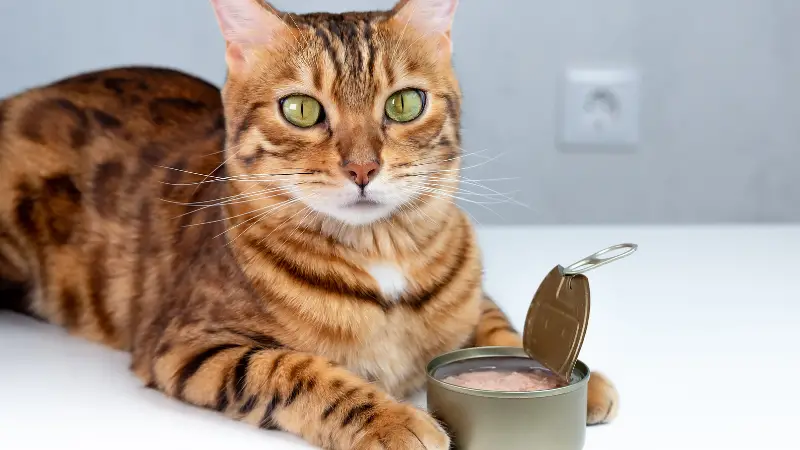 A cat shouldn't eat cans of tuna; a whole human serving is far too much to maintain a healthy balance for your feline. Instead, a heaped teaspoon will provide them with more than enough of this treat food.
Don't make canned tuna an everyday treat, either. Instead, try to limit your cat's consumption of this foodstuff to two to three times per week.
The safest way to ensure the correct balance of tuna in your cat's diet is to consult with your vet, who will be able to address any concerns and help you to come up with a well-balanced meal plan.
IS TUNA BAD FOR CATS WITH KIDNEY DISEASE?
Tuna is terrible for cats with kidney disease because it contains phosphorus. A diet rich in phosphate can negatively impact the health of a feline with kidney disease. Still, some cats can tolerate these nutrients in small amounts.
And there are some benefits to the kidneys which come from tuna. Fish oil contains omega-3 fatty acids, which can improve cat kidney health, so adding a splash of fish oil to their food could be a worthwhile cause.
If your cat has kidney disease, the best thing you can do is work together with your vet or pet nutritionist to compile an eating schedule with the foods which best meet your cat's nutritional needs. And never make significant changes to their diet without consulting a professional first.
HOW TO PREPARE TUNA FOR CATS?
The most easy and most direct way is to give a bit of raw tuna from the cat to your cat or buy tuna cat food. However, there are other ways to use tuna to prepare homemade food for cats in a way to add taste to it.
A typical recipe is to boil rice and sweet potatoes and mixed together with a little bit of tuna once they are cooked until everything is well blended. There are different ways to prepare it; you could try testing what your cat likes.
Some people might add other types of protein to the mixture.
BEST CANNED TUNA CAT FOOD?
You can search in the market for tuna with a low mercury content or buy cat food with tuna, choosing from brands that do not add harmful elements but try to keep the food as natural as possible.
Here are some tuna brands with low mercury content:
Preview
Title
Safe Catch Elite Tuna Wild-Caught Low Mercury Tuna Fish...
Safe Catch Ahi Tuna Wild Yellowfin Tuna Canned Low Mercury...
Wild Planet Skipjack Wild Tuna, Sea Salt, Canned Tuna, Pole...
Safe Catch Wild Albacore Tuna Canned Low Mercury Can Tuna...
Preview
Title
Safe Catch Elite Tuna Wild-Caught Low Mercury Tuna Fish...
Preview
Title
Safe Catch Ahi Tuna Wild Yellowfin Tuna Canned Low Mercury...
Preview
Title
Wild Planet Skipjack Wild Tuna, Sea Salt, Canned Tuna, Pole...
Preview
Title
Safe Catch Wild Albacore Tuna Canned Low Mercury Can Tuna...
FREQUENTLY ASKED QUESTIONS
At what age can kittens eat tuna?
Kittens can start eating tuna when they are old enough to eat alone. However, giving them a taste of it as a treat and not overdo it.
Does tuna cat food contain mercury?
Tuna cat food contains mercury because they are made with tuna and is usually of the lowest quality. Therefore, it is better to purchase tuna labeled as low in mercury than cheap tuna cat food. Read always the label to figure out what is in your cat food.

Will my cat get fat eating tuna?
Human tuna can contain too many calories for a cat, and if given to a cat in a higher quantity, a cat can gain weight over time. This is happening especially if the cat eats too much tuna instead of regular food.

Why do cats like tuna so much?
Cats like tuna so much because of the strong smell and fish taste which for them is delicious. Cats love to eat fish generally, but raw fish is more attractive to them because of the smell.

What are the pros of giving tuna to cats?
Giving a little bit of tuna to cats once in a while can add different nutrients to their diet, which can help their bodies. For example, tuna contains lysine, riboflavin, niacin, omega-3 fatty acids, thiamine, and vitamin Bs, all of which are essential for a cat.

Which cats should avoid tuna?
It is always better to ask the vet, but cats with kidney conditions, heart problems, those on a hypoallergenic diet, and with diabetes should not be given tuna.
References
Tuna: Is it Safe for Them? – Hillspet.com
Can Cats Eat Canned Tuna? You'll Be Surprised! – Cooper Pet Care
The Dangers of Mercury Poisoning in Cats: How to Safely Feed Fish to Your Feline –Yahoo.com