NEBELUNG CAT PERSONALITY AND BREED (ALL YOU NEED TO KNOW)
Are you curious about the Nebelung cat personality? The Nebelung is a modern reproduction of one of the first cat breeds present at late nineteenth-century exhibitions. It has a dynamic nature, but perhaps a little unexpectedly, it can live without problems even indoors.
At a glance, the Nebelung has a shimmering coat, is intelligent by nature, is reserved with strangers, and is happy if he is part of a family.
Let's know more about the Nebelung cat personality and breed.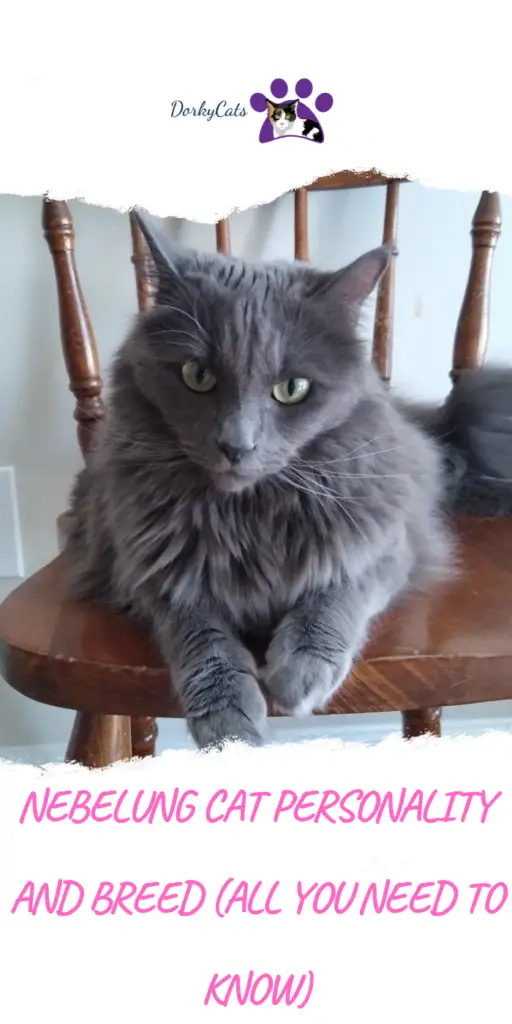 WHAT IS THE NEBELUNG CAT GENERAL ASPECT AND SIZE?
The aspect of the Nebelung is really particular. The head is elongated rather than round. It stands out for its relatively long and soft hair that should be brushed at least twice a week.
CHARACTERISTICS OF THE NEBELUNG CATS:
Characteristic
Description
Notes
In summary
There is no wide
choice of colors
that reflect
the Russian
ancestry
Apart from the Blue
version there is
also the white
variety which is
much less common
Personality
A little shyer
than many other cats,
but builds a close
bond with
their owners
Appearance
The silver tipping on the
guard hair is the secret
of its sparkling
appearance
In the house
Very affectionate
companion, calm
and quiet by nature
It does not do
well, in the company
of noisy dogs
Behavior
He is not inclined
to roam but at home,
he is quite active
and agile
Grooming
it should be brushed
regularly, especially
in the winter months
Double-layered but
soft and semi-long coat
Most common health
problems
There are no particular
health problems in this cat
WHAT IS THE HISTORY OF THE NEBELUNG CAT?
The Nebelung is the result of a selection to recreate the long-haired Russian Blue that disappeared during the twentieth century. The breeding program was initiated in the mid-1980s and included blue cats with semi-long-haired coats (which the silvery shades made bright and luminous).
The unusual name derives from a German term meaning "creature of the mist," with reference to the typical coloration of the breed.
The relatively powerful physique of these cats is in keeping with their athletic build. The body is relatively long, and the hair more extended at the tip makes the tail look like a real brush. Male Nebelungs, in particular, can develop a longer tuft of hair around the neck, especially in winter.
The standard of the Nebelung, which has begun to gain international recognition, is more or less the same as the Russian Blue. The eyes are oval and green, yellowish in puppies, and the ears are wide, especially at the base, with slightly rounded tips.
The build must resemble Russian Blue, with silvery hair mixed with blue to match the color. Nebelungs are very picky cats, especially with food, and do not easily approach strangers.
NEBELUNG CAT PERSONALITY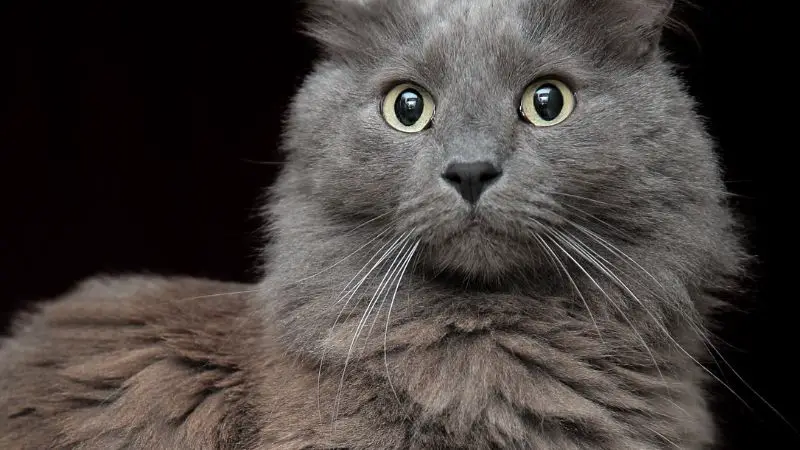 The Nebelung cat is quiet, loving, playful, affectionate, and easygoing. He is also an active cat but can adapt to living indoors without too many problems. Because of their quiet and shy behavior, they love routines and stability.
If you provide enough toys and venues for them to spend their time, they can easily entertain themselves. They can also be lap cats since they like to sit near their favorite humans and cuddle when they are not playing.
Despite their affectionate temperament toward their owners, with people they do not know, they are not immediately showing affection but might become shy and hide for a while.
Nebelung cats do not like new things introduced into the environment, which can be people or changes in general. However, they show their true nature when they feel comfortable in the environment and bond with their family.
They are also friendly with other pets, providing they are not that noisy and get along with children, although too small and noisy children might scare them away.
HOW TO CARE FOR AND FEED THE NEBELUNG CAT
Nebelung cats are easygoing; they do not require a lot of time from their humans, just the routine attention that any other cat would need; in fact, they are not particularly demanding.
They are intelligent cats, so they can entertain themselves with toys and other things they can use to exercise and have fun. However, grooming the Nebelung cat requires a bit more work.
The long fur matures in full when this cat is around two years old, and it requires weekly brushing (sometimes even two or three times a week) to keep the coat in good shape. Their diet doesn't require exceptional food. Instead, they need good quality and high protein cat food.
FREQUENTLY ASKED QUESTIONS
Does the Nebelung cat have health problems?
Nebelung cats do not register particular health problems. However, this is a recent breed, and nothing has come up yet regarding hereditary health problems or other situations.

What is the Nebelung cat price?
Nebelung cats can cost between $600 and $1200. The price depends on the kitten's age, breeder, and the purity of the breed.

Are Nebelung cats friendly?
Nebelung cats are very friendly with the people they know and have managed to bond with them. With strangers or new people are introduced into the environment, they show shy behavior, but are not aggressive.

How rare is a Nebelung cat?
Nebelung cats are still pretty rare since it is a relatively new breed and there aren't many of these cats around the world. However, it is easier to find a Nebelung cat in the USA.
Are Nebelung cats aggressive?
Nebelung cats are not aggressive; they are shy with strangers but do not become aggressive. Typically they hide or stay away from a potential threat.

What is the lifespan of the Nebelung cat?
Nebelung cats can live up to 18 years. However, the longevity of this cat depends on the quality of food, proper medical care, and the environment they live in.

Which type of person should get a Nebelung cat?
Nebelung cats are good for all families but are better suited for seniors, or quiet environments because of the fact that they do not like a lot of noise.