DO THESE THINGS BEFORE YOU HEAD OUT WITH YOUR KITTY
How should you let a cat outside for the first time? There are chances that you have wanted to go out with your feline buddy for too long now.
But the fear of messing things up and not knowing exactly how a trip like this would turn out keeps you from actualizing your this wish, right?
No worries, because we have got you all covered!
Keeping in line with that, below are some essential dos that are necessary for cat care and will also help you in many ways.
So, without wasting any more time, scroll down further, read till the end, and get ready to explore all the good things in your surroundings with your favorite partner!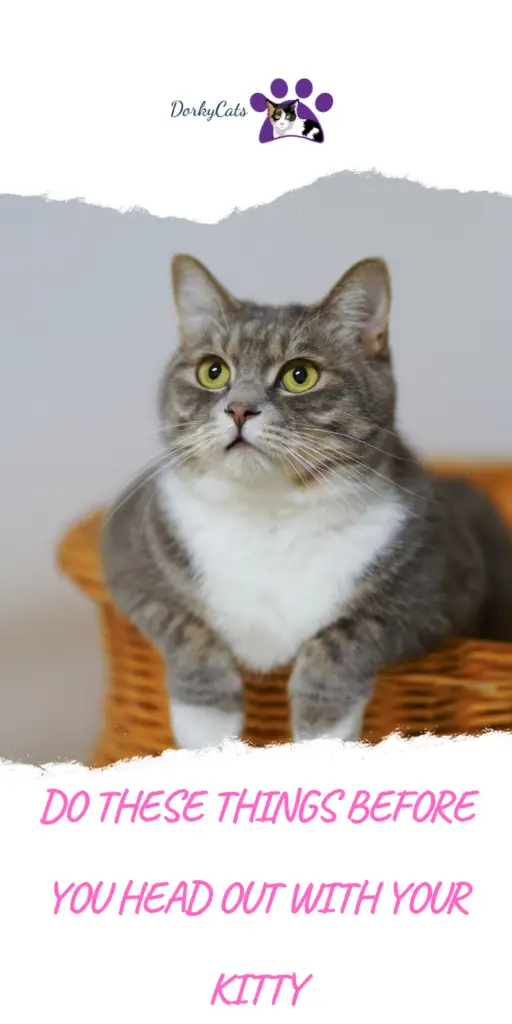 1. FIRST, HELP THEM SETTLE
When you let a cat outside for the first time, there are certain things that you need to take care of when it comes to cat care or going out with them.
The first and foremost of these things is to take a slow start with whatever you want your feline kid to be good at.
Since you are aware that you will need to take them out one day or another, why not start working on it before the time comes?
Moreover, cats are one of those species who take their time to settle into a new place.
The same is the case with exploring outdoors or traveling with you.
So, try to introduce your little kiddo in a slow way using different techniques, like letting him sniff your main door and the porch area, then moving onto the street, and so on.
This way, you will be able to know whether your cat is happy with stepping outside or not.
2.   MAKE SURE YOUR CAT IS NOT AFRAID
The next thing that you should focus on, in terms of cat care, before heading out with your feline buddy is taking note of whether they are showing any signs of scaredness or not.
Just like humans, kitties are also blessed with unique behaviors and responding abilities to different situations.
This is the reason why some felines can take a bath easily while others fear it like they have seen a literal ghost.
Similarly, it is possible that your pet might not be comfortable with crowded streets or seeing a lot of people at once.
Therefore, it is best to note such variations in their mood or behavior when you go out with them as a trial visit.
3.   DON'T LEAVE WITHOUT FEEDING THEM
How do you feel when you go out for a quick grocery run on an empty stomach without even drinking a glass of water?
Thirsty and hungry and not well at all, right?
Yes, the same can happen with your little munchkin, aka your feline buddy.
Therefore, in order to keep up with your cat care, no matter how late you are getting, don't forget to feed them an appropriate amount of food.
Or, the best way is to feed them at least half an hour before setting yourself on the way to your destination.
The reason behind this is that it will let the food inside them settle well and go into the process of digestion without making them feel like throwing up because you never really know what the bumps on the road might do to your baby's stomach.
Moreover, the thing that you should be mindful of is not feeding them too much.
Instead, fill their bowls up to the level that makes them hungry and want to go back home again.
4.   ENSURE THEIR COMFORT
After you are done with all the precautionary measures for your cat care before heading out with them, now is the time to focus on the essentials that you should choose and make their travel experience comfortably pleasant.
Since you don't want your buddy to feel uneasy throughout their journey, try to take them in something as comfortable as a cat pouch carrier.
The reason behind this is that your kitty will feel at ease at once while exploring the surroundings with you.
Moreover, it won't make her feel suffocated or like trapped in a non-breathable box.
5.   LASTLY, PATIENT IS THE KEY
The last but the most important thing to remember about cat care or making them acquainted with the new places and surroundings is that you are supposed to be patient with your little kiddo, no matter the number of temptations you use them to follow you.
The reason is, just like humans, cats are equally prone to showing stubborn behaviors at unexpected times.
So, the only thing that helps you tackle things easily is having some flexibility in your training methods.
BOTTOM LINE
Keeping the unique cat behaviors in mind, sometimes it can feel utterly confusing about what they want or how you can fix things for them.
But with the help of the right guidance, everything starts to get better.
Therefore, we hope that the points listed above will help you in one way or another.
Lastly, do let us know your thoughts in the comments section below!