ARE ELEVATED BOWLS BETTER FOR CATS? 5+ REASONS TO USE THEM
Are elevated bowls better for cats or not? You may have seen those types of bowls around, and maybe you are wondering if it would be a good idea for your cat to get one too. In this article, we are going to cover whether it is a good idea to use elevated food bowls or not.
Elevating a cat's food bowl may be a good way to promote cat digestions, especially in cats with special needs, like older cats or cats with health problems. However, elevating cat's food bowls may present several advantages for normals cats, like eating easily without lowering their head, avoiding whisker fatigue or sensibility issues, and keeping cat food clean from dust and airs from the ground, easier to keep clean, and be filled up.
Let's see all the advantages.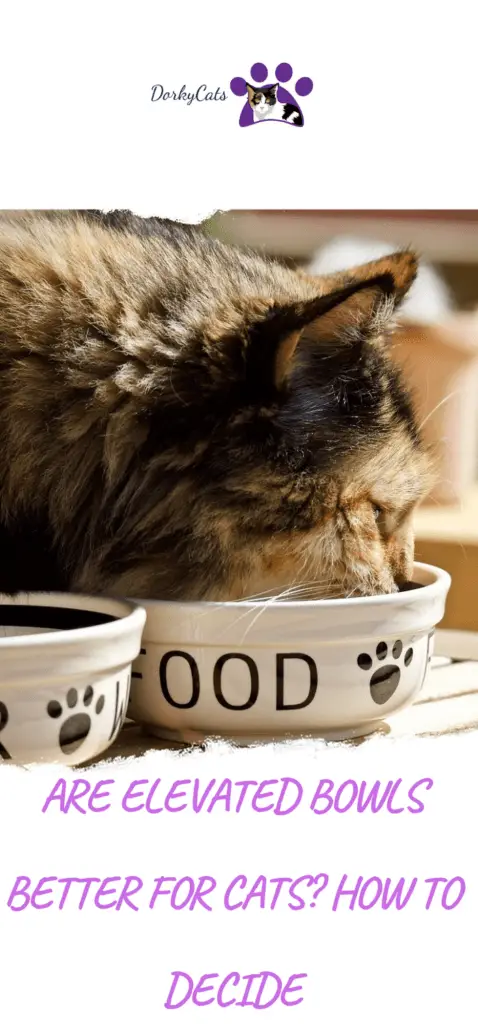 ARE ELEVATED BOWLS BETTER FOR CATS?
Cats in nature are used to eat on the ground. When hunting their prey and finally getting it, they have only the ground to use as a "dish." Therefore it shouldn't be a problem for cats to eat in that position, and possibly it is even more natural for them.
However, there are advantages to using an elevated food bowl for cats, especially for indoor cats. Indoor cats are raised to have different habits than feral cats, even though their instincts are still there. The use of Elevated food bowls can facilitate their meals in many ways, and they also present some advantages for humans.
Here some of the advantages of using elevated food bowls:
FACILITATED DIGESTION
Elevated bowls make it easy for cats to eat. They are keeping their bodies raised, which helps food to go down and be digested. For older cats, it is a great way to help them eat more food. For the younger cat, it just makes it easy.
REDUCE WHISKER FATIGUE AND PROBLEMS RELATED TO IT
Some cats ate to have to dig into their food bowls because of their whiskers touching the bowls. Some cats are too much sensitive to this contact and may not eat. Elevated bowls, or at least some types, can reduce this problem and make it easier for cats to reach their food. If you see that your cat is always leaving food behind or doesn't seem to like so much eating in his bowl, an elevated food bowl can be a good solution.
KEEP DIRT OFF YOUR CAT FOOD
I have observed that dust and hairs tend to go into the food bowls and water bowl. I had already moved their bowls to an elevated surface to avoid having them eat dirty food and water. Elevated food bowls can resolve this problem in a much easier and better way. I usually change wanter and remove their food often because of this situation. I find that elevating their bowls allow more hygiene around your cat eating.
HELP CATS WITH SPECIAL NEEDS
Elevated food bowls can help cats with special needs to eat and digest. In fact, those bowls do not require bending and other complicated moves. Elevated bowls can be of help when there is a cat with special needs in the house.
HELP CATS OWNERS WITH DISABILITIES
An elevated cat food bowl can be of help to owner that have disabilities, for people who have problem bending or other mobility problems.
PREVENT CATS TO USE FOOD AS A TOY
Kittens have the habit of playing with food. Sometimes even grown-up cats do it. Some cats have the habit of digging around food bowls like they do in the litter box. To prevent your cat from digging into the wet food or the dry food and scatter it all over the floor, you may think of using elevated food bowls.
CATS POSTURE PROBLEMS
Normally cats have to stretch their neck and flex their spine and joints. It is not an easy posture. If cats have joint problems of being overweight, they could have additional problems to flex themselves in his way. It is better to have a cat feeder that is placed at the same heights as their elbow. This would be the perfect position for an elevated cat bowl.
Here we go. The height for an elevated food bowl for cats should be between 4 to 6 inches. It is supposed to be at the height of your cat's elbow. Depending on the cats you have, you can choose the one that is best for you.
RECOMMENDED ELEVATED CATS FOOD BOWLS
In case you are wondering what kind of elevated bowls are around, we selected 5 of the top-rated and the top seller bowls on Amazon. We decided to do it this way since if a product is selling over others and has as near as 5-star reviews, we believe it can give you a good idea of what can be a good product for your cat.
Here is out top 5 selection:
4.8 out of 5 – 8,976 global ratings (People who bought it and rated it)
It comes in three sizes, small, medium, and large. It is the most sold on Amazon with over 9000 reviews and 5 stars. Worth trying it.
KICK PROOF – Accidents happen, but they don't have to ruin your floor!
SPILL PROOF – Food stays on top, and water drains below
ELEVATED – Elevated feeding position is good for digestion and joints, compatible with Neater Feeder Leg Extensions (size small) adding additional height for tall cats
COMFORTABLE – Contoured design allows easy access for all cats
MEASURES – 14 x 9 x 6 inches; front wall height is 3.75 inches; bowl height is 2 inches
4.8 out of 5 – 1,164 global ratings (People who bought it and rated it)
It comes with different colors, and it is made of ceramic, which cats tend to like more. Here more informations about the item:
The natural look of high quality glazed stoneware bowl stand promotes healthy and comfortable mealtime for your pets.
Small White Bowl: 7.25″ diameter, 3.25″ high; 40 fluid ounces; Large Bowl: 9.25″ diameter, 4″ high; 80 fluid ounces.
Bowl Stand is made of wrought iron with an antique copper coating finish.
Small Stand: 5″ tall, ideal for small dogs and cats. Large Stand: 9″ tall, ideal for medium and large pets.
Stoneware Bowls are microwave and dishwasher safe.
4.8 out of 5 – 1,507 global ratings (People who bought it and rated it)
This bowl has a modern look and it comes with a regular size and extra tall. Necoichi means "cats first" in Japanese.
HELP YOUR FELINE FRIEND HYDRATE IN COMFORT with the Necoichi Raised Cat Water Bowl that will serve your cat water at mouth-level.
MAKE SURE YOUR CAT DRINKS ENOUGH WATER: The measurement lines on the inner surface of this cat water feeder help you keep track of the quantity of water consumed.
SAFE & CONVENIENT BOWL FOR WATER OR MILK: Their drinking bowls from non-absorbent porcelain made to EC and ECC European standard, perfectly healthy for your pet. It is dishwasher and microwave safe for your convenience.
SAVE YOUR CLEAN FLOORS FROM MESSY ACCIDENTS: The unique curved shape and the inner lip of this smart pet food/water bowl ensure that water stays inside till the last drop – not on your wooden floors or expensive carpets!
4.8 out of 5 – 1,052 global ratings (People who bought it and rated it)
This bowl also offers a tilted angle. In my view, this is even better for cats. They are extremely facilitated and made comfortable in enjoying their food.
REDUCE NECK BURDEN – The 15° tilted elevated bowl reduces the strain when leaning their bodies, which helps avoid future spine and digestive system problems. Pets with arthritis, neck, or back problems find it a relief to eat from a raised feeder.
NO SLIP & NO MESS – This elevated cat bowl is a good choice for the messy eater. The weight of ceramic bowls over 2 lbs to prevent strong dogs and cats from nudging bowls around the floor and tipping the contents out
EASY TO USE & CLEAN – Bowls are removable, dishwasher, and microwave safe.
FOOD GRADE CERAMIC BOWLS – Ceramic material is sturdy, rust-free, and harmless to cats. And the natural bamboo holder is coated with varnish, which is waterproof and durable.
PICKED FOR CATS AND PUPPY – The feeding bowl dimensions are 5.1'' wide and 1.7 '' deep. The shallow and wide shape prevents whisker fatigue, while rounded edges make it easy for your cat to get every bit of food. Deep enough to contain your cat's food without spilling
4.8 out of 5 – 515 global ratings (People who bought it and rated it)
It is made of ceramic. It is a set of bowls, one for food and the other for water. Simple and clean. It has wood stands under them, and it is made not to spill out.
DOUBLE DESIGN: Each ceramic cat bowl sits in its own elegant bamboo stand, raising the dishes closer to your pet for more comfortable eating.
EASY TO CLEAN: The grey ceramic dishes won't stain or transfer taste and are removable for easy cleaning. Each raised wooden frame can be wiped with a damp cloth as needed.
GREEN LIVING: If you're trying to avoid plastic, bamboo and ceramic are ideal alternatives. The natural materials are sustainable and bring a stylish touch to your home.
REDUCE NECK BURDEN: The elevated design is great for older pets to reduce strain on their necks, shoulders, and joints. They are also great for cats with sensitive whiskers, excitable messy cats who tend to knock over bowls, or small dogs.
NON-SLIP STANDS: The bamboo wood stands stop the bowls from sliding around so that your floor remains clean during feeding time. Keeps food and water in the dishes and off the floor.
RELATED QUESTIONS
Here some related questions to: "Are elevated bowls better for cats or not?" and related answers:
Are tilted cat bowls better?
If elevated cat bowls are already helping your cat to a better and easy meal experience, tilted food bowls are even better for them; in fact, they reduce even more whisker fatigue and make it even easier to eat their food.
What is an anti vomiting cat bowl?
It is basically an elevated and sometimes tilted cat bowl. In this way, the food is not going from a lower position to a higher position but can go right down to the cat's stomach since eating in an elevated position.
CONCLUSION
Are elevated bowls better for cats or not? It is not a bad idea to get an elevated food bowl for your cat. If you have a question or want to add something, leave it in the comments below.