ARE TEMPTATIONS TREATS BAD FOR CATS? THE REAL TRUTH
Are Temptations treats bad for cats, or are they actually safe? It is a genuine concern because cat owners, including myself, report their little babies sick after eating Temptations. Also, they say cats are getting addicted to them. So what is going on with Temptations treats?
Temptations treats are bad for cats because they are made with components like flavoring ingredients, corn, potassium chloride, zinc sulfate, even petroleum derivates, and other ingredients that make these treats tasty, addictive, and unhealthy.
Let's see in detail what is inside Temptations and what can be done to help a cat that is addicted to it.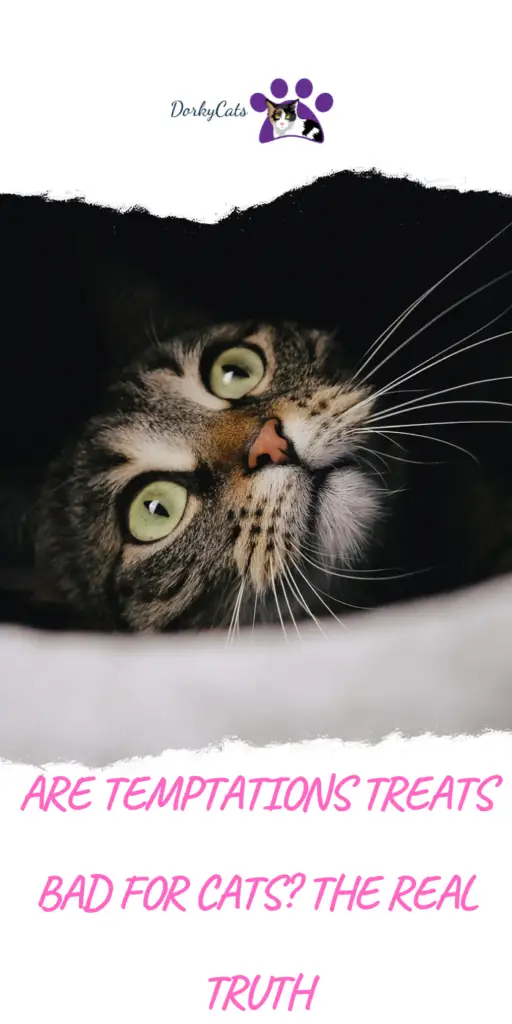 WHAT ARE THE TEMPTATIONS CAT TREATS?
Temptations is a very famous brand that sells cat treats in several flavors. The treats are crunchy outside and soft inside. Typically, cats like them very much, and once they have tried them, they want more and become addicted.
Based on the Temptations website, each treat is under two calories and is nutritionally complete and balanced for an adult cat.
Since the product is labeled as a treat, it is not meant to be used as food. Unfortunately, most cats want to have more once they get a few, which can be dangerous for their health.
Many articles and stories about Temptations and the adverse effects on cats' health have recently appeared on the internet.
Several cat owners have reported their cats being sick after eating them; some needed urgent care or even died from it. In comparison, other cat owners have reported having no problem whatsoever with Temptations.
So what is the truth about it? Is Temptation that bad? Are cat owners who are feeding too many treats to cats causing them to be sick?
WHAT ARE TEMPTATIONS TREATS MADE OF?
To make an informed decision, a cat owner should know what is inside those treats and decide if they want to give it to their cat every day, if they want to give it once in a while, or do not want to feed Temptations at all.
Here is an example of ingredients you can find in one of the Temptations treats bags, the MixUps BACKYARD COOKOUT™:
Chicken By-Product Meal
Ground Corn
Animal Fat (preserved with Mixed Tocopherols)
Brewers' Rice
Wheat Flour
Dried Meat By-Products
Natural Flavors (source of Liver Flavor)
Brewers' Dried Yeast
Potassium Chloride
Choline Chloride
Caramel Color
Salt
Taurine
DL-Methionine
Calcium Carbonate
DL-Alpha Tocopherol Acetate (source of Vitamin E)
Zinc Sulfate
Mixed Tocopherols (preservative)
Natural Beef Flavor
Red #40
Dried Cheese
Copper Sulfate
Vitamin A Acetate
Niacin Supplement
Vitamin B12 Supplement
Riboflavin Supplement
Manganese Sulfate
Thiamine Mononitrate
D-Calcium Pantothenate
Biotin
Vitamin D3 Supplement
Potassium Iodide
Pyridoxine Hydrochloride (Vitamin B6)
Folic Acid
The first thing that jumps straight off the list is corn (known as GMO), wheat flour which generally contains gluten, and meat and chicken by-products.
Do you know what meat by-products are? Meat by-products are not edible or cannot be legally used for humans, but pet food industries use them to create pet food, which is legal.
Wait a second.
Is it logical to feed cats food that humans should not eat? Are we actually poisoning our pets?
TEMPTATION TREATS INGREDIENTS DESCRIPTION
Let's go over some of the ingredients in Temptations. In this way, one can decide whether Temptations treats are good or bad for their cats.
MEAT BY-PRODUCTS
Well, meat by-products include the following and are often thought to be waste materials:
Feet
Backs
Livers
Lungs
Heads
Brains
Spleen
Frames
Kidneys
Stomachs
Intestines
Undeveloped eggs
(Source: dogadvisor.com)
The worse part is that some of these by-products are left outside non-refrigerated (which is why humans can't eat them, amongst other things), but they are still used to create pet food.
Pet food brands that use meat by-products use ingredients not considered edible for people and make millions of dollars on this waste.
When you see on the label the sentence generic by-product meat, it means that the source of the product can be derived from the following source:
Roadkill
Dead animals from a zoo
Dead on arrival
Diseased and dying animals
Euthanized pets from shelters
(Source: dogadvisor.com)
There is a lot to debate and discuss. But, for simplicity, we can say that it is best to avoid meat by-products from food and treats given to cats. It is hard to know what it is, where it comes from, and how it was handled.
GROUND CORN
Corn in the U.S. is genetically modified, even though the FDA says it is Ok, and GMOs have no side effects. Many independent studies show otherwise.
The worst thing is that animals are fed GMO products, and when we or our pets eat meat or even cat food with corn or soy, they are exposed to eventual side effects.
Most genetically modified foods are:
Soy 
Corn 
Canola 
Cottonseed
Salmon (unless it's organic)
What are the side effects of GMO food? Cancer to start, liver problems, and a series of other conditions.
Corn and soy are a no-no.
ANIMAL FAT
What does that mean? What animal fat? And why aren't they clear about it? Animal fat is low-quality meat from dead, diseased, dying, or disabled animals. It is rancid most of the time, and they need to add flavors to make it taste better.
It is unbelievable. But it is not only Temptation to use it. It is vital to start reading the labels on each type of cat food, and only those with the least ingredients are as natural as possible.
(Source: blog.homesalive.ca)
RED#40
A study from the Center for Science in the Public Interest (CSPI) raised concern about many currently used dyes. One of these is Red#40.
Red 40 is one of the most widely used dyes. The report states the following:
"Red 40, the most widely used dye, may accelerate the appearance of immune-system tumors in mice.  The dye causes hypersensitivity (allergy-like) reactions in a small number of consumers and might trigger hyperactivity in children.  Considering the safety questions and its non-essentiality, Red 40 should be excluded from foods unless and until new tests clearly demonstrate its safety."

https://truthaboutpetfood.com
Many pet food contains Red 40 or other dyes to make the product look better in the eyes of the consumer since cats do not care about the color. Cats are at risk when they consume dyes in food and treats. Cats owners should not buy food containing them.
SYNTHETIC VITAMINS SUPPLEMENTS
Synthetic vitamin supplements in cat treats and food are dangerous for your cat. Vitamins need to come from whole food and actual plants or food. If they are synthetically made like the following ingredients, in the long run, the presence of these will create vitamin deficiency in your cat:
Vitamin B6 Pyridoxine Hydrochloride
Vitamin B1 Thiamine Hydrochloride
Vitamin B3 Niacin or niacinamide
Vitamin A (Palmitate)
Ascorbic acid: learn how the average Vitamin C supplement is made
Riboflavin
Vitamin E Mixed tocopherols( the white bread of Vit E  ) fractionated vitamin.
Vitamin E acetate also ( the white bread of Vit E  ) is a fractionated vitamin.
Vitamin C (Sodium Ascorbate) (Ascorbyl Palmitate)
(Source: nwcnaturals.com)
The fact that the label says natural means nothing; they have to state the name of the plant it comes from, like brewer's yeast, green pepper, orange peel, rose hips, safflower oil, acerola cherry, shiitake mushroom, alfalfa, blackstrap molasses Dunaliella salina, wild yam, carrot, rice bran, chickweed, wheatgrass, amla, barley grass, nettles, algae, kelp, pine park, grape seed extract, turmeric, etc.
(Source: nwcnaturals.com)
In other words, pet owners need to read through the labels and understand what they mean. In the case of Temptations treats, the vitamin content is actually junk. Therefore, it is betTherefore, itr to find food without synthetic supplements but with real high-quality meat, fish, etc.
Read more on Temptation ingredients here: WHY DO CATS LIKE TEMPTATIONS SO MUCH?
ARE TEMPTATIONS TREATS BAD FOR CATS?
Based on the above points, Temptation is not a good choice for a cat, even as a treat. Of course, one can argue that giving it to a cat from time to time will not have harmful effects. But it is the same if saying that if you eat poison from time to time is not that bad.
It may not be that bad, and the body can eventually deal with it, but in the long run, it may create adverse effects. Unfortunately, it is not only Temptations, but most cats' food and treats use meat by-products; we may be feeding our cats dead cats or dogs. We will never know.
The answer is to buy real meat and real natural food for cats. Cats are carnivores, so food that goes near their natural eating habits is perfect. Here is an example of a cat treat that has very few ingredients and contains a lot of proteins: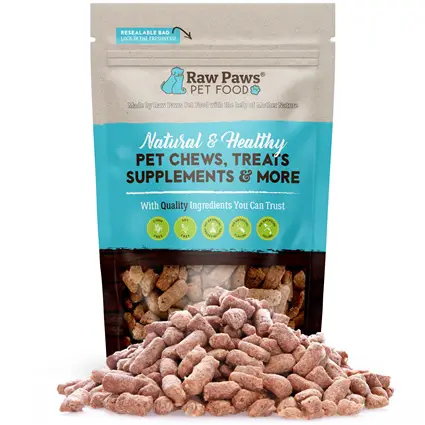 The only ingredients are Ground duck with bone, duck liver, duck gizzard, duck skin, herring oil, mixed tocopherols, and d-alpha-tocopherol. And they are Free-Run, Grain-Free, with No Hormones, Antibiotics Free, or Gluten Free, and Made in the USA.
HOW TO WEAN CATS OFF TEMPTATION TREATS?
Here's how you can wean your cat off Temptations treats:
First, gradually decrease the amount of treats given: Start by reducing the amount of treats given to your cat each day until you are no longer giving them any.
Offer alternative treats: Try giving your cat a different type of treat that is healthier and lower in calories.
Provide plenty of stimulation: Keep your cat active and engaged with interactive toys, scratching posts, and plenty of playtimes.
Increase mealtimes: If your cat is used to receiving treats throughout the day, try increasing the frequency of mealtimes to reduce their reliance on treats.
Consult with a veterinarian: If your cat is overweight or has health issues, it's best to consult with a veterinarian to develop a personalized plan for reducing treats and promoting healthy weight loss.
Remember, the key is to make the transition gradual and to provide plenty of positive reinforcement to help your cat adjust to the change.
5 NATURAL TREATS BRANDS FOR YOUR CAT
You can do research on the nearest pet shop, reading the labels of the products they sell. Here are some brands we could find that has one ingredient, as and are as natural as possible:
About this product:
Just One Ingredient: Tuna
Crafted From Select Cuts Of Real, Whole Fish
Never Any By-Products Or Fillers
Lightly cooked for a perfectly tender texture, then flaked into flavorful little bites
2. ORIJEN Freeze Dried Cat Treats
About this product:
ORIJEN Original Freeze-Dried Cat Treats are nutrient-dense and high in protein, and whole free-run poultry and wild-caught fish
It uses raw animal ingredients, including meat, organs, cartilage, and bone.
3. Fruitables Wildly Natural Cat Treat Variety
About this product:
Cranberries Support Healthy Urinary Tract
Grain-Free, Natural With Added Taurine
Under 2 Calories Per Treat
Wheat, Corn, And Soy Free. Made With Real Chicken
4. Icelandic+| All-Natural Cat Treats| Whole Fish
About this product:
100% edible and digestible pure whole fish treats for cats containing herring -3 fatty acids
These fish treats are air-dried within USDA, E.U., and mast standards and regulations
100% natural—no additives, no preservatives, and no supplements. There is only a single ingredient which is just fish, nothing else!
It contains taurine, which is vital to keeping your cat's heart-healthy
For freshness and convenience, our fish are packaged in a stand-up, resealable bag
5. Instinct Raw Boost Mixers Grain Free Freeze Dried Raw Cat Food Toppers
About this product:
REAL, NATURAL INGREDIENTS: Raw is made with raw meat, fruits, vegetables & other wholesome ingredients
MINIMALLY PROCESSED, NEVER COOKED: Raw is never cooked and less processed than other pet food—keeping valuable nutrients intact
NUTRIENT DENSE: Raw, uncooked foods retain natural flavors, antioxidants, amino acids & vitamins, and minerals
FROZEN OR FREEZE-DRIED: We take our raw frozen product and freeze-dry it (removing the moisture), which makes it shelf-stable
FREQUENTLY ASKED QUESTIONS
Are temptations cat treats made in China?
According to what is written on their site, Temptations are made in Canada. In addition, Mars Incorporated produces temptations treats.

What happens if a cat eats too many treats?
Typically, cats eating too many treats gain weight and have side effects due to the harmful ingredients in some of those low-quality treats. For example, they can vomit, have diarrhea, develop urinary tract infections, liver problems, cancer, and other illnesses, if they continue over a long period.

Is it bad to give my cat treats every day?
It depends on the ingredients; low-quality treats should not be given often, once in a while, or never. It is better to replace them with high-quality, natural treats. Treating a cat daily at least once is common if you have good quality treats. But cat treats should not replace a meal.
Can I feed my cat temptations as a meal?
Temptations should not be given to a cat as a full meal; they are treats and thus used with moderation. It is even mentioned on the official Temptations website.

Can temptations cat treats cause diabetes?
There is no evidence that Temptations cat treats alone can cause diabetes in cats. However, consuming a diet that is high in carbohydrates, including treats, can lead to weight gain and obesity, which are risk factors for the development of feline diabetes.
It is important to feed cats a balanced diet and to limit the amount of treats they consume to prevent obesity and other health issues.

How many temptations treats should i give my cat?
The amount of Temptation treats you can give your cat depends on several factors, including their age, weight, activity level, and overall health.
One Temptation treats typically contain around 2 to 3 calories, so you could feed your cat a few, although we recommend finding natural alternatives.
Why do cats love Temptations so much?
Cats often love Temptation treats for several reasons. One of them is the tasty flavor. Temptations treats are available in various flavors that many cats find appealing, such as chicken, tuna, and salmon.
Temptations treat soft, crunchy texture is appealing to many cats.
The small size of Temptations treats makes them easy for cats to consume.
CONCLUSION
It is imperative to read labels and understand how pet food industries produce the food we give to our cats. If many people start buying healthier brands and stop buying lousy cat food, eventually, those multi-billion companies would be forced to improve their products to stay in business.
But not many cat owners read the ingredients on the labels and know what inside wet or dry food is. Most people may just read the front cover, where words like "natural" and "healthy" are used too quickly.
Let's spread good education and correct information to improve the quality of life of our cats and change the current system.