LAPERM CAT PERSONALITY AND BREED (ALL YOU NEED TO KNOW)
Would you like to know more about the LaPerm cat personality and breed? The distinctive curly, wavy coat of these cats, similar to that of the Rex, helps explain this breed's unusual name.
Active and outgoing, they are raised in different colors and designs. At a glance, this cat has a distinctive coat due to a dominant mutation. However, it is a sociable cat that adapts easily and has a thin undercoat.
Let's know more about the LaPerm cat personality and breed.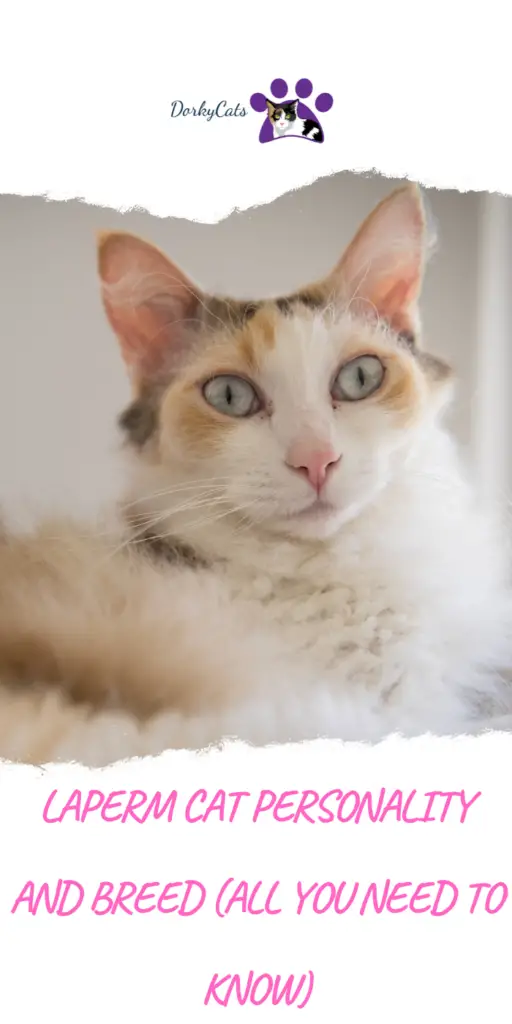 WHAT IS THE LAPERM CAT GENERAL ASPECT AND SIZE?
The most obvious physical characteristic of the LaPerm cat is its wavy coat. The coat should be soft, not too close to the body, and appear almost tousled.
The tail is tapered; this is where the thickest curls accumulate, as well as on the neck and at the base of the ears.
CHARACTERISTICS OF LAPERM CAT
Characteristic
Description
Notes
In summary
The first specimen was
born on a farm, there
are short-haired
and long-haired versions
Personality
Intelligent and
unpretentious, it adapts well
to the home environment
Appearance
The coat is variable,
in some cases, very
curly, in others
just wavy
There is a wide
variety of colors
and designs
In the house
A very strong breed
that needs to
go out on a regular
basis
If kept indoors
for a long time,
it can be difficult
to manage
Behavior
It maintains a strong
hunting instinct,
especially for rodents.
It is a very active cat
Grooming
It depends on the
type of coat. The short-haired
variant need less care
Kittens can
be born naked
or shed for a while
Most common health
problems
There are no particular
problems
WHAT IS THE HISTORY OF THE LAPERM CAT?
The first specimen of this breed was a kitten born in Linda and Richard Koehl's orchard in The Dales, Oregon, in 1982. Called Curly, initially, she had little hair compared to other kittens but then developed a curly and soft coat.
After she nearly died in an accident on the farm, her owners decided to keep her at home, but she got pregnant anyway.
Curly gave birth to five male kittens, all with her own distinctive curly coat. Those cats, over time, proliferated on the farm due to the dominant mutation. The curiosity of the visitors convinces Linda to do some research.
In addition, she decided to bring some kittens to a cat show, and given the interest aroused; she proceeded to develop the new breed. Currently, there are no color or coat design restrictions.
Asian varieties, such as chocolate, are also introduced following a casual crossing with a Siamese during the early stages of the development of LaPerm. Today these particular Rex are found in many countries of the world.
LAPERM CAT PERSONALITY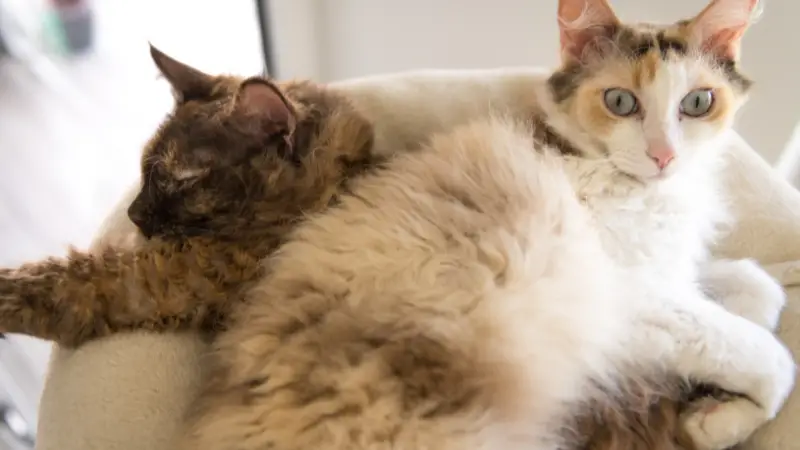 Although the LaPerm cats can be described as "lap cats" because of their affectionate nature and the desire to snuggle with their humans as much as possible, they are still excellent hunters and very lively cats.
It is common for these cats to come and sleep with you and activate their purring matching while you pet them. They love to be in contact with people and are very friendly with other pets.
But, they are also very active and can't hide their hunting instinct. So, they should have some time outside, or if kept indoors, they must have enough enrichment to give free rein to their wildest instincts.
In general, the LaPerm cats are not shy with strangers, and it is common to see them coming close to a newcomer to investigate the situation.
Since they are active, if they can't go outside, they should have enough toys or be able to play with a human. For example, they can play fetch, or if you have toys with strings, you can make them run and jump in an attempt to chase them.
In addition, they are pretty bright cats, and you can find them following you around the house, just like a dog would.
Here are some of the critical traits of a LaPerm cat:
Intelligent
Easy to train
Friendly with other pets and humans
High hunting instinct
Lap cats
Love attention
Love to watch things from the top (love heights)
HOW TO CARE FOR AND FEED THE LAPERM CAT
LaPerm cats are easy to groom, even the long-haired versions. However, the long-haired specimens require weekly brushing to help maintain their coat free of tangles and matting.
The short-haired versions do not require regular brushing, although you could still brush them once in a while to remove dead hairs and dirt.
You can also perform other routine care actions such as ear cleaning and nail trimming, although if you have scratching posts, the cats can take care of their own nails.
No specific diet is required, and since this cat tends to be very active, you should not worry about gaining weight. However, providing high-quality food and alternate fresh food with average wet and dry cat food is also good.
FREQUENTLY ASKED QUESTIONS
Are LaPerm cats vocal?
LaPerm Cats are not highly vocal but make themselves clear if they need something. They use their voice only when it is necessary.

Are LaPerm cats soft?
LaPerm cats have soft and wavy coats. Especially the long-haired specimens have long curly fur, which is also soft.

Are LaPerm hypoallergenic?
LaPerm cats are not hypoallergenic, although they tend to shed less than other cats and affect humans less. But, they are not genuinely hypoallergenic cats.
What is the LaPerm cat price?
LaPerm cats can be expensive, and depending on the breeder you choose, you could pay up to $1500. But, again, the price depends on the breeder, the kitten's age, and the purity of the breed.

What is the LaPerm Cat life span?
LaPerm cats can live up to 15 years of age. However, the quality of food, environment and proper care can affect the length of life.

Do LaPerm cats get along with dogs?
LaPerm cats get along well with dogs and other pets due to their friendly and affectionate nature. They like companionship and the possibility of having a playmate.

How big can LaPerm cats get?
LaPerm cats do not get too big; they are medium size cats that can weigh between 5 and 10 pounds.
Do LaPerm cats have health problems?
LaPerm cats are not known to have specific hereditary health problems. They are healthy cats but can be subject to all the diseases other cats can get.

Why are LaPerm cats called in this way?
LaPerm cats are called this way in reference to their wavy coat. For this reason, their breeder called them LaPerm since to make curly hairs, you do a perm (permanent).