WHAT ARE THE 11 BEST WATERLESS SHAMPOOS FOR CATS?
What are the best waterless shampoos for cats? And is it safe to use them? Cat owners know that their fur balls hate water and are more than happy to find alternative solutions. But, are waterless shampoo effective?
Waterless shampoos are products that remove dirt and grease from cats without the need for water. Dry shampoo can be found as foam, spray, or powder. Typically, they apply on the cat's fur and get removed through combing.
Let's see what products are there and how to use them.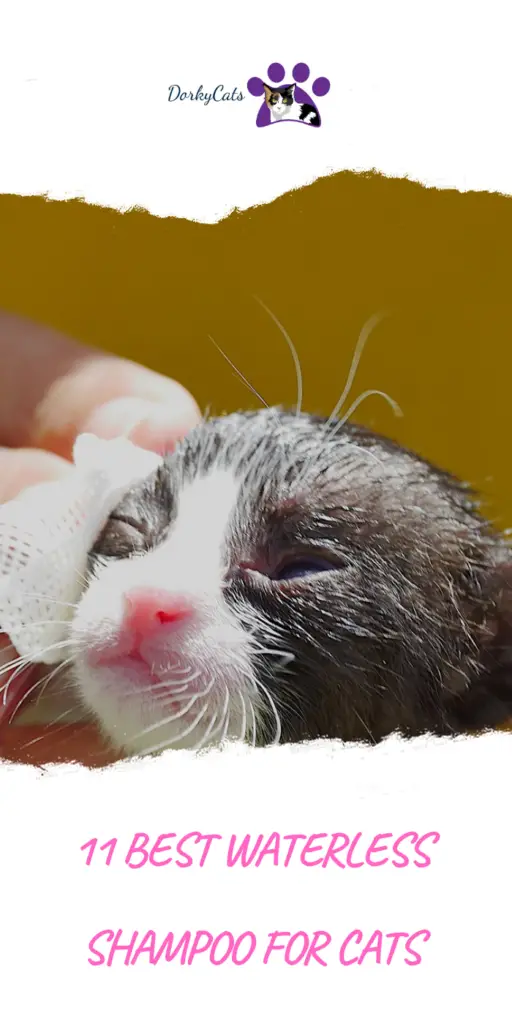 WHAT IS A WATERLESS OR DRY SHAMPOO?
Waterless or dry shampoos are designed to absorb oils, dirt from cats' skin and fur. Some products can have antiseptic properties to protect skin from infections and irritations, kill fleas, moisturizes, and soothes itchy, dry skin & coat. Typically, dry shampoo is applied to the cat's fur with a light massage, and then brushing is needed to remove the residue.
Waterless shampoo can be find as:
But what are the benefits of using waterless shampoo or dry shampoo? Cats do not need bathing. They do a pretty good job cleaning themselves, even though sometimes they may need human intervention when they get too dirty.
Some elderly cats may not groom themselves as much as needed, and some sick cats need extra care and cleaning. Waterless shampoos can help in these cases.
Here some of the benefits for using waterless shampoo:
Quick and easy: if you are rushing or your cat needs a localized and fast cleaning, dry shampoos are perfect.
Can be used while traveling: dry shampoos are perfect for travel. They need no water and are easy to transport.
Help cat's skin conditions: some products can address itching and others skin conditions. Therefore, dry shampoos can be used to help your cat to get rid of a skin problem like dandruff, repulsive odors, greasy, dry, or dull coat, or cutaneous infections.
It is impossible to bathe your cat: your cat is an escape artist, and whatever you do, he will not let you wash him. In this case, if your cat needs cleaning, dry shampoos are the only alternative.
In case of a small accident: If your cat gets in trouble and contact with a substance he should have not, which is typical of cats, dry shampoos can be an easy solution.
BEST WATERLESS SHAMPOOS FOR CATS
In choosing a waterless shampoo for your cat, it is crucial to select the best in terms of effectiveness and cat health protection. It is vital to read the labels and figure out what is inside a dry shampoo.
Cats will try licking off anything on their fur. Therefore if a dry shampoo contains harsh chemical elements, cats will ingest them through licking, ending up sick. Even natural ingredients can be toxic to cats.
Therefore it is not only necessary to read the label for suspicious chemicals but understand what can be harmful to cats when the title says "Natural products." For example, those ingredients can be toxic for cats:
Citronella
Lemongrass
Lavender
Peppermint
Geranium
Eucalyptus
Tea tree
Cinnamon
Citrus
Pennyroyal 
Pine
Sweet birch
Wintergreen
Clove oil
Lilies
California ivy
Sweet Peas
Primrose
English Holly
Ylang ylang 
All the above items come from plants or herbs, but if cats ingest those plants, they can become sick. All of this to say: read the label carefully.
To assist you in the search for good dry or waterless shampoo, we have done some background research, and we have listed here some of the best waterless shampoos for cats, safe for cats:
1.Vet's Best Waterless Cat Bath
About this product:
Vet's Best Waterless Cat Shampoo cleans, conditions, moisturizes, and soothes itchy dry skin & coat, leaving your cat clean and soft.
It uses natural plant-based ingredients, such as Aloe Vera, Neem Oil, Vitamin E, and Oatmeal to gently clean, condition, and moisturize your cat's skin and coat.
It is safe to use with cats 12 weeks or older and will not affect topical flea control products.
Veterinarian formulated and recommended.
2.TropiClean Waterless Shampoos for Pets
About this product:
Easy-to-use, the deodorizing formula provides a deep, no-rinse clean and leaves your cat's coat smelling fresh between baths.
It is enriched with an effective blend of natural grime-fighting ingredients like white plum, cucumber, and oatmeal to help nourish your cat's dry skin and relax tangled fur for easy brushing.
3.Vet Recommended Waterless Cat Shampoo & Conditioner
About this product:
A natural cat shampoo that will remove pet odors in a jiffy with a quick & easy solution for that cats that hate to be soaked.
Use it with spot-on flea treatments. Use our cat dry shampoo as needed to moisturize skin & coat. Works better than regular cat dander wipes for allergy sufferers.
Vet Recommended Waterless Cat Shampoo is a mild surfactant blend that is detergent-free. Contains no alcohol or animal by-products.
4.John Paul Pet Oatmeal Waterless Foam Shampoo for Dogs and Cats
About this product:
Gentle botanical foam shampoo cleans and refreshes without water leaving your pet's fur clean and soft
Specially formulated to mix with oil and dirt so they can be brushed out of the fur
Pure oatmeal, aloe, and chamomile cleanse without irritation
Sweet almond oil conditions and imparts a wonderful almond fragrance
5.Wahl Pet Friendly Waterless No Rinse Shampoo for Animals
About this product:
This oatmeal & coconut lime verbena waterless shampoo is pH balanced, alcohol-free, paraben-free, PEG-80 free, and is highly recommended for gentle cleaning and freshening dogs, cats, & other animal coats
No rinsing necessary, simply dry with a towel & brush coat
This plant-derived oatmeal & coconut lime verbena scented waterless shampoo is great for cleansing, conditioning, detangling, & moisturizing animals; Its oatmeal formula moisturizes dry itchy skin.
6.Mooncat Waterless Cat Shampoo
About this product:
Its bottle uses a quiet, non-threatening hand pump, unlike other shampoos that use a spray action that sends cats running for their life.
It is designed for SAFETY and SENSITIVE SKIN cats, its mild formula has NO PARABENS, NO PEPPERMINT OIL, NO NEEM OIL, and NO ALCOHOL. This means your cat's coat and skin will remain moisturized and soft after every wash.
7.Begley's Natural No Rinse Waterless Pet Shampoo
About this product:
It is safe to use and readily biodegradable and using natural ingredients in non-toxic formulas. There are no caustics, dyes, synthetic fragrances, parabens, phthalates, chlorine, formaldehyde, triclosan, or phosphates used, ensuring it won't create any irritation to you, your pets, or the environment.
Spray your pet's coat liberally and wipe the treated area with a damp cloth, working well into the fur. To avoid getting in your pet's eyes, spray onto a wet cloth and apply it to the head and face. Allow the shampoo to dry, then brush and groom as usual. Repeat the process for heavily soiled or foul-smelling areas as needed.
About this product:
Rinse-free, dry shampoo for cats shown to reduce the allergens in cat hair and dander.
Rinse-free cleansing foam shampoo for cats.
Hypoallergenic shampoo formula cleanses gently and effectively.
99.8% natural shampoo formulated to meet your ingredient expectations.
9.The Spruce Waterless Pet Wash
About this product:
The Spruce's Waterless Pet Wash is made from carefully selected natural ingredients to keep your pets smelling clean and fresh, infused with the aromatherapeutic essence of Clary Sage and Lavender.
The enzyme-activated formula effectively removes the most challenging impurities such as dirt, urine, and feces, all without needing a rinse.
10.Dry Shampoo No Rinse Foam Wash
About this product:
Veterinarian formulated with D-Panthenol, allantoin, and a blend of over six botanicals helps nourish and relieve the skin while cleaning your pet's skin & coat and removing odor.
Breezytail Waterless Soothing Wash is a waterless shampoo offering deep moisturization and protection. D-panthenol and allantoin help to provide a breathable moisture foundation that protects extra-dry skin after shampooing.
It is made with six botanicals that provide safe and nourish pet skin. Breezytail discloses all the ingredients used in the products; there are no hidden ingredients – what appears on the product description is exactly what is in the product.
This product does not contain harmful chemicals like added parabens, petrolatum, mineral oils, propylene glycol, sodium lauryl sulfate (SLS), and sodium Laureth sulfate (SLES).
11.Lillian Ruff Waterless Shampoo
About this product:
Unlike other sprays or foams, our shampoo does not need to be wiped off your pet's coat. Spray and work through the fur with your hand or a comb. Safe for cats
This lavender waterless shampoo is made with lavender oils, useful for fleas and ticks' natural repellent. The light lavender scent will leave your pet smelling fresh for days. It contains aloe and other essential oils that are moisturizing for your cat's coat and skin. Safe on dry, itchy, sensitive skin.
This shampoo is TEAR FREE, DYE FREE, GLUTEN FREE, PARABEN FREE, and SULFATE FREE.
HOW TO USE A WATERLESS SHAMPOO FOR CATS
Waterless shampoos are easy to use. Whether they have foam, spray, or powder, the basic procedure is similar. Apply the product to your cat coat, avoiding eyes, ears, and genitals.
Massage the product through the coat, and then comb everything out. Some products require you to leave the foam or powder for a few minutes on your cat so that the product can combine with dirt and be easily removed when you comb the fur.
Some other products require you to use wipes to clean your cat after the product has been applied. It is essential to read the labels and figure out the instructions for the product you are using.
Waterless shampoo that comes in the form of spray may not require anything else done on your side besides spraying the product on your cat.
HOMEMADE WATERLESS SHAMPOO FOR CATS
It is possible to make your own waterless shampoo for cats using homemade products. For example, backing soda is a product that can be applied to a cat coat to remove dirt.
The procedure is simple. Place the cat in a place where you can apply the backing soda without fear of spreading it all around the house, for example, outside in the garden, balcony or in the bathtub.
Apply the baking soda to your cat fur, leave it for 5 minutes, make sure your cat is not licking all over, and then comb it thoroughly. If the comb doesn't remove all the remaining baking soda, use a towel or wipes.
Some variation of this is to place the backing soda for few minutes in the oven to warm it up for a few minutes before application. In this case, do not make it too hot.
It is possible to use also 1 cup of cornstarch and a quarter cup of baking soda. Mix the two elements and apply them to your cat fur.
If you want an alternative of baking soda, there is another idea of dry cat shampoo:
1/3 cup unprocessed bran
1/3 cup polenta (cornmeal)
1/3 cup rolled oats
The mixture should be warmed up into an oven or microwave. Make sure to mix the ingredient well. The procedure is the same, rub the mixture on your cat fur, allow the dirt to combine with the grains, and then comb it off from your cat.
DOES WATERLESS SHAMPOO FOR CATS WORK?
Waterless shampoos are not as effective as water and regular shampoo. A traditional bath with water and soap washes more thoroughly than a dry shampoo.
The principle of dry shampoos for cats is that the ingredients combine with the dirt and debris on cats' fur. Once they are combined, when you remove the product with a comb or wipe, the dirt goes away with it.
Clearly, it is not the same as the full bath, but in the worse cases, when a cat can't take a bath, in case of emergency, or even between baths, dry shampoo has its advantages. Again read the label carefully to see what kind of product you are using on your cat.
We can think of dry shampoo as the dust bathing cats are used to do from time to time, but way cleaner. Dust bathing is when cats are rolling in the dust to clean themselves off from fleas and other things they may have on their coats.
RELATED QUESTIONS
Here some related questions and answers:
Is waterless shampoo good for cats?
Waterless and dry shampoo may have their use in case of emergency, between baths, and to clean cats that do not want to bathe, and at the same time help with cats skin conditions. It is important to read the labels and make sure the product is safe for cats at the same time.
How can I clean my cat's fur without water?
Waterless shampoos are products that allow for cleaning cats' fur without water. They can be in the form of spray, foam, and powder. Wipes can also be used to clean cats without water.
How often should you wash a cat?
Cats typically clean themselves, and technically they do not need to bathe. However, a bath from time to time can be beneficial to reach where they can't get with their tongue. It can also be beneficial for their fur and skin. Long hair cats can have a hard time maintaining their fur all by themself and may require brushing, removing dead fur, and baths to help a cat clean it off.
A bath every few months or half a year can benefit cats without stressing them out with too frequent baths. If a cat uses to go outdoor, baths can be done a bit more frequently.
Will my cat hate me after a bath?
Cats will not hate you after a bath. They need time to figure out that nothing really happened and that you still love them. After a bath, cats may stay away from you for a while, but they will come back as normal after a few hours. If cats are not used for bathing, they may hold a small grudge on you. But, when they know what will happen and get used to it, they will not hold any grudge against you.
Is waterless shampoo safe for cats?
Typically, waterless or dry shampoos are safe for cats since they are made purposely to be used on cats. However, some of those products still contain toxic elements for cats or chemicals that could be harmful when ingested from cats.
Therefore, while overall safe for cats, still some brands could employ "natural" products that are toxic for cats or chemicals. It is imperative to read the labels and choose the safest product.
Do indoor cats need baths?
Typically cats do not need baths, indoor cats even less. However, a bath from time to time can still help cats to reach and clean places they can't and to feel fresh and clean. It is unnecessary to bathe a cat too often, but once in a while, it can be beneficial for them.
Can you use human dry shampoo on a cat?
Typically human shampoos and cat shampoo are made with ingredients that are good for one or the other. Using human shampoos on cats can create irritations on cats' skin and have chemicals in it that could harm your cat.
Why cat do not like water?
Cats do not like water because of the danger of drowning when they get into it, they do not like the sensation of what water does when it soaks their fur, and sometimes they do not like the water temperature. But, not all cats dislike water. Some cats like to swim and come in contact with water, but it has to be on their terms.
CONCLUSION
Dry shampoos or waterless shampoos are good alternatives to specific situations, specifically when your cat needs cleaning but can't get a bath right away, or your cut got into some troubles that require immediate intervention, or between baths, or in case your cant doesn't let anyone bath him.
There are some excellent natural waterless shampoos, or you can make your own if you do not trust products sold in the market. I hope this article was useful to you. If you have any questions or want to add anything, write it in the comments below.