TOFU CAT LITTER REVIEW | THE BEST 5 TO CHOOSE FROM
Tofu cat litter review: do you know that there is a new type of cat litter, which is tofu litter? If you wonder if this type of litter is any good, you are in the right place. We will describe the qualities of this type of litter and if it is good or not to use for our cats.
Tofu litter is made of bean dregs, which is a natural byproduct of tofu. Tofu is made by coagulating soy milk and then compressing it into solid cubes. Some tofu litter can be made of soybean fiber, starch, guar gum, natural pea fiber, corn starch, and activated charcoal. Depending on the Tofu litter brand, ingredients can vary a bit. Tofu litter has great advantages compared to normal litter: great absorption, biodegradable, harmless if pet swallowed, super clumping, faster and harder, extra durability, and no dust, to mention a few qualities.
Let's see the qualities and the advantage of tofu litter.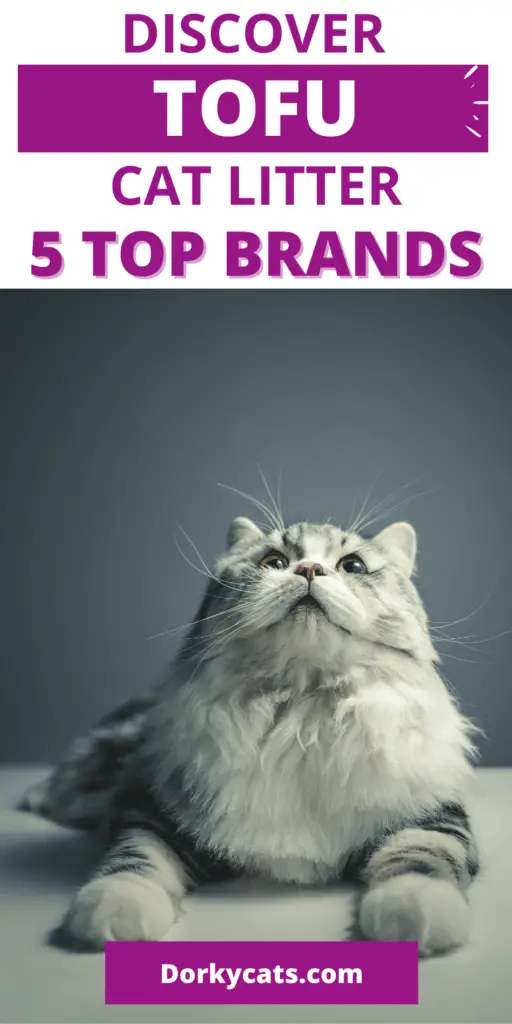 TOFU CAT LITTER REVIEW – TOFU LITTER QUALITIES
The chances are that you may not have heard yet about this type of litter. In fact, tofu litter is not widely known and not widely used yet. However, there are tons of advantages for you and for your cat in using such type of litter.
Let's go over some of the advantages of using tofu litter:
Flushable & environmentally friendly: since tofu cat litter is made from the byproducts of tofu production, its components are natural. This means that it was flushable, it dissolves into the environment, and it is not harmful. Silica litter, or normal type of litter, are not environment friendly.
Harmless if your cat swallows it: some cats may swallow litter. In this case, if that happens, it is not harmful to your cat.
Higher Clumping capabilities: tofu litter has great clumping abilities, more than normal litter. It can have hygiene advantages for your cat and you.
Long durability: due to the characteristic of this litter, it lasts longer than common litter, therefore on the long run, it is more economical
No dust: tofu cat litter doesn't produce dust. Unlike common litter, your cat will not breathe dust, and there is going going to be tracking and dust around the house.
No odors and smells: another great advantage of tofu litter is that it retains odors and smell. Your house is not going to smell like cat litter.
Absorption rate: 400% absorption ability than common cat litter. It is a cleaner and better type of litter overall.
Gentle on cat paws: It is another great point. Some cat litter can have large grain and be hurting your cat's paws when he stands on it. Tofu litter is gentle on cats' paws.
Overall better for cats' health: being natural litter with no dust is way better for cats' health. This type of litter instantly clumps, and it is made from vegetables. Cat health is more protected when using tofu litter.
Pricing: Depending on the brand, with one box of 10lb, this type of litter may last for weeks. You may spend $20-30 and be able to make it through the month.
[et_bloom_inline optin_id="optin_3″]
While it may sound weird to use litter made of tofu and while it may be something not heard before, there are tons of advantages in using this type of litter, from hygiene to environmental. You may give it a try to see if your cat is happy with it.
You may need to transition from the old litter to the new litter. Meaning if your cat is not adapting immediately, in the beginning, try to mix the old litter with the new until he gets used to it.
If you are looking for a way to resolve litter problems, you can also read: KITTY POO CLUB REVIEW: 5 THINGS WE LOVE!
BEST TYPES OF TOFU LITTER
TOP 5 BEST TOFU LITTER
Now that we know the qualities of this type of litter and what it can do, the next question would be which types of tofu litters are around and which one to buy.
I am going to list down the best type of tofu litter on the market. Those are the ones who are mostly bought from other people and that are rated better than other brands.
Each tofu litter is made of tofu mainly; however, some brands may add some natural elements to make the smells and the composition to acquire different qualities.
Here are the top 5 tofu litters:
RATING: 4.1 out of 5 – 304 global ratings
'I AM TOFU' is naturally made by soya bean and corn starch. It does not contain any synthetic additives, chemicals, and clay, so that harmless to cat.
It has been dehydrated, dried, and sterilized at a high temperature of 896 °F.
It is 100% biodegradable. It will instantly dissolve in water and safe to flush.
Use the natural clumping formula, clump within a few minutes, and easy to scoop.
A litter with 6 lb can last 3 to 4 weeks for one cat.
The powder in the bag's bottom is tofu cat litter's raw material and does not affect the normal use.
It is one of the most used tofu litter and it is one of the best rated. It does its job and the price is fair. you could give it a try.
RATING: 4 out of 5 – 262 global ratings
[Flushable & Environmentally Friendly] Made from all-natural pea fiber, corn starch, activated charcoal, starch, etc.
[Double Shot Deodorization-Activated Charcoal & Natural Pea Flavor] NO odors and smells.
[Super Clumping & Easy Scooping] 1.5 seconds fast water absorption reduces the possibility of litter sticking to cats and the bottom of the cat litter box.
[Safe & High Qualified Plant Cat Litter] Using food-grade starch and dried soybean dregs of listed enterprises make the raw materials much safer and healthier.
It is another great tofu litter alternative with great natural ingredients. This litter has great qualities in odors containments and reducing smells.
RATING: 4.2 out of 5 – 48 global ratings
CLUMPING FAST: CHOWSING clumping cat litter is made by bean dregs(by the products of tofu)
FLUSHABLE: Flushable cat litter septic safe, environmental-friendly.
VACUUM PACKAGE: 6LBS cat litter lightweight per package is the right weight to meet the inquiry of cat litter box for once
FAST CLUMPING: Pull out a bowl of water into the cat litter, absorbent, and effective odor control.
LOW-DUST: low tracking cat litter, no dust, non-tracking granules for less mess so you and your cat can breathe easy.
This is another great tofu litter, totally natural, and odors free. It is composed of Pea residue, Soy flour, Cornflour, guar gum, and green tea powder. If you like those ingredients better than the other, this tofu cat litter can be right for you.
4. KITTYWOO TOFU CAT LITTER
RATING: 3.9 out of 5 – 48 global ratings
TOILET SAFE CAT LITTER – The Natural Eco-friendly tofu cat litter will dissolve in the water instantly
LOW TRACKING & DUST-FREE – This litter is designed to stay off of your cat's paws to help keep floors clean.
FAST CLUMPING & EASY TO SCOOP – The easy scooping and clumping cat litter clumps don't crumble or break.
HEALTHY & SAFE FOR CATS – Natural plant ingredients, so you don't have to worry about it affecting your cat's health.
Even if the rating is slightly lower than the first 3 tofu litter types, this litter is still outstanding to use and is a valid alternative.
RATING: 3.3 out of 5 – 161 global ratings
100% NATURAL: All-natural clumping litter unique made from purely natural ingredients.
SUPER CLUMPING: Rock-solid clumps let you remove the source of odors easily.
FLUSHABLE: Flushable cat litter clumps are easy to use. Just let them soak and dissolve before flushing. 
SUPER ABSORBENCY: 2X more absorbent than clay by volume with effective odor control.
DUST-FREE: 99.9% dust-free and uses heavy, non-tracking granules for less mess so you and your cat can breathe easy. 
This tofu cat litter is also a great type of litter for cats, it is a bit lower on ratings, but it is a great option for cats owners.
RELATED QUESTIONS
Here some related questions and answers:
Tofu cat litter is natural and has better performance than traditional litter in so many aspects. For example, absorbing, odor control, no dust or tracking, clumping, and so on. All of those qualities being eco-friendly.
It is possible to flush cat poop, but it is not recommended due to the infections and hygiene problems that this can create. Cats can have Toxoplasma, and if this is released outside can be deadly to other animals. Therefore, it is still better not to do it. Tofu cat litters are flushable, but let's keep in mind what we just said about Toxoplasma.
If my cat uses clumping cat litter right now, can the cat adjust to tofu cat litter right away?
If you worry about your cat's adjustment, you can start with a mixture of the clumping cat litter with the tofu cat litter together until your cat can adjust to the new cat litter completely.
CONCLUSION
Tofu cat litter is a new and great alternative to litter as we know it. It is better on so many levels that I am surprised it is not spoken about much more. In any case, I hope you find the one that fits you. If you have any questions, leave them in the comments below.