8 BEST CORN LITTER FOR CATS – HOW TO CHOSE THE BEST
What is the best corn litter for cats? Were you trying to find an alternative to the typical cat litter? Maybe a natural solution? Corn litter is one of the options available for cats. Today I would like to go over corn litter in detail.
Corn cat litter is made of corn kernels and corn cobs; sometimes, producers can add other natural products to improve the product. This type of litter's qualities are mainly no dust, and it is flushable and natural, and usually it is extraordinarily clumping and clean.
Let's see the details.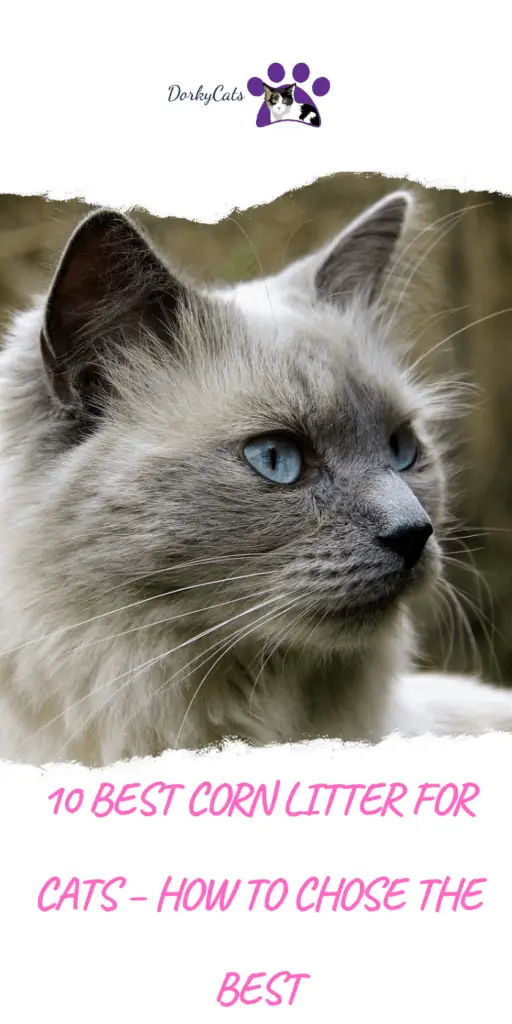 WHAT ARE THE PROS OF CORN LITTER?
I have been using silica litter for a while for my cat because it seemed hygienically the right choice because of his absorption, and it lasted longer. But, I saw that it still produced a lot of dust, and I wasn't happy for my cats to breathe in litter dust.
I decided to go green and find a more natural alternative for my cat's litter. Therefore, I started to buy corn litter. I wanted to give it a try and see how my cats would react, and I wanted to see if the natural alternatives are as good as they are promoted. `
I immediately replaced the old litter with the new one. I was a little afraid that my cats would not use the new litter, especially because one of my cats is a primadonna (he is a male actually, but acts like a snobbish queen!).
Corn litter is yellowish, it doesn't have a foul odor, but it smells like corn when used by cats. Overall there is no odor at all most times. Surprisingly, my cats started to use it immediately with no problems, even the queen!
Here are the pros of corn litter:
I choose the corn litter with small grains, resembling almost a sort of powder; it makes a perfect solid clump that disconnects from the rest. It doesn't attach to the bottom of the litter box, leaving it relatively clean.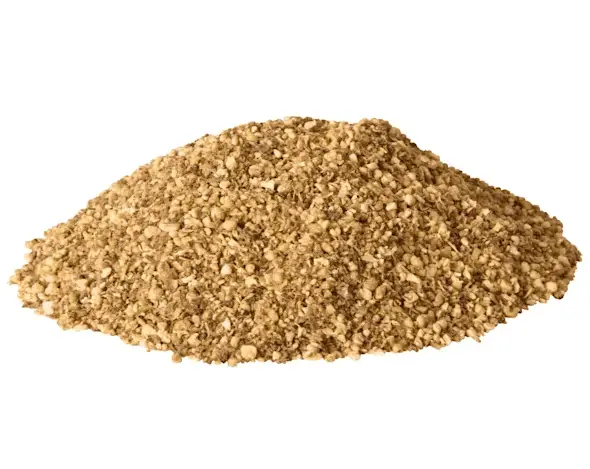 The clumping is so good that the rest of the litter remains clean from poop and pee. This is something I liked because of the hygiene implications. The litter stays clean once removing the clumps. The smell is also contained.
I was amazed that corn litter absorbed so much silica litter, despite the increased absorption, still licked pee at the bottom of the litter box, which is not hygienical for my cats when they dig the litter with their paws. Overall, only this aspect of corn litter won me over.
I was very surprised when filling up the litter box that almost no dust came up. Usually, with other litter types, I have to be very careful not to disperse around the house the dust in it. Even my cats would bring around dust. This litter doesn't create dust, which is suitable for the cats and the house cleaning.
My cat was able to bring silica litter all over the house, and it was not so funny to walk on it, and as much as I tried to keep my floors clean, there was no way. Corn litter has nearly no tracking. You can find it a little around the litter box, nothing that a litter mat can't handle.
No pee smell. Corn litter absorbs everything making a solid clump and covers all odors. If you do not clean the litter box every day, you can smell corn, but that is about it. Just keep it clean.
Since it makes perfect and rock-solid clumps, it is easy to remove them from the litter box, it takes a few minutes, and the litter stays clean. Since corn litter is absorbing, the litter box stays relatively cleaned at the bottom, making it easy to clean.
Corn litter is natural and dissolve in water. It is flushable. It is a better choice as far as the environment is concerned. Standard litter stays out in the environment for a long time, and it pollutes.
It lasts longer because it clumps so much and absorbs so much. The dirt is contained in a ball, and the rest of the litter remains clean, reducing litter waste. Consuming less means you have to buy it less often.
WHAT ARE THE CONS OF CORN LITTER?
Even though there are many positive points, there are still some points that can be considered cons. Here a few:
The corn litter smell of corn is natural, but it may not be the right choice for some people who do not like to have any odor.
POSSIBLE DEVELOPMENT OF AFLATOXIN
Sometimes corns can develop fungi called aflatoxin. It can be very dangerous for cats if ingested. However, to develop it is needed a damp environment. One can keep corn litter in a dry place and clean it often from pee and poop to avoid this problem.
Corn litter could cost a bit more than typical litter due to its qualities. But in the long run, it can be convenient since it lasts longer.
8 BEST CORN LITTER FOR CATS
Now that we have seen the pros and cons, we are going to suggest the 10 best corn litter for cats:
About this product:
For people who still want to have corn litter but do not want to smell any odors. In fact, this type of litter is odor-free:
Smells stay trapped deep inside the litter.
Made without irritating perfumes or fragrances.
Naturally-absorbent corn traps waste before it sticks to the box.
Corn is free of silica dust—naturally.
Made from sustainable corn, a renewable resource. Biodegradable, munchable, and flushable.
2.ARM & HAMMER Naturals Cat Litter
About this product:
This is a natural cat litter made of corn and other plants, made to keep odors away for people who like odor-free litter. Do those qualities make this litter one of the best corn litter for cats? Let's see.
It contains natural corn fibers, plant-based clumping agent, baking soda, plus mineral oil for dust control. It also includes an artificial fragrance.
ABSORBS 2X AS MUCH LIQUID as clumping clay cat litter. Easy to scoop cat litter clumping binds into small, light, easy to remove clumps.
3. Purina Tidy Cats Natural Clumping Cat Litter
About this product:
Outstanding odor control for a fresh-smelling home
Naturally clumping design for easy cleanup
The same number of uses as clay litter
The formula is crafted from cedar, pine, and corn
About this product:
A lightweight and naturally scented cat litter made with no fake scents or artificial perfumes.
Long-lasting odor control.
Naturally free of silica dust, this lightweight cat litter offers low tracking and less mess — and is tested and proven flushable and safe for septic and sewer systems.
A naturally safe litter made from whole-kernel corn that offers no harmful chemicals and no artificial perfumes.
5.Sustainably Yours Natural Sustainable Multi-Cat Litter
About this product:
100% sustainable, it is made from corn and cassava, two crops that are completely natural, renewable, and biodegradable.
Whiter than other plant-based brands, these white grains make it easy to keep the litter box tidy and spot differences in your cat's urine; virtually eliminates dust; it doesn't contain any chemicals or fragrances; formulated for minimal tracking.
It instantly neutralizes offensive smells without added chemicals, and it keeps on working no matter how many cats you have.
The cassava in this cat litter is naturally rich in starch; the clumps not only trap any residual odor but, unlike ordinary plant-based litters, they can quickly be scooped out without breaking or crumbling. 
Jackson Galaxy's litter choice.
6.Nature's Miracle Odor Control Corn Cob Clumping Cat Litter
About this product:
Gentle, natural corn fibers
Ideal for indoor cats and kittens
Lightweight, easy to carry, pour and dispose of.
Works great with automatic litter boxes
7. YCSJPET Kitty Clumping Corn Cat Litter
About this product:
Bean dregs make All-natural clumping kitty litter (the by-products of tofu) chemical-free. The cat litter pellets are unbeatable odor control, absorbs urine, and dries solid waste for 7x better odor control than clumping clay litters.
Flushable cat litter septic safe, environmental-friendly. Can be flushed into the toilet or used as a garden fertilizer, the cat litter raw material is tofu, which dissolves easily in water, biodegradable.
Low tracking cat litter, no dust, non-tracking granules for less mess so you and your cat can breathe easy.
8. Petfive Garfield Cat Litter
About this product:
Backed by vets – This efficient Cat litter's properties make it safe for cats with feline allergic bronchitis and pemphigus foliaceus, the most common feline autoimmune skin disease; Garfield's tiny grains are great for all kinds of felines.
Dust-free – the extra-fine grains are soft on feline's paws, providing a comfortable feel in the litter box. The white color makes it easy to identify urine's change of color due to early health issues; dustless means allergy-safe for everyone.
The natural, long-lasting odor elimination properties of cassava and corn instantly capture the smell from your cat's wastes, preventing it from spreading around your home without relying on artificial fragrances.
100% natural – made of cassava and corn. The white grains are all-natural and biodegradable, utterly FREE of chemicals; flush it down the toilet. Its sustainable raw materials have no negative impact on the environment.
Perfect Clumping – Garfield's Bio tiny cat litter is three times more powerful than clay in forming fast, strong, and perfect clumps, making it easier to clean the litter box without risking stains or clump breaks; ideal for multi-cat homes.
RELATED QUESTIONS
Here some related questions and answers:
Corn litter is ordinarily safe for cats. However, corn can get affected by a fungus called aflatoxin, which can be dangerous. It is not so common for this to happen. Best practices are to keep the corn litter clean and away from water and humidity.
Even though some cat litters are flushable, it is not always the best thing to do. Is your pipe system able to handle it? Sometimes the city you live in doesn't allow for cat litter to be flushed. Therefore, it is essential to get informed on what can be done in the town you live in. There are also concerns about toxoplasmosis, a parasite found in cat feces, responsible for infecting other animals.
Do cats prefer clumping or non clumping litter?
Cats could have different preferences based on their personalities. However, clumping litter may win in terms of cats' preferences. It is cleaner since it makes a clump and less smelly. Cats can move aside the litter easily, and they are not getting dirty.
Does corn litter attract bugs?
Corn litter can attract bugs that feed themselves in grains and similar. However, regular litter can attract bugs as well because of the poop smell and pee smell. It is important to keep cats' litter as clean as possible.
Does it matter what cat litter you use?
Well, if it doesn't matter to you what type of cat litter to use, it surely matters to your cat. Some cats are easy-going. They do not care what litter you use. Some other cats are fussy about it. They only like a particular type of litter.
I guess the trick is to find a kind of litter that we like, cats want, and is suitable for the environment and the house. There are tons of litter types available. The trick is to research and sees which one can fit everyone.
CONCLUSION
What is the best corn litter for cats? I hope we could give you a variety of options and give some more information regarding corn litter. If you want to add anything or have a question, leave it in the comments below.