9 BEST AUTOMATIC LITTER BOXES TO TRY!
What are the best automatic litter boxes? Are you tired of scooping your cat poop? Or you want some more freedom? Modern technology can help. Sometimes, a cat owner needs to go away for a couple of days, or it may be missing for many hours due to work. It is convenient to have an automatic litter to keep everything clean, especially if more than one cat is present.
An automatic litter box, or self-cleaning litter box, scoops the dirt automatically from your cat's litter. Some automatic litter boxes detect when there is poop or pee to scoop and automatically cleans it. Some other types have a continuous mechanism that keeps the litter clean.
Let's see what are the best automatic litters boxes available.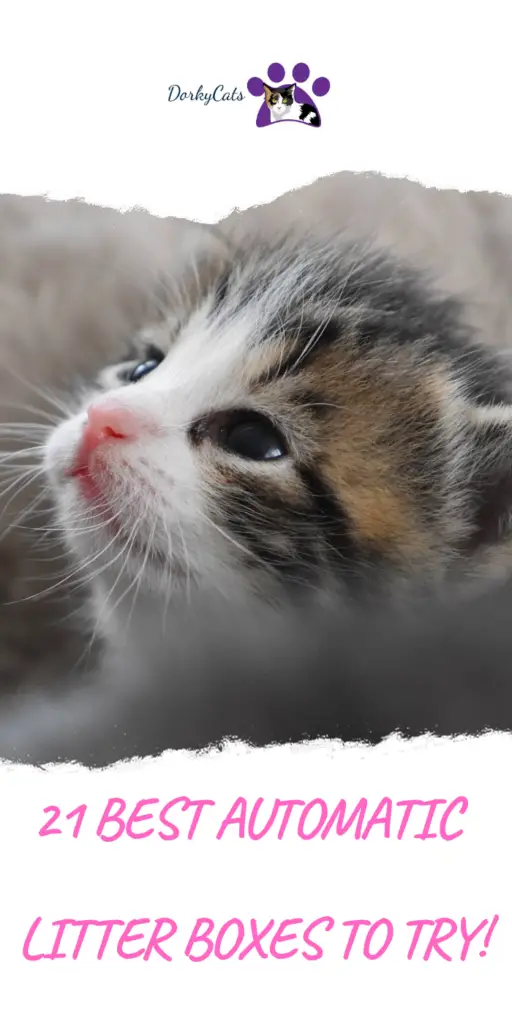 WHY USING AN AUTOMATIC LITTER BOX?
There are certain advantages to using self-cleaning litter boxes, and there are also some disadvantages. Of course, depending on your needs, you can decide to use one. Automatic litter boxes differ from one another in the way they operate and how they clean. Therefore, one can fit you best than another.
The advantages of using an automated litter box are the following:
1.IT CLEANS OFTEN AUTOMATICALLY
Obviously, it is the main reason to get an automatic litter box. If you do not have to scoop your litter every day, you save time. Some cats owner work a lot, and an automatic litter can keep their cats clean.
Time-saving is not the only advantage. Some cats are susceptible to how clean their litter is, and if you cannot attend to clean the litter every few hours, then a self-cleaning litter is a good solution. Some cats require an immaculate litter box; otherwise, they can start pooping and peeing outside the box.
It is a perfect solution for those who need to stay away from home for 24-48h, cats can stay clean, and when you come home, you are less likely to find a smelly mess around the litter box.
2.USE LESS LITTER
Some types of automatic litter boxes clean pretty often, taking the waste out fast. In this way, one can replace the litter by adding some, and once every few weeks, take everything out and replace the entire litter. In this way, it is possible to cut down on litter costs.
3.REMOVE BAD ODORS
Since the dirty litter is automatically removed very often, the litter is always clean, and there are no foul odors. It is an advantage for both cats and cat owners. Cats like clean litter, and owners do not want poop smell around the house.
4.EASY TO CLEAN
Typically, most automatic litter boxes scoop the dirty litter down to a waste box. Therefore the cleaning is simplified by emptying the waste box and cleaning it. With some automatic litter boxes, you can remove the plastic bag covering the waste box and dispose of it. Then one can place a new plastic bag on the waste box. At that is it.
BEST AUTOMATIC LITTER BOXES
Automatic litter boxes are different in size, shape, and how they use to clean and scoop the litter. The one you will choose will depend totally on what you need and what your cats may like or dislike.
We will show you many types of automatic litters and describe their main features and qualities along with the main reason one should choose them. Then it is up to up to decide.
Best automatic litter boxes: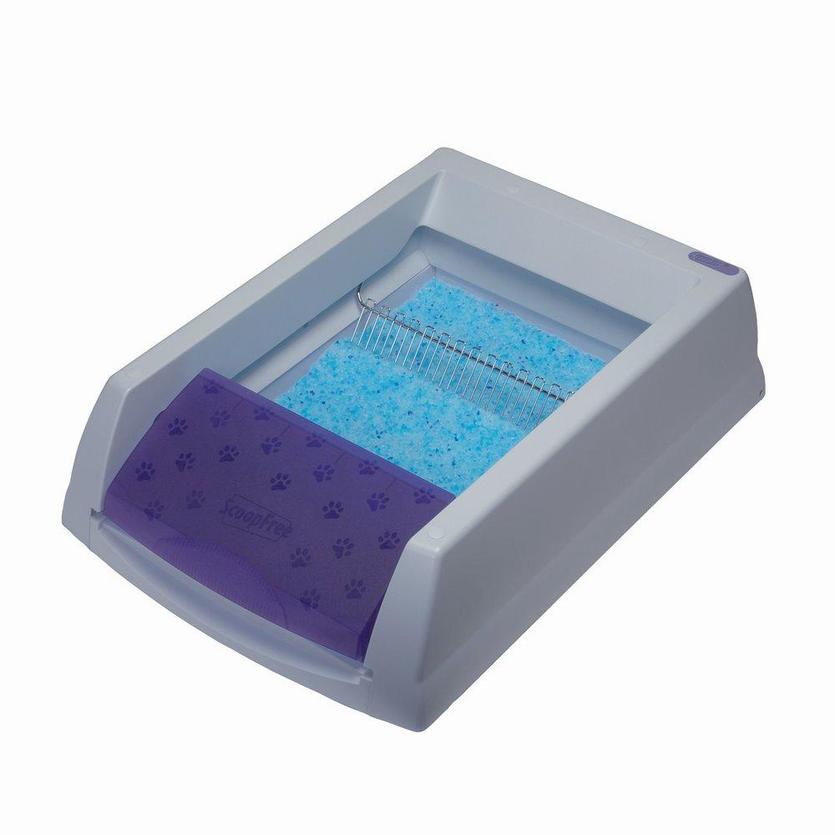 This automatic litter box cleans right after your cat has used it. It is composed of an automated rake system that will pass through the entire box and scoop away your cat poop. It is one of the best hands-off self-cleaning litter. In fact, it has a disposable litter tray. Once the litter is used, you can remove the tray and throw it away. Insert a new tray, and you are good to go.
The litter box activate through sensors, they detect when cats enter the litter and a 20 minutes timer activates. When 20 minutes are passed, the litter box will be cleaned automatically. You can't use all types of litter.
You need crystal litter for this machine. The good news is that the litter is already provided with its tray. You can even subscribe to an automatic litter tray delivery to your house every month.
The litter trays can be a bit more expensive than usual, but they last 7 to 10 days. The benefits here are really on time gained ease of cleaning and hygiene. There is one year warranty too. The litter box has plenty of room for your cat or cats.
WHO SHOULD BUY IT: It is best suited for people (cats actually!) who use crystal litter and want an absolute automated and hands-off system to scoop their litter.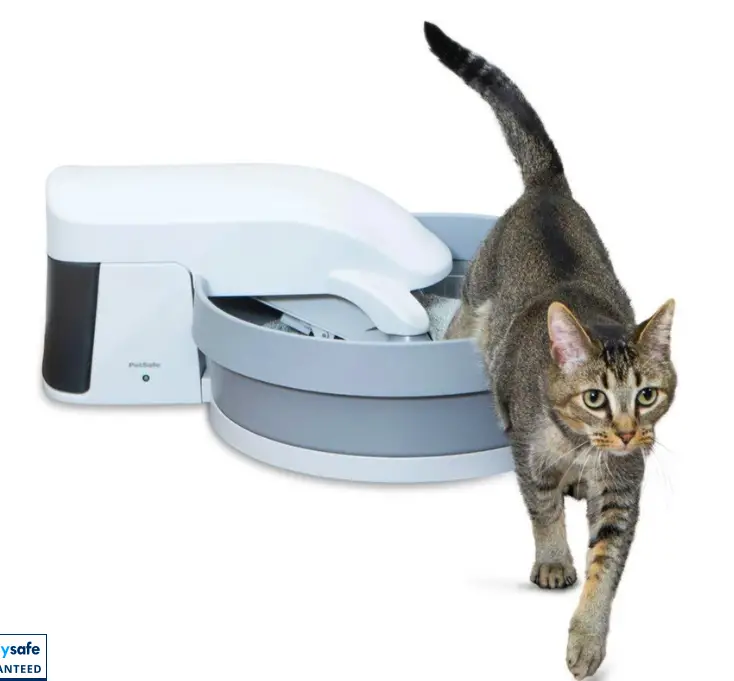 This particular litter box continuously cleans. It remove waste every 30 minutes through a rotating system. There is a waste bin at the back of the machine and all waste goes in there. The waste bin is covered with a plastic bag, therefore you can simply remove it and dispose of it. In this way, cat waste is out of sight and odors are contained.
It would be best if you used suitable clumping litter for this machine, and you have to also provide a plastic bag for the waste bin. The device is relatively quiet. However, it can be scary for a cat that is not used to it at first. It supports cats up to 15 points, but it does not have much room for a cat to move and dig.
WHO SHOULD BUY IT: for small-sized cats who do not need a lot of room and for owners and cats who want a constantly cleaned litter box.
It is a very simple and effective automatic litter box for cats under 15lb. It works with racks that automatically remove waste. It allow you to forget about scooping the litter box for an entire week. The waste is removed to bin that can be easily emptied once a week. The peculiarity of this machine is the carbon filter near the waste receptacle, designed to keep odors out.
It has a paw cleaning ramp to prevent tracking and the borders are pretty high.
WHO SHOULD BUY IT: on a budget owners and cats who need high borders.
This litter is not automated in the meaning. It is not self-cleaning based on a timer or a sensor. You have to pull a lever to remove waste from the litter. Therefore you still have to do a manual action.
However, it is a very simple method to clean the litter, since it requires a single movement of a lever. The waste is pushed into a bin, covered with a plastic bag, that can be removed and disposed of quickly.
It is a semi-automated process that helps to get rid of scooping. When the lever is pulled, an automated process is started to refresh and clean the litter. There is no motorized system that can break over time, and it doesn't produce any noises. There is a carbon filter into the ventilation system that makes sure odors are contained. It is covered with a lid and provides plenty of room.
WHO SHOULD BUY IT: not suitable for people who need to leave for a more extended period, but for people who want a silent and effective way to scoop automatically while keeping everything tidy and odorless.
It is a litter box with a particular "scooping" method. You have to roll the box to remove the waste. There is a sifting grate inside that filter the good litter and remove the clumps. The waste is collected into a grate or bin that you can remove and dispose of. It is a simple method to clean the litter, but you still have to do it yourself. It is for medium size cats.
WHO SHOULD BUY IT: for those who do not want to scoop or want a clean and tidy litter box.
6.CHILLIX AUTOEGG SELF-CLEANING LITTER BOX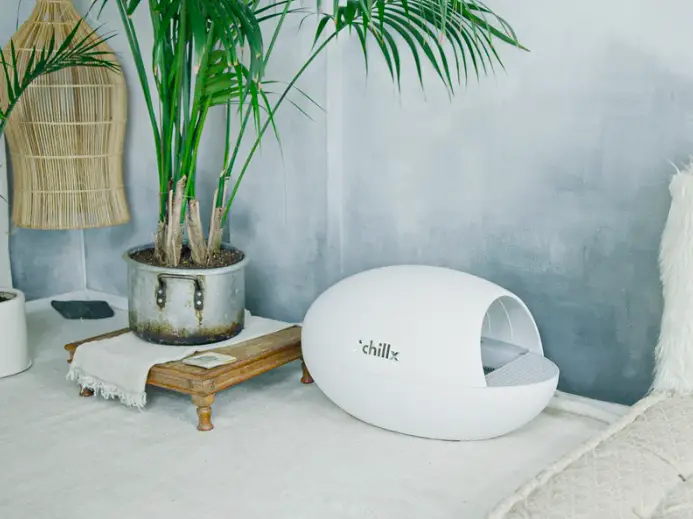 Do you like a minimalist look? This is a perfect automated litter box that combines automation with a great look. It cleans automatically 5 minutes after a cat has been in it. Cats size can be from 4 to 15 lb.
Contrary to other self-cleaning litter boxes, this one uses an advanced motor that makes it very silent. It uses movable racks to clean the litter. It doesn't require an expensive litter. It has to be just a clumping litter. It is fast, lightweight, and dust-free.
WHO SHOULD BUY IT: it is perfect for people who like to have an automated solution for their litter and want to have a nice-looking litter box.
7.CATGENIE A.I. SELF-WASHING CAT BOX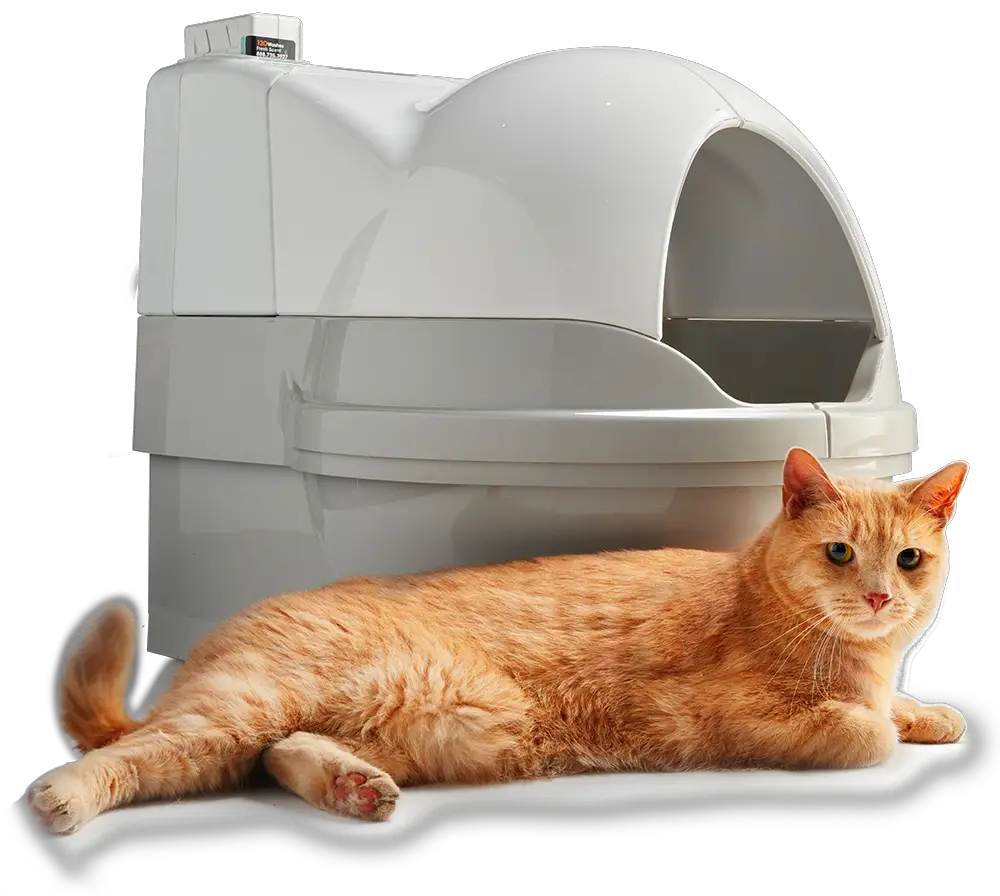 It is an innovative and creative "cat litter box." In actual fact, it is more a cat toilet. It doesn't require litter and it doesn't require scooping, it is truly automated. It is so automatic that you do not have to do anything once it is set up.
It is the real solution to automated litter box. It require washable granules that do not need to be changed, just added when the level decreases.
After your cat goes to the toilet, the solids are liquified and ejected out in the laundry drain or toilet. Since it cleans itself and requires no maintenance, it is a perfect long-term solution. Think about the fact that there will not be any tracking, dust, or other typical inconveniences coming from cat litter.
It requires some work for connection with the water supply and to the draining system, but once it is done, it doesn't require more work.
WHO SHOULD BUY IT: who wants a true toilet for their cats and doesn't want to deal with litter anymore.
8.LITTER-ROBOT 3 CONNECT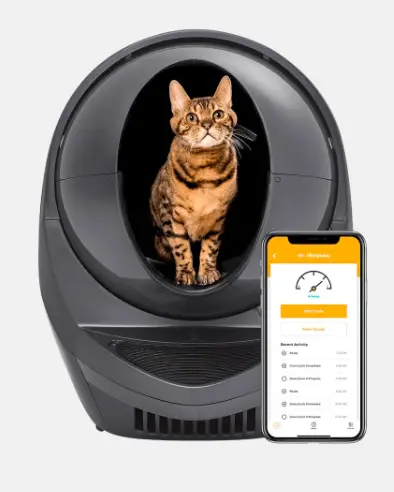 It is an automatic litter box that take advantage of the latest technologies. It connects with you mobile and you can track the waste drawer level, usage history, get notifications, and more.
When the cat is done with the litter box, the cleaning process starts, and the waste is separated from the rest of the litter. The waste goes into a waster drawer for disposal. It works with normal clumping litter, and it provides filters that remove odors.
WHO SHOULD BUY IT: it is perfect for people who like technologies and want to be in control over a distance on what is going on with their cats litter.
It is very similar to the LitterMaide automatic litter box. This is another great product that is activated by motion sensors that activate the cleaning rake. It provides a paw cleaning ramp to stop litter tracking.
It is perfect for multi-cat households and large cats over 15lb. It is equipped with night lights, and it is easy to remove the waste from the removable tray.
WHO SHOULD BUY IT: People with more than one cat or big cats, looking for automated solutions.
COMMON CONS AND PROBLEMS WITH AUTOMATIC LITTER BOXES
While we have seen the good points and the advantages in using an automatic litter box, you have to know that it is not always a walk in the park. Since, they are automatic devises, they may require maintenance from time to time. But, this is not the only problem.
Here are the most common situations you could run into, when dealing with an automatic litter box:
You have to carefully choose which model could fit your cat's size so that he is comfortable using the new litter box. Automated models tend to have too little space for cats due to the needed mechanism to function. If you have a small cat, it is okay. For bigger cats or more than one cat, check the size of the box very closely.
The most advanced litter boxes with a lid are actually big and occupy a lot of space. It is essential to know for those how do not have ample room to place such a litter box.
It is evident that automated litter box costs more than the traditional litter boxes. What is not so obvious is that they may break, and you need to replace some parts. Expect them to break at least once a year to stay on the safe side. Therefore you have to include the recurring costs into your budget. You are on the safe side if you put aside between $100 to $200 for routine maintenance.
Additionally, some models need to have a more expensive litter. If you buy one of those models, you have to take into account the higher litter expenses.
Most automated litter boxes are noisy. Cats may be scared of the sound and end up not using it. People may not like the sound as well if they want to have a quiet environment. Some models are softer than others. Therefore, if this is a problem, you have to inquire about the noise level before buying anything.
YOUR CAT IS THE FINAL DECISION MAKER
Even if you find the model that suits you and your cat the best, still your cat may decide not to like it anyway. Therefore, you have to train your cat, or there is no point in having an automatic litter box.
Sometimes, it is enough to disable the automatic cleaning for the first week or two and activate it manually instead. When the cat is used to the new litter, the automatic cleaning can be started. Sometimes you have to leave the old litter box near the new one to get your cat used to the change.
HOW DO I CHOOSE THE BEST AUTOMATIC LITTER BOX FOR MY CAT?
Now that automated litter boxes' advantages and disadvantages are clear, how to make a good choice? Consider the following factors:
PRICE
CAT SIZE
CATS NUMBER
NOISE LEVEL
EASE OF CLEANING
INSTALLATION PROCESS
COST OF LITTER REQUIRED
HOW OFTEN NEED TO GET CLEANED
Each point is personal and unique to each cat and cat owner. It may be more important for some people a complete hand-off set up, regardless of whether they have to do additional installation work or if it is more expensive.
Some other people are just looking for a solution when they need to leave for the weekend, and budget-friendly.
Some others may be more concerned with the size, recurring costs, and the type of litter. In fact, some cats may not get along with crystals or clumping litter. Or some others do not want to spend too much time cleaning.
What is your case?
CONCLUSION
Automatic litter boxes can be a good idea for cat owners and cats who need extra help in keeping things cleaned and tidy. There are pros and cons to using them, but the final decision depends on your needs and your cat's preferences. If you have any questions and want to add anything, leave it in the comments below.