BRITISH SHORTHAIR CAT PERSONALITY AND BREED (ALL YOU NEED TO KNOW)
Are you wondering about the British Shorthair cat personality? These cats have built a worldwide following thanks to their friendly and accommodating character.
Also, their magnificent appearance has been used in numerous advertising campaigns. Affectionate by nature, they are generally relatively quiet and meek.
At a glance, the British Shorthair is a big and tender cat with an easy-to-care coat, a wide variety of colors, and is naturally friendly.
Here is all there is to know about the British Shorthair cat personality.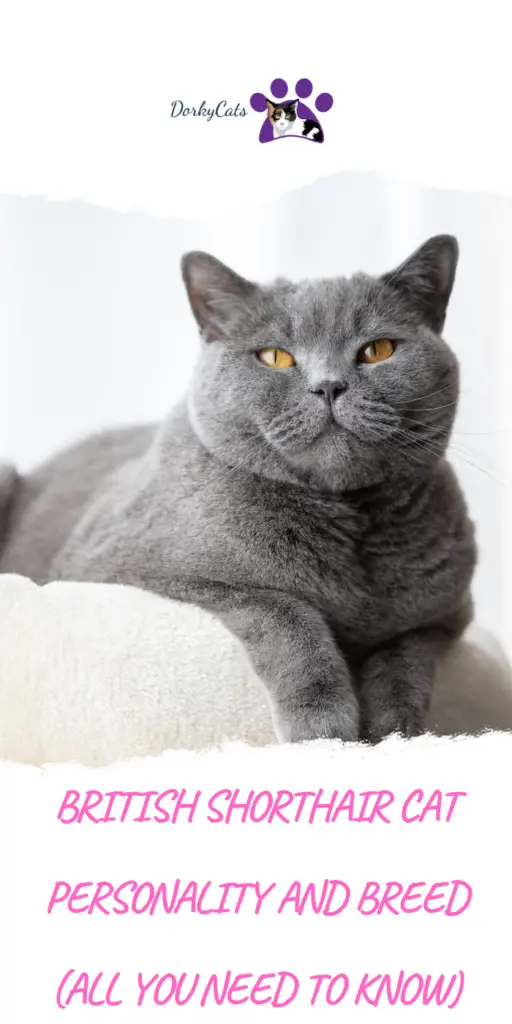 WHAT IS THE BRITISH SHORTHAIR GENERAL ASPECT AND SIZE?
The thick coat and hunting prowess suggest he is a free spirit, but in reality, a British Shorthair appreciates domestic warmth more than anything else.
The British Shorthair cat has a thick, plush, and consistent mantle. It is possible to make it look immaculate with only a few brushes. One of the traditional colors of this cat is blue.
CHARACTERISTICS OF THE BRITISH SHORTHAIR CAT
Characteristic
Description
Notes
In summary
Big and good-looking,
quite pleased with being
left alone for some time.
Reliable, sociable,
balanced,
but also loving
Ideal companion
for families
Appearance
Big and robust,
it comes from street cats
Wide choice of colors
and designs
In the house
A very adaptable breed that
likes adventuring outside
regularly
Males are bigger than
females and have
more prominent jaws
Behavior
Quiet and not very
outgoing by nature,
however,
appreciates the attention
Grooming
An occasional
brushing keeps the
hair, thick and plush,
in good condition
During the moult they
need more brushing
to avoid the forming
of hairballs
Most common health
problems
Among the specimens
of this breed,
it is registered
some cases of hypertrophic
cardiomyopathy
It is thought to
be a hereditary
problem

Size
Medium-large, from 4 to 8 kg
Ears
Medium with rounded tips
Eyes
Large, round,
mostly copper or yellow.
Head
Round with full cheeks,
domed skull, straight nose
with a rather defined stop
Paws
Muscular and
with medium to
heavy bone structure, and
medium-sized feet
Coat
Vaporous and dense.
Do not flatten the body
but tends to remain forever lifted up
Allowed Colors
the best known is blue,
but it is recognized in a
wide range of colors
and combinations
▷ In the orange tabby, the coat must be clear and have darker spots.
The big and yellow eyes remember those of the owl.
A RARE COMBINATION OF COLOR: The two-colored British Shorthair is quite rare as it is difficult for specimens to meet the required standard: the white part must not cover more than half of the coat, and the colored one should be not less than half and not more than two-thirds. The spots of color, then, should be symmetrical
▷ In the British Shorthair, unlike the Carthusian, the blue color of the coat just constitutes a variety.
Decidedly sturdy, the British Shorthair can nevertheless be a victim of hereditary genetic diseases due to poorly made crosses with other breeds.
WHAT IS THE HISTORY OF THE BRITISH SHORTHAIR CAT?
In the second half of the nineteenth century, at the dawn of feline exhibitions, the breeders focused on improving the ordinary street cats to create new varieties suitable for the purpose of cat shows.
They began to breed solid cats that did not have white areas on the coat and aimed to
increase their size.
This last feature was obtained by making them mate with the Persians. Moreover, with the intersections, new colors were born; British chocolate and cinnamon are just some of the latest varieties.
The British colorpoint has also been bred recently, which is a variety introduced through crosses with the Himalayan. Although now they are a lot different, British Shorthairs have the same temperament as a typical cat without pedigree.
WHAT IS THE ORIGIN OF THE BRITISH SHORTHAIR?
Related to the European cat, the British Shorthair was not born in the Anglo-Saxon lands but descended from the ancient African cat imported to Rome by the legionaries and later landed on the Scottish coasts thanks to the Roman conquerors.
In fact, the British Shorthair is none other than the typical English cat who was not so successful at the time of the first exhibitions in the home country due to a significant interest in exotic breeds.
With the end of the second world conflict, breeders decided to start strict selective programs to " ennoble" this breed by making it cross with Angora and Persians, also reinforcing the bone structure and musculature.
Years of selections have donated to the British Shorthair a thicker and rougher hair along with a rounded body shape and head, distinguishing it from its European cousin.
In 1982, FIFE officially recognized the British Shorthair with short hair, and today to maintain the purity of the breed, it is no longer allowed to cross them with Exotics, Carthusians, or Persians.
BRITISH SHORTHAIR CAT PERSONALITY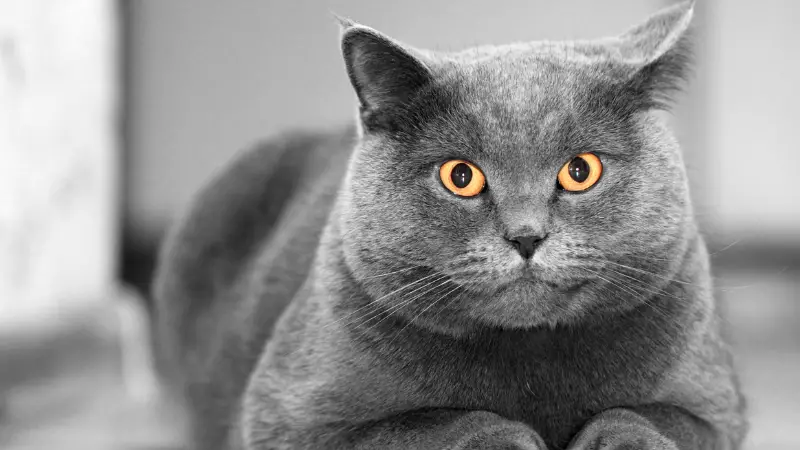 Perfectly adaptable to the countryside life, British Shorthairs prefer the comforts of an apartment without a doubt. As kittens, they are very lively, but in adulthood, they become real couch potatoes taking long naps on the armchairs or beside the radiator.
Their lazy disposition makes them a discreet presence in the family. But, you don't have to be fooled by the appearances: behind those sleepy eyes hides a fine observer, always attentive to what surrounds him!
The British Shorthair has a friendly personality that is well suited to coexistence with adults, children, and other animals. Even though being very affectionate, he reveals a decidedly independent identity.
Ifaccustomed from an early age, he loves to travel by any means.
HOW TO CARE FOR AND FEED THE BRITISH SHORTHAIR CAT
Grooming requires some bristle brushes for use every week. During the moulting period, resorting to a glove with rubber teeth is appropriate to eliminate dead hair.
A diet composed of first-choice dry food, meat, and fresh fish is ideal for these cats.
In addition, an extended stay in the sun can discolor the coat of the black British Shorthair, which takes on a brown tinge.
THE CHARM OF THE BRITISH SHORTHAIR CAT
The adaptability of these cats is such that it is possible to keep them indoors. Moreover, one cannot forget their predisposition to play.
The British learn fast, and it is no coincidence that among animals trainers are famous for commercials and movies. They have cheerful characters and follow you everywhere to see what you do because they are high-pitched observers.
Their quiet nature ensures they will have no problems living in an environment with children and dogs and that two specimens under the same roof will establish a very close relationship between them, above all, if they have been together from an early age.

If you love the characteristics of the adult British Shorthair, know that this cat reaches full maturity no earlier than five years of life: be patient and enjoy his "adolescence."
FREQUENTLY ASKED QUESTIONS
Do British Shorthair cats have behavioral problems?
In general, British Shorthair cats do not have behavioral problems. They are known to be affectionate cats that get along with children and other pets. However, if they get severely neglected, they can develop behavioral issues. In case of stress, they can get aggressive or show other problems.

What is the lifespan of a British Shorthair cat?
The British Shorthair cats can live up to 20 years. Proper care, diet, and a good environment allow cat owners to prolong their lifespan.

What is the price of the British Shorthair cat?
The British Shorthair cat can cost anything between $400 and $2000. The price depends on the cat's age, the breeder, and the purity of the breed.

Are British Shorthair cats aggressive?
In general, British Shorthair cats are not aggressive at all. On the contrary, they are known to be very affectionate cats, cuddly, playful, and friendly with other pets.
Are British Shorthair cats cuddly?
British Shorthaired cats are known to be cuddly, affectionate, and sweet. Therefore, they could be defined as lap cats in some ways.

Are British Shorthair cats grumpy?
British Shorthairs cats are not grumpy, but they have an independent drive at times, which means that in certain moments they like to stay alone, and the cat owner should respect the space of his cat. But, for the rest of the time, they like attention and want to receive affection.

Is a British Shorthair cat good for a first-time owner?
The British Shorthair cats are perfect for first-time cat owners since they are sweet and gentle cats, and at the same time, they do not require much maintenance.