LAMBKIN CAT PERSONALITY AND BREED (ALL YOU NEED TO KNOW)
Would you like to know more about the Lambkin cat personality and breed? This is another breed obtained thanks to the contribution of the Munchin, the beautiful cat with characteristic short legs.
The coat gives them a distinctive look and is available in different color variations. They are also of friendly and playful nature.
At a glance, this cat breed has a distinctive Rex coat and an elongated body, is an obedient cat, and is an uncommon breed.
Let's find out more about the Lambkin cat personality and breed.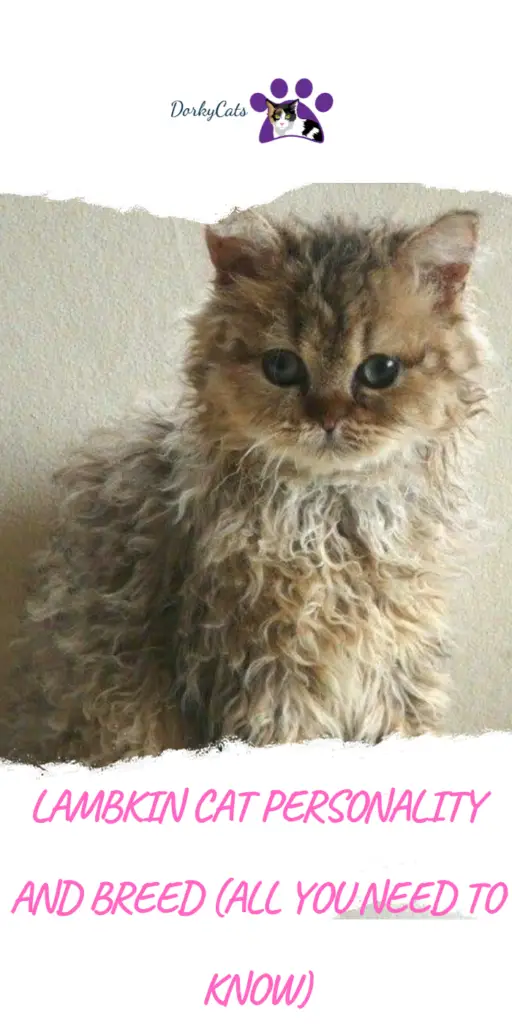 WHAT IS THE LAMBKIN GENERAL ASPECT AND SIZE?
Lambkins have big eyes. Their rounded shape is a distinctive feature of this emerging breed.
There is a wide range of different colors. In addition, it has a rather long tail. Its length helps to highlight that of the body and is quite thick at the base.
The hind legs are longer than the front ones. The limited size of the limbs results from the mutation started by the Munchkin and is more visible in the forelegs.
CHARACTERISTICS OF THE LAMBKIN CAT
Characteristic
Description
Notes
In summary
Another dwarf breed
and currently
quite rare
Obtained by crossing
a Selkirk Rex
with a Munchkin
Personality
Self-confident
and friendly, well suited
to family life.
Placid character
There are
long-haired and
short-haired
specimens
Appearance
Particular curly coat,
available in a wide
range of colors
and designs
In the house
It proves more
skilled in climbing
than in jumping
Behavior
Affectionate and
patient, he proves
to be an ideal
companion
Grooming
Minimal, especially
in short-haired
specimens
Most common health
problems
Since both parent
breeds are without
pedigree, there are
no particular
problems
WHAT IS THE HISTORY OF THE LAMBKIN CAT?
The Lambkin breed was initiated by a pairing between a Selkirk Rek and a Munchkin. The name of this breed was Nanus Rex for a relatively short period, then definitively called Lambkin.
The name Nanus Rex was given to indicate the small size of these felines, however, arousing little consensus among breeders.
The most plausible explanation for the choice of the current name is to be found in the particular coat of these miniature Rex cats, which, especially in the case of the white specimens, recalls that of a lamb.
Creating this cat has proved to be quite simple, especially because the mutations involved result from dominant genes. When mating a Selkirk Rex with a Munchkin, therefore, you should always get a certain percentage of Lambkin kittens.
THE FUTURE OF THE LAMBKIN BREED
Currently, there are few examples, but there is a good chance that the breed will establish itself and become more and more popular.
First, they are relatively simple cats to breed, and second, they are beautiful and very tender. Just like in the Selkirk Rex, however, the appearance of the coat changes over the years. In addition, there, there are self and colored varieties.
LAMBKIN CAT PERSONALITY
The Lambkin takes his personality from the Munchkin and the Selkish Rex from whom he descends. The result is a docile, obedient, calm, and friendly cat. For this reason, the Lambkin is a perfect companion for families with kids and other pets.
The Lambkin has no problem getting along with humans and other pets such as cats and dogs. However, since they are so friendly, they need human interaction and attention. Therefore, humans should spend some time daily playing with them.
It is essential to enrich the environment with toys and cat trees. Because of their calm temperament and the patience demonstrated toward others, it is a perfect companions for kids.
HOW TO CARE FOR AND FEED THE LAMBKIN CAT
The particular coat type resembles that of a lamb and requires routine care. But, it doesn't require many hours of work. It is only necessary to brush the coat once every day or every other day.
It is necessary to prevent tangles and maintain the coat soft. Therefore, it is better to use a soft brush to avoid ruining the fur. In addition, you can use the brushing time as a moment of bonding and interaction with your cat.
The Lambkin cat doesn't require a particular diet, but you could consider getting high-quality food mixed between packaged and fresh food. Also, try to choose the protein from different animal sources to vary their diet and ensure they get all the necessary nutrients.
COMMON HEALTH PROBLEMS OF THE LAMBKIN CAT
The lambkin cat can be subject to achondroplasia, which is the condition that causes the short legs. This abnormal bone growth causes dwarfism, many other health problems, and low quality of life.
It is a genetically acquired condition derived mainly from the Munchkin cat. Otherwise, the Lambkin doesn't have other hereditary diseases and is subject to the same illnesses as other cats.
FREQUENTLY ASKED QUESTIONS
What is the Lambkin cat's price?
The Lambkin cat is pretty rare; you can expect to spend between $500 and $1000 for one of these cats. The price depends on the kitten's age and the breeder.

Are Lambkin cats hypoallergenic?
Although they have a particular coat type, the Lambkin cats are not hypoallergenic.

Where can I buy a Lambkin cat?
Lamkin cats are pretty rare; you have to find individual breeders in your area using Google searches. In some cases, you might need to search in other countries.
What is the Lambkin cat's lifespan?
The Lambkin cat's life expectancy is between 10 and 15 years. However, you can help this cat live longer by providing proper food, care, and a good environment.