EGYPTIAN MAU CAT PERSONALITY AND BREED (ALL YOU NEED TO KNOW)
Are you wondering about the Egyptian Mau cat personality? This breed has a long history. Some are convinced that its origins can even be traced back to the cats of Ancient Egypt. In Europe, still, it isn't widespread, while in America, it is certainly more common.
At one glance, this cat can be considered the oldest breed existing on the planet, with a characteristic spotted tabby mantle, and it is possible to find three different varieties. Each has the spots on the coat casually distributed.
Here is all you need to know about the Egyptian Mau cat personality and breed.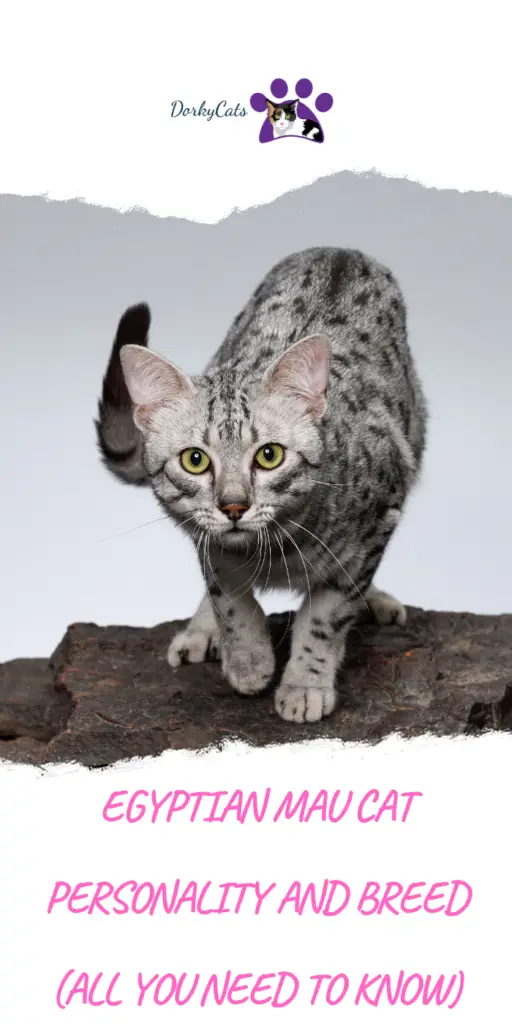 WHAT IS THE EGYPTIAN MAU CAT GENERAL ASPECT AND SIZE?
This cat with a spotted coat and regal behavior has a very ancient origin; his ancestors are pictured on a roll of papyrus dated 14000 BC.
The Egyptian Mau has broken black stripes surrounding the neck like necklaces, and on the eyes, the so-called "lines of mascara" accentuate the features of the face.
The ancestors of the modern race were discovered in the streets of Cairo by a Russian emigrant, Nathalie Troubetskoy. To these felines, three traditional colors are associated: silver (shown here), bronze, which is actually a coppery shade with dark marks, and smoke.
In fact, the Egyptian Mau is the only cat whose patterned smoke version is a recognized variety, endowed with the characteristic brands spotted tabby associated with the breed.
Sometimes in a litter can jump out versions of blotched tabby (the classic), but these can not be presented at exhibitions.
Here is a detailed summary of the cat's description and habits.
CHARACTERISTICS OF THE EGYPTIAN MAU:
Characteristic
Description
Notes
In summary
Extraordinary looking cats; that of the kittens
does not vary with growth
The fantasies of the
mantle are based on the individual cat
Personality
Active and lively nature,
he benefits from the origin
as a street cat
Appearance
It is distinguished by the
spotted tabby motif and the
green eyes
Bred in three
different colors
In the house
He appreciates games
and will also use a center
multi-activity
(cats trees, toys, etc.)
Behavior
She is very lively and
needs a lot of attention
Grooming
Minimum; usually, just brush it
with gentleness
Paws
Small and oval, of medium length, the rear ones are
longer than the anterior ones
Most common health problems
No particular problem
is recorded for this cat.
It is advised to do regular checks for
older cats
Size
Medium, between 3 and 5 kg
Ears
Of medium size, distant, light-
mind pointed and hairy inside
Eyes
Large, almond-shaped, light green color
Head
Wedge-shaped but with rounded lines; nose
short and beetle design on the forehead
Coat
Silky, dense, and compact to the touch; filled with sharp but irregular spots
Allowed Colors
Silver (silver with black designs),
bronze, pewter (pinkish gray with black or
brown), smoky and black.
If the cat is in good health, the coat appears very shiny, and according to the
standards, the eyes must be green.
As a curiosity, the male and female of the Egyptian Mau raise their litters together.
WHAT IS THE HISTORY OF THE EGYPTIAN MAU CAT?
The naturally spotted coat, the wild appearance and regal at the same time and
the extreme resemblance to the felines depicted in the inscriptions in the tombs of the pharaohs makes you think that certainly, this breed is a direct descendant of those beloved cats in ancient Egypt.
But, the origins are not yet completely clear.
The known part of the story of the Egyptian Mau begins in Rome in the postwar period, where one Russian princess in exile in the capital received a pair of these beautiful cats as a gift.
A kitten of this pair was exhibited for the first time at the Rome exhibition in 1955. The year after, the princess moved to the United States with her cats, and from that moment began the path towards recognizing the breed that arrived in 1979 from the TICA.
All specimens of this breed descended from the breeding of the princess.
ANCIENT EGYPTIAN LEGEND ON THE EGYPTIAN MAU CAT

According to an ancient belief, still in vogue today in Middle Eastern countries, having been the cat of the pharaohs for centuries, adopting an Egyptian Mau would be a good omen, above all for the finances of the host family.
In ancient Egypt, the cat, a sacred family member, was called Mau or Miw.
EGYPTIAN MAU CAT PERSONALITY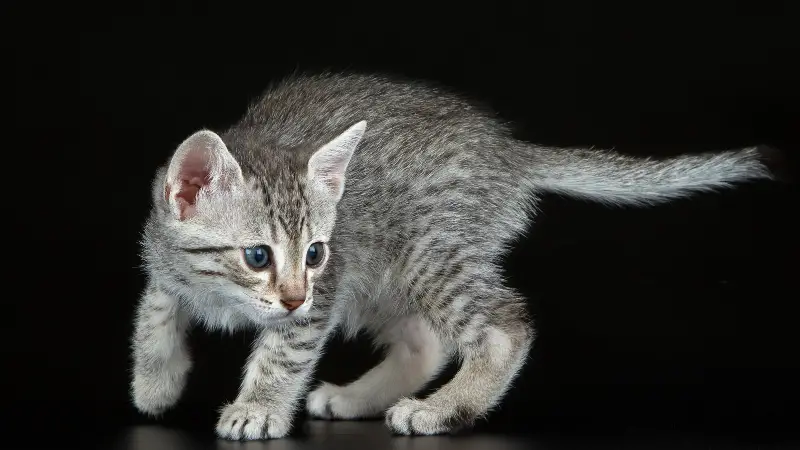 Some like to call him a little "parlor leopard," In fact, the Egyptian May is a remarkably agile cat, active, and very fast (can easily reach 55 km / h). However, despite his predator skills, this cat is not aggressive with the family.
He is social, affectionate, and playful. However, if you like those cats that snuggle up for hours on your lap, do not consider the Egyptian Mau because he does not like being in people's arms too much.
This cat tends to bond with one person and is generally wary of strangers. He is not much of a talker, and if he meows, it's because he's hungry. The male has a stronger and independent character, while the female is less active but more affectionate.
▷ Similar to a wild cat, the Mau Egyptian hides a charming nature.
His strong sense of territoriality makes him a particularly suitable cat for a house with a garden, even if he does not have problems living in an apartment.
WHAT TO EXPECT FROM THE EGYPTIAN MAU CAT?

Few cats are more active than the Egyptian Mau. The close contact with the owners makes them feel good, and usually, they start playing from an early age, often behaving like retrievers.
They have incredibly quick reflexes. Members of this breed establish a close bond with the people they are close to and are learning from observation: sometimes, they even manage to open the doors of wardrobes and dressers.
Pay particular attention to the refrigerator: if you feed your cat cold food, if you leave the
door open and you walk away even for a moment, you could find him intent on serving himself!
HOW TO CARE FOR AND FEED AN EGYPTIAN MAU CAT
The Egyptian Mau is definitely one of the easiest breeds to keep. He is naturally endowed with a silky and short coat, and keeping the coat tidy and clean is more than enough to brush him once a week with a fine-toothed comb.
To polish the coat, you can use a chamois leather cloth moistened once in a while. We said the Egyptian Mau is a particularly active cat, and this is the explanation for his great
appetite.
However, it does not require special foods as long as a balanced diet is guaranteed.
But, being particularly active, the Egyptian Mau needs highly energetic foods, which, however, are not to be confused with those too fats.
Too many fats in the food risk damaging their delicate digestive system.
FREQUENTLY ASKED QUESTIONS
What is the Egyptian Mau cat price?
The price of the Egyptian Mau can vary between $700 and $2500 depending on the purity of the breed, age, and breeder. It is a pretty expensive cat to purchase but also to maintain. Do get an Egyptian May only if you have the financial resources.

What are the Egyptian Mau cat health problems?
The Egyptian Mau doesn't have particular health problems, but in some cats, have been the effect of hypertrophic cardiomyopathy, which can lead to heart failure, dystocia (birthing difficulties), and asthma.
What is the Egyptian Mau cat's lifespan?
The Egyptian Mau can live between 9 and 15 years, although, with proper care (food, medical attention, etc.) of your cat, you can extend his life.

Are Egyptian Mau cats rare?
Egyptian Mau is considered a rare cat since there are only a few thousand cats available on the planet right now. It is uncommon to find one of these cats in a family; few people are lucky to have one.

How can you identify an Egyptian May cat?
You can identify the Egyptian Mau by his distinctive spotted coat and striking green eyes. Once you see a picture of an Egyptian Mau, you cannot make a future mistake in recognizing one.

Are Egyptian Mau cats cuddly?
Egyptian Mau cats are affectionate but do not like being held for long. So while you can expect them to come to you for attention and love during the day, you can't consider them lap cats.

Are Egyptian Mau cats playful?
Egyptian Mau are very active and playful cats. They are incredibly talented as hunters and are very athletic cats. So if you got one of those cats, you have to provide enough enrichment for them to stay fit.
Does an Egyptian Mau cat shed a lot?
Egyptian Mau cats do not shed a lot; their coats are easy to maintain and require only regular weekly brushing.

Can Egyptian Maus go outside?
Egyptian Mau loves the outdoor life; they are great predators, and the best arrangement for them is to live in a house with a yard, garden, or, if not possible, have their owner bring them out on a walk.