TOYGER CAT PERSONALITY AND BREED (ALL YOU NEED TO KNOW)
Are you wondering about the Toyger cat personality? In this particular case, the goal of the breeders was to create a cat that resembled a miniature tiger and had a striped coat on the hips.
The Toyger is such an original and fascinating breed that it is sure to be very popular all over the world. At a glance, the Toyger has a striped coat like trigris, is affectionate and beautiful, and was created with a direct lineage from domestic cats.
Let's know more about the Toyger cat personality and breed.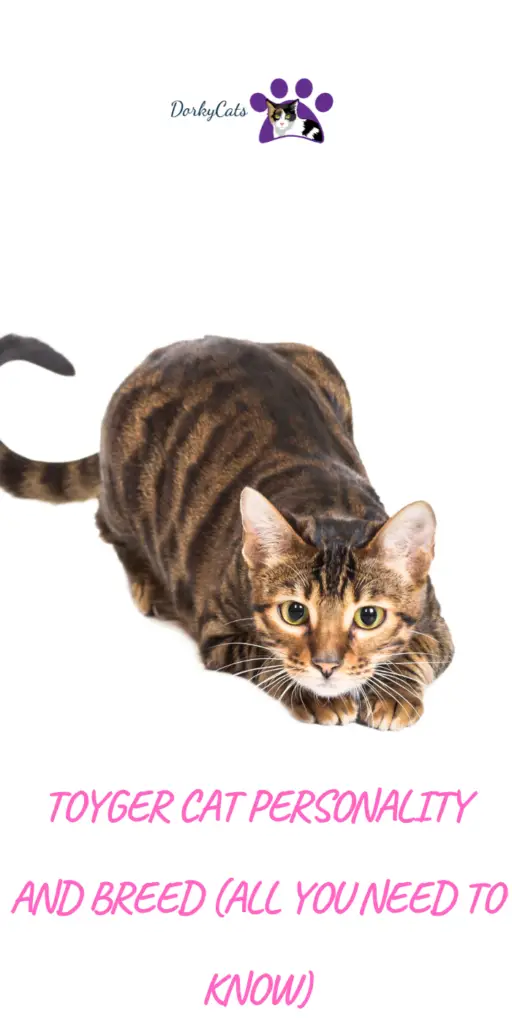 WHAT IS THE TOYGER CAT GENERAL ASPECT AND SIZE?
The Toyger cat has round ears. They are well-spaced and positioned on the head, covered with a thick layer of hair. His eyes are wide apart. The shape must be slightly elongated, and the color intense and deep.
It also has a long and relatively narrow tail and does not taper towards the tip, which is rounded.
Characteristic
Description
Notes
In summary
It is the result of
crosses between
Bengal and
mackerel tabby
Thanks to its
beauty, it is also
becoming
popular in Europe
Personality
It adapts quickly
and easily to
home life.
He is sociable
and very intelligent
Appearance
The striped coat
makes it look
like a miniature tiger
The typical shape
of the face
has been developed
to resemble that
of a tiger
In the house
Active and too
lively to live in
an apartment
Behavior
Lively and playful,
he is eager to
take part in family
activities
Grooming
Brushing it helps to
keep the coat in perfect
condition and make
the design stand out
The coat has a
sort of natural
silvery sheen
Most common health
problems
There are no
significant diseases,
not even of a nervous
nature,
unlike recent
hybrid breeds
WHAT IS THE HISTORY OF THE TOYGER CAT?
The Pioneer of the development of this breed was the same geneticist who also created the Bengal cat; his name is Jean Sugden (whose married name is Mill). Research began in the 1980s on cats with the mackerel tabby coat.
She found and imported a stray cat from Kashmir that had spotted fur between the ears, an area that usually has no pattern. All in the hope of being able to exploit and transform that peculiar element, creating streaks similar to tigers over the following generations.
The Bengals also contributed to the development of the direct line. In fact, in addition to introducing their fascinating colors and wonderful hair, they have increased in body size.
The Toyger is still in complete evolution and is beginning to attract more and more interest in the world of cat shows, especially since it obtained the final authorization in 2007.
A LOOK AT THE FUTURE
We already know how the Toyger will look in the future, also thanks to the computerized graphics programs, which were used for the first time in the history of the development of a feline breed.
It is also having more and more success as a pet, not only for its beauty but also for its delightful temperament, not at all shy as found in the first generations of wild cats.
TOYGER CAT PERSONALITY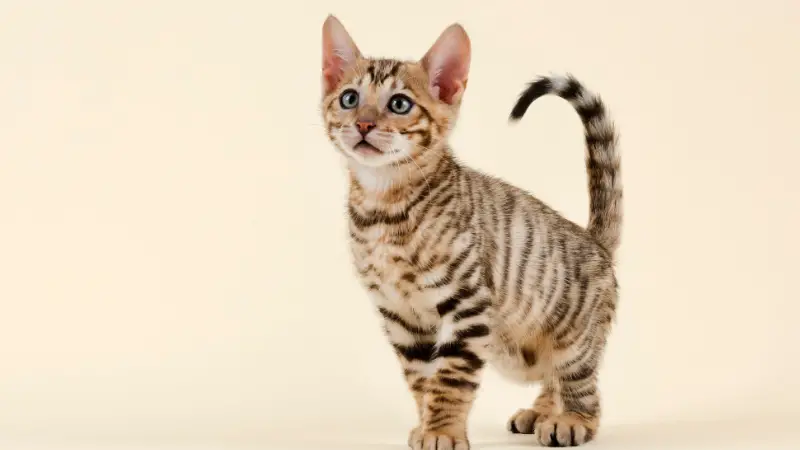 The temperament of the Toyger cat resembles that of the Bengal cat. It is a brilliant and lively cat, with the additional perk of being a friendly pet. Because it is a very intelligent cat, it is possible to teach him to do tricks or follow some instructions.
While Bengals can have a more developed wild instinct, the Toyger cat is more domesticated. But this doesn't mean that he is less lively. On the contrary, the Toyger loves to climb, jump, play, and explore.
However, the Toyger still gets very affectionate with his favorite human and likes to stay near the people he loves. Therefore, Toyger cats can adapt to indoor life, although it is better if they can spend some time outdoors or have a lot of enrichment inside the house.
Since they are friendly cats, they tend to get along with other pets, such as dogs and other cats. If you have to leave them alone at home, it is better to provide them with a playmate, even if it is another cat.
HOW TO CARE FOR AND FEED THE TOYGER CAT
Toyger cats do not need a lot of extra care. However, it is essential to brush him once in a while to maintain his coat in order and shiny. In addition, he is a very active cat, so he should be fed premium, high-quality food.
It is necessary to give him also fresh food from time to time, without too much fat, and in moderate dosage. However, feeding him milk derivates or human nutrition is not advisable since he descends from a Bengal cat. In fact, Bengal cats have a very delicate digestive system.
The Toyger cats are not known to have specific hereditary health issues. However, they require the care and attention that every cat typically get.
FREQUENTLY ASKED QUESTIONS
What is the Toyger cat price?
Toyger cats are pretty rare and are part of a new breed. Therefore they can be quite expensive. The price can get up to $2500-$3500. However, it can vary depending on the breeder, the kitten's age, and the purity of the breed.

What is the Toyger cat's lifespan?
Toyger cats can live up to 15 years. However, the longevity of these cats depends on numerous factors, such as quality food, care, and the environment.

What is the difference between a Toyger and a Bengal cat?
Bengal and Toyger cats are similar yet different. In the physical appearance, especially in the fur design, the Toyger has vertical stripes, while the Bengal cats have spots. Regarding temperament, Toygers are more obedient and docile than Bengal cats, although Bengals are still friendly.
Are Toyger cats rare?
Toyger cats are very rare. This is because they are relatively new breeds; there aren't many breeders yet, and there aren't many specimens around. However, it might be easier to find a Toyger cat in the future.