CHEETOH CAT PERSONALITY AND BREED (ALL YOU NEED TO KNOW)
Would you like to know more about the Cheetoh Cat Personality? Another recent breed created in part using Bengal specimens but lacking wild cat genes.
The aim was to create a domestic breed of felines with a spotted coat that resembled a cheetah (Acinonyx Jubattus) in appearance and movement. At a glance, this cat has a wild style, comes in a wide range of colors, is widespread worldwide, and is friendly in nature.
Let's learn more about the Cheetoh cat personality and breed.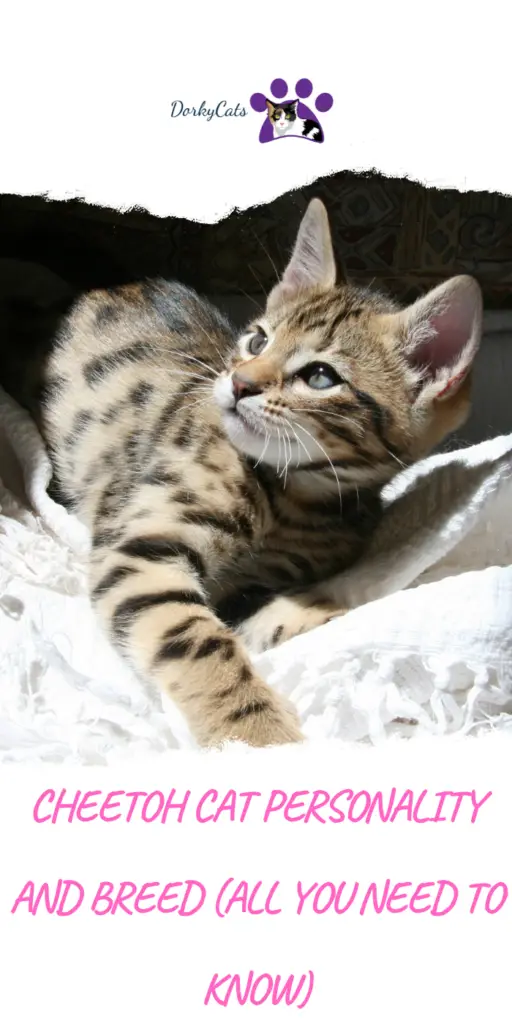 WHAT IS THE CHEETOH CAT GENERAL ASPECT AND SIZE?
The Cheetoh is a huge cat, far more massive than its ancestors. The weight of the males varies between 7 and 11 kg, while the females can weigh approximately up to 7 kg. It moves slouching like a real wild cat and has an athletic and curvy profile.
The coat design is one of a kind and well-defined. The greater or lesser contrast created by the spots depends on the background color. Sometimes the girth is spotted too.
The coat is splendid. The smooth and shiny coat highlights these cats' athletic and sinuous profile.
The tail is broad and tapers towards the tip, which is usually black and has the typical tabby streaks.
CHARACTERISTICS OF THE CHEETOH CAT:
Characteristic
Description
Notes
In summary
A wild cat-like
domestic cat
that resembles a
cheetah
Ancestral races are
present everywhere,
therefore Cheetoh
cats are found
all over the world
Personality
Sociable and
dependent. She loves
being part of the
family
Don't be fooled
by the wild features
Appearance
It looks like a
wild cat. The eyes can
be bronze, gold, copper,
green-brown or hazel
The colorpoint
version has
blue eyes
In the house
Given the rather
active nature,
it is not ideal
to keep him locked
up in
an apartment
Behavior
Males of this breed
are much more
tolerant of their kittens
Grooming
You have to brush
and comb it about
once a week
During moulting,
the spotted
pattern may fade
Most common health
problems
No major diseases,
but he may suffer
from kidney problems
inherited from the
Bengal cat
THE COLORS OF THE CHEETOH
The varieties listed below are all recognized by breeders. There are the following variants:
Sienna black/brown spotted and tan (the latter represents a lighter gold background color)
Spotted smoke and silver variants (brighter, with a sharper contrast between background color and spots)
A snow variant has even been created, white as snow, with golden spots, rosettes, and darker ends. In addition, concentric black circles can be seen on the tail, confirming the lynx tabby influence.
WHAT IS THE HISTORY OF THE CHEETOH CAT?
The Cheetoh is the result of a cross dating back to the early years of the new century between Bengal and purebred domestic cats, specifically the Ocicat. The creator of this cat is Jean Mill.
In addition to careful selection, these couplings led to the creation of a specimen that had the evident spotted pattern of the Bengal coat and the long legs of the Ocicat, a characteristic erected by the Siamese.
Despite being short, the coat is unusually thick and velvety. In addition to the aesthetic aspect, the primary interest of breeders is to ensure that the Cheetoh does not lose its characteristic sociable nature.
CHEETOH CAT PERSONALITY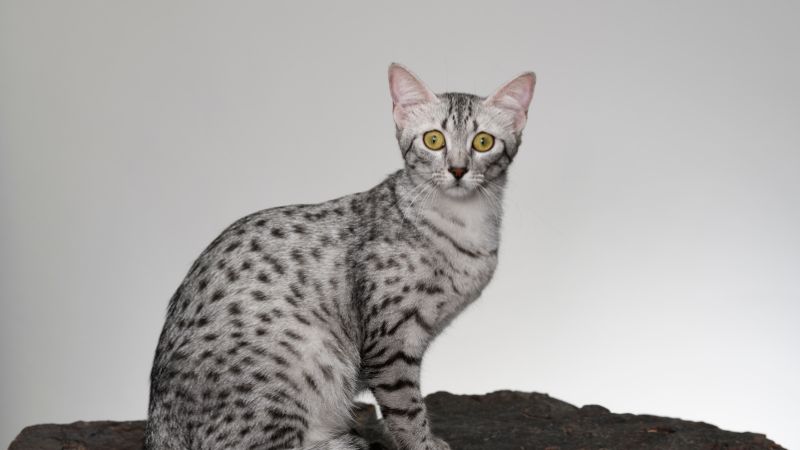 Although Cheetoh cats have a wild appearance, they are actually friendly and loyal. They like to be part of family activities, receive attention, and are generally friendly with humans and other pets.
While they love to be indoors, at times, they still feel the need to go outside and explore. Therefore, providing outdoor space for them to spend some time is better. Alternatively, you could teach them to walk on a leash and bring them outside.
The Cheetoh cats are affectionate and loving, but they are also brilliant and can be thought to follow a few instructions. Moreover, they like to play and are also active cats; for this reason, it is necessary to provide toys and cat trees.
They do not like to stay alone and demand attention from humans. So if you do not have a family with someone at home for a significant part of the day, a Cheetoh might not be the best cat to get.
Cheetoh cats like to cuddle and can be vocal if they are unsatisfied with something.
HOW TO CARE FOR AND FEED THE CHEETOH CAT
Cheetoh cats are low maintenance in general. They have short coats that don't require a lot of attention. It is just enough to brush it once in a while. This cat doesn't need a specific diet.
But since they are very active, it is essential to provide high-quality food with high protein content. Otherwise, you can perform regular grooming, such as ear cleaning, teeth cleaning, and nail trimming.
Cheetoh cats do not have a lot of medical issues, but they can have hereditary conditions that come from the Bengal cat, such as kidney or heart problems.
FREQUENTLY ASKED QUESTIONS
What is the Cheetoh cat price?
Cheetoh cats can be very expensive. It is still a new breed; although they are known worldwide, they can cost up to $2500. The price can vary depending on the breeder and the cat's age.

Are Cheetoh cats hypoallergenic?
Cheetoh cats do not shed a lot and produce almost no dander; for this reason, they can be considered hypoallergenic.

What is the Cheetoh cat's lifespan?
Cheetoh cats can live up to 15-20 years. However, proper care, high-quality food, and a good environment can help those cats live longer.

Should I get a Cheetoh cat?
Cheetoh cats are low maintenance as far as their physical aspect is concerned. However, they are demanding cats in terms of attention. If you can't dedicate time to interact with this cat, it can be problematic for it to be happy. Ideally, there is often someone at home to interact with him.
Is the Cheetoh cat good with children?
Cheetoh cats are very affectionate and loyal. They are playful and make a good companion for families with children. They are also curious, so kids can have fun playing with this cat.