AMERICAN BOBTAIL CAT PERSONALITY AND BREED (ALL YOU NEED TO KNOW)
Are you wondering what the American Bobtail cat personality is? The American Bobtail's tail measures half, or even a third, that of an ordinary domestic cat because the purpose that led to its birth was to create a markedly wild-looking breed.
Also, the size emphasizes a truly remarkable physiognomy. At a glance, this cat has a wild look and friendly nature, can be bred in many colors, and is very active.
Let's know more about the American Bobtail cat personality and breed.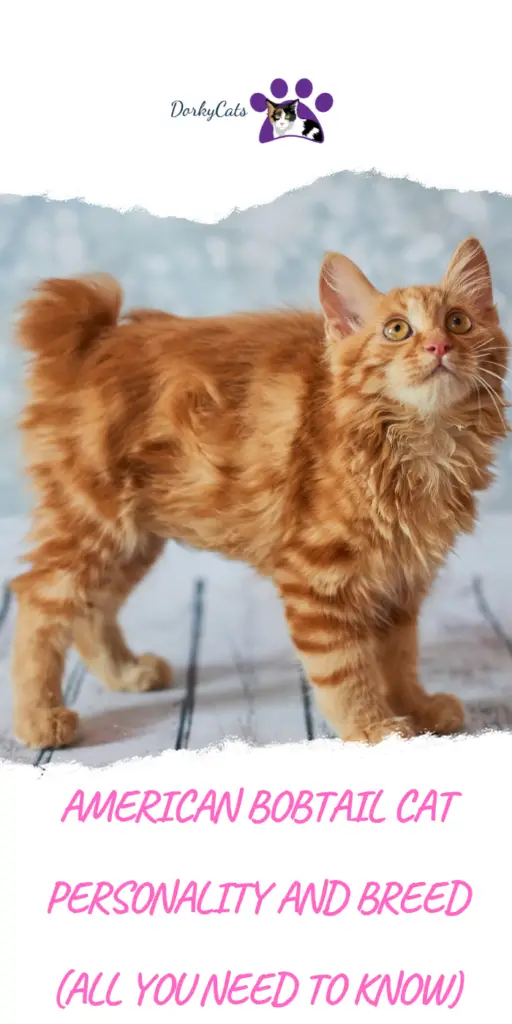 WHAT IS THE AMERICAN BOBTAIL CAT GENERAL ASPECT AND SIZE?
This cat, with a funny, stubby, rounded tail, is very rare outside the country of origin: the United States. The breed could have originated from a crossing between a domestic cat and bobcat, although it is not fully confirmed.
In the design of the mantle of the American Bobcat, there is a hint of a spotted tabby design.
The dimensions of this breed affect the development and growth of these cats. Like other large breeds, the American Bobtail has a slow development. To reach its final size, it takes two to three years.
▷ The American Bobtail's eye color is closely connected to the color of his soft coat.
CHARACTERISTICS OF THE AMERICAN BOBTAIL CAT
Characteristic
Description
Notes
In summary
Very unusual breed
At the moment
it breeds only in North America
Personality
Wild cat appearance but
with a personality
similar to a domestic feline
Appearance
The relative lack of a tail is
an evident characteristic
typical of the breed
The tabby marking
strengthens the wild
look of this cat
In the house
Intelligent companion,
self-confident
on many occasions
Playful and similar
to dogs when there
are toys to bring back

Behavior
Active and dynamic nature,
he has no problem being
caressed
Grooming
The long-haired version
needs more brushing, but
the coat is not difficult to
take care of
Most common health
problems
Sometimes specimens
are born without a tail and
with the short spine
Size
Medium-large, from 3 to 9 kg
Ears
Of medium size,
rounded tips, and well-spaced
Eyes
Oval in shape and rather large
Head
Wedge-shaped,
with rounded lines,
a straight profile, and full cheeks
Paws
Of medium length,
muscular, oval feet, and quite large
Coat
Of medium length,
rough to the touch, soft and elastic
Admitted colors
All basic color varieties
and tabby drawings
▷ The severed tail probably comes from a natural genetic mutation, but according to some, it could be due to a common gene with the British Manx.
The tail must not exceed in extension the height of the hocks.
THE AMERICAN BOBTAIL CAT'S TAIL
Genetic studies have shown that the American Bobtail breed has absolutely nothing to do with the Japanese Bobtail. Where the tail of the latter is the result of a recessive trait, this is why mating this cat with another cat with a normal tail won't produce any other Bobtails in the first generation.
The mutation that gave rise to the American Bobtail is dominant. So mating one of these Bobtails with an ordinary cat should result in a certain percentage of cats with severed tails.
WHAT IS THE HISTORY OF THE AMERICAN BOBTAIL CAT?
This breed originated from a kitten found by two Iowa spouses, John and Brenda Sanders, on a Native American reservation in Arizona. The two brought home the abandoned kitten and took care of it, allowing him to mate with a Siamese.
The intention was to create a stump-tailed breed but with the appearance of the Snowshoe.
In actual fact, John and Brenda were successful, and from that time, the breeders preferred to concentrate on creating a large domestic and wild-looking feline.
In addition, there was no evidence to suggest the use of a Bobcat (Lynx rufus) during the initial development phase.
Most American Bobtails cats are short-haired, which allows for the presence of tabby brands. However, individuals with semi-long hair are also born with a certain regularity.
WHAT IS THE ORIGIN OF THE AMERICAN BOBTAIL CAT?
The American Bobtail is descended from a little stray found near an Indian reservation in Arizona, United States. In 1965, Mr. and Mrs. Sanders noted this kitten with a funny short twisted tail on the back, and they decided to adopt it.
They coupled the kitten with a seal point female Siamese, and from this intersection, a gorgeous cream-colored kitten was born, which presented the same peculiar docked tail.
It was therefore deduced that the gene responsible for the mutation was dominant. As a result, the first example of an American Bobtail had short hair.
To give this breed the soft semi-long coat and an even more comprehensive range of coloring, the Himalayans, Burmese, and crosses between Himamalayans and Siamese were introduced in the selective processes.
TICA officially recognized the American Bobtail in 1988 and the CFA in 1990. However, even if hard to believe, the American Bobtail race has no connection with the Japanese Bobtail.
The new millennium finally sees the unanimous and definitive acceptance of the American Bobtail even in European cat shows, but only for specimens that present a real cropped tail, which does not exceed hocks but extends just above.
AMERICAN BOBTAIL CAT PERSONALITY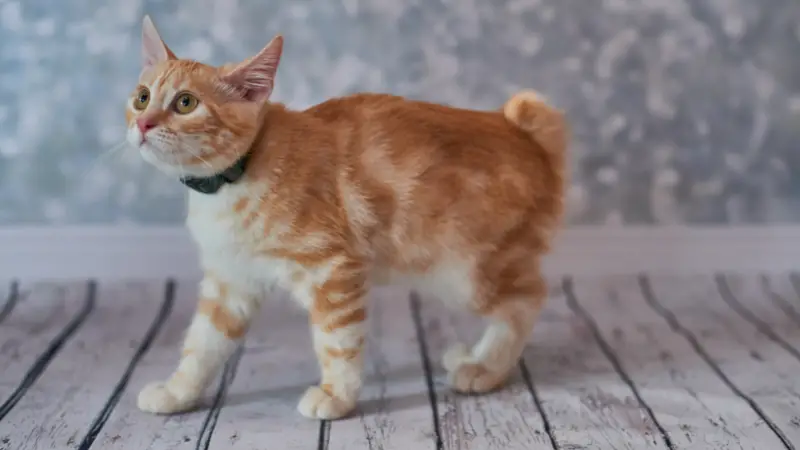 The American Bobtail is a very attractive cat, but he binds deeply to all the family members, unlike other breeds. Despite the friendly character, this cat usually seems rather shy and wary towards strangers.
AN ADVICE
If you have to be away from home for many hours, always ensure that he has a wide range of toys available and things to have fun with so that your American Bobtail is not getting bored and decides to make some trouble.
He likes to be an integral part of family life and constantly requires the attention of their masters. He lives well in the apartment, but you should not miss providing a garden or open spaces where he can vent his desire to play.
One can say this breed is quite lively but not hyperactive like, for example, the Abyssinian.
AN ADVICE
If you decide to adopt an American Bobtail kitten, know that this breed is not very widespread in Italy and Europe, and you could encounter very long waiting times or turn to overseas breeders.
While suitable for life in an apartment, the American Bobtail also needs open spaces.
CARE AND FEEDING OF THE AMERICAN BOBTAIL CAT
A particularly robust coat characterizes the American Bobtail; therefore, both the short and long-haired do not need complicated grooming. One pass with a soft brush once a week is enough to keep a clean and shiny coat.
The ears need to be cleaned gently with specific products. The American Bobtail does not require a refined diet; it's enough to avoid meals that are too high in calories or seasoned.
A diet based on fresh meat and fish, rice, and vegetables are ideal if you prefer to make homemade food; alternately, first-choice packaged foods are fine.
The American Bobtail has poor health. The gene responsible for the severed tail often causes several health problems in this breed.
The American Bobtail, in fact, can be affected by hip dysplasia or be born with a spine shorter than usual. The American Bobtail also suffers from skin problems such as dermatitis.
FREQUENTLY ASKED QUESTIONS
What is the American Bobtail cat price?
American Bobtail cats can be pretty expensive. One can expect to spend up to $1200 to adopt one of these cats. But, of course, the price depends on the breeder, the kitten's age, and the breed's purity.

What is the American Bobtail lifespan?
The American Bobtail can live up to 18 years. The length of the life of those cats can be extended with proper care, food, and an excellent environment to live in.

Are American Bobtail cats rare to find?
American Bobtail cats are rare; it is possible to find them in the U.S and Canada, and they are difficult to find in Europe or other countries.

Are American Bobtail cats aggressive?
America Bobtail cats are not aggressive. On the contrary, they are amiable cats that can bond deeply with their owners and family members.

Do American Bobtail cats talk a lot?
American Bobtail cats are not very talkative, but you can expect them to meow to attract the owner's attention and to show affection.