CAN OUTDOOR CATS SMELL INDOOR CATS? HOW TO DEAL WITH IT
Can outdoor cats smell indoor cats? If you have a cat that goes crazy when another cat comes near the house, you may have realized that the sense of smell of feline can arrive really far. However, maybe you will not realize immediately that your cat has a strange behavior due to the presence of another cat.
Outdoor cats can smell indoor cats and also see them. When an outdoor cat smells or sees another cat inside a house, he will try to get closer or even access the house. It happens mainly in the case of a male cat with a female cat or a female cat with a male cat and during a heat period.
Let's see the best course of action in the case of a house cat being bothered by an outdoor cat.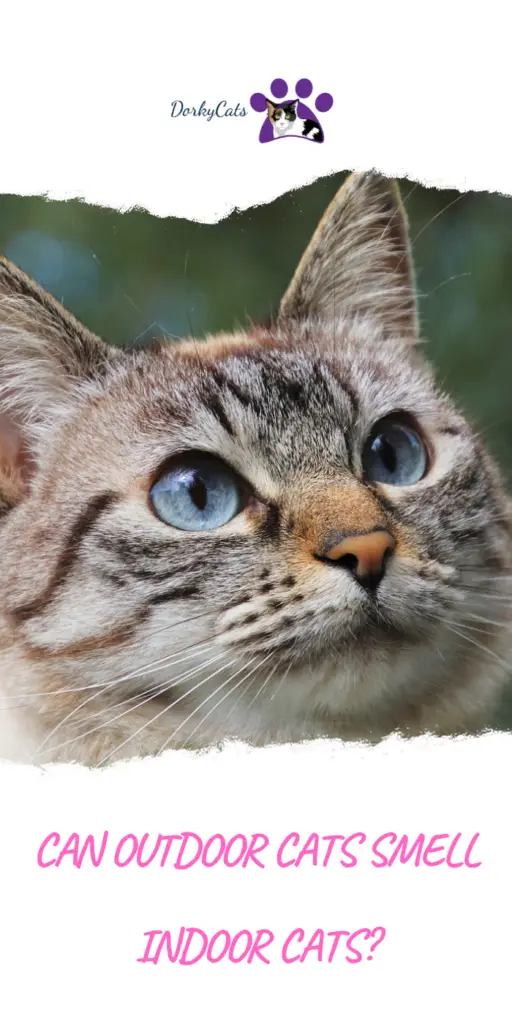 WHY ARE SO MANY CATS COMING TO MY HOUSE AND VISITING MY NEW CAT?
In general, male cats are looking for a female cat to mate or the other way around. However, it can also be that a male cat smells the presence of another male cat and assumes that he is invading his territory.
In this case, stray cats may try to assert their supremacy, and if they come in contact with your cat, it will be a fight.
If you moved in a new house or if you just got a cat, the chances are that stray cats living in your area were able to smell the presence of the new cat by the smell of the used litter coming through your garbage and through marks left near your house, if you let your cat go out from time to time.
In these cases, it is possible to see many cats coming to your house to try to contact your cat through a window or even entering the house. In addition, since they smell the presence of your cat, they can vocalize calling him or her out and even try to mark the territory.
On the other side, your new cat can become upset when spotting the presence of another cat from the window and can start behaving destructively, or at least in a very agitated way.
CAN OUTDOOR CATS SMELL INDOOR CATS?
Cats' sense of smell is superior to humans' sense of smell. It can be up to 16 times higher. So your cat going shortly out of the house and rubbing some body parts around the environment is already enough for a stray cat to detect another feline presence.
Cats have between 45 and 200 million odor cells on their nose and have scent organs in the roof of their mouth, and can detect small particles even with a bit of breeze of wind. Cats can also spot your indoor cat through a window and try to get close and interact.
In addition, male cats can even sense if your female cat is in heat and will stay around your house until they feel that the heat period is over. During this time, cats will roam around the house to get to your female cat.
Beware of open windows or doors because stray cats are very agile and can try everything to get into your house.
WHAT HAPPENS WHEN A CAT SEES ANOTHER CAT?
When your cat sees another cat roaming around the house, there are several reactions you can expect. Here are some things your cat can do once another cat is seen through the window:
Pacing back and forth
Exitment
Nervousness
Growling and hissing
Aggression
Cats can become upsets by seeing another cat invading their territory. You could see their fur fluffing up, and they can start hissing, growling. They can become aggressive even with other house pets or with you.
If they manage to get out of the house and meet the stray cat, it can result in a fight. But, on the other hand, some cats also get excited to see another cat and are curious to meet a new friend in the hope of finding someone to play with.
Indoor cats, catching a stray cat outside the window can vocalize and call the other cat, and so a stray cat can do the same. Your cat can decide to mark territory and spray around the house, and so can do stray cats outside, which can make your home and your surroundings smelly.
Your indoor cat will smell the urine of the outside cat and will keep being agitated. But, of course, the contrary is also true. In other words, indoor cats' and stray cats' encounters can be very messy.
STRAY CAT BOTHERING MY CAT – WHAT TO DO?
If you have a stray cat that constantly comes around to bother your cat, you may need to intervene to make sure your cat is not getting stressed or behaving violently.
Here are some strategies you can use to stop a stray cat from disturbing your cat:
1. SPAY OR NEUTER YOUR CAT
If your house cat is fixed, there are fewer chances for a weird or aggressive behavior to develop from seeing another cat. Your cat may not spay around the house, although it can still become upset and territorial. In addition, a female cat or a male cat that is not intact anymore is less attractive to other cats because fewer pheromones spread around the environment.
2. PREVENT STRAY CATS TO APPROACH THE HOUSE AND HELP THEM
You could also try to use fences or other means to keep stray cats away from your house so they do not upset your cat. However, if stray cats are around, they may also need help or assistance. Or maybe are someone else cat that got lost.
You could try the local shelter or animal groups to capture the cat and relocate them to a family. Or that at least can spray or neuter them and then rerelease them. They can also check if those cats have a microchip and belong to someone.
You can also try preventing any form of invasion of your house and yard by using a motion sensor that activates sprinklers to scare cats and other animals off. Of course, you can use modern technology too, like ultrasonic devices and more.
3. MOVE YOUR HOUSE CAT TO ANOTHER WINDOW
You can also try to move your cat to another window and cover the view of the stray cat. But, again, it may be fast and easy handling to calm down your cat. It may not be possible at all times, but it can serve the purpose at least momentarily.
4. CAN YOUR CAT BECOME FRIEND WITH OTHER CATS?
There are rare instances where a stray cat is not aggressive, and your cat can get along with strangers. But, unfortunately, it is a rare occurrence. It is more probable they are going to fight. But if they are friends and like to keep each other company, you could think about adopting an outdoor cat.
I know of some sweet cats becoming friends with entirely unknown cats. But, again, it is not that common.
5. KEEP YOUR CAT INDOOR
If your cat used to go out from time to time, keep them indoors until you sort out the situation with the stray cat coming near your house. In this way, you can keep your cat safe from a possible fight or any other danger.
FREQUENTLY ASKED QEUSTIONS
Why is a stray cat attacking my cat?
Stray cats can be attacking your cat because they think that your cat is invading their territory. Typically, it is about supremacy and owning the space. However, stray cats can also be upset for other reasons, like being in pain or hungry and thus aggressive.

Why is my cat meowing at a cat outside?
Your cat can meow at other cats outside because of the excitement of seeing another cat/ But also because of the upset that another cat entered his territory, because he wants to play, and because he may want to mate.

Can cats smell other cats outside?
As outside cats can smell inside cats, it is true the other way around. Indoor cats can smell the presence of other cats outside, not only see them. This is because cats' sense of smell is acute, and they can perceive things from a considerable distance.