Why is my cat so affectionate in the morning? If you have cats, you know that the morning is a critical period for them. In fact, it is when we get to have their undivided attention.
Cats are normally more affectionate in the morning because that is the time of the day when they are more active; they do not see you for several hours and wants to get some attention from you, like cuddles, scratches, warm, and be with you for a while to enjoy the company and the love. They are also eager for you to get up so that you can finally feed them.
Let's dive into it.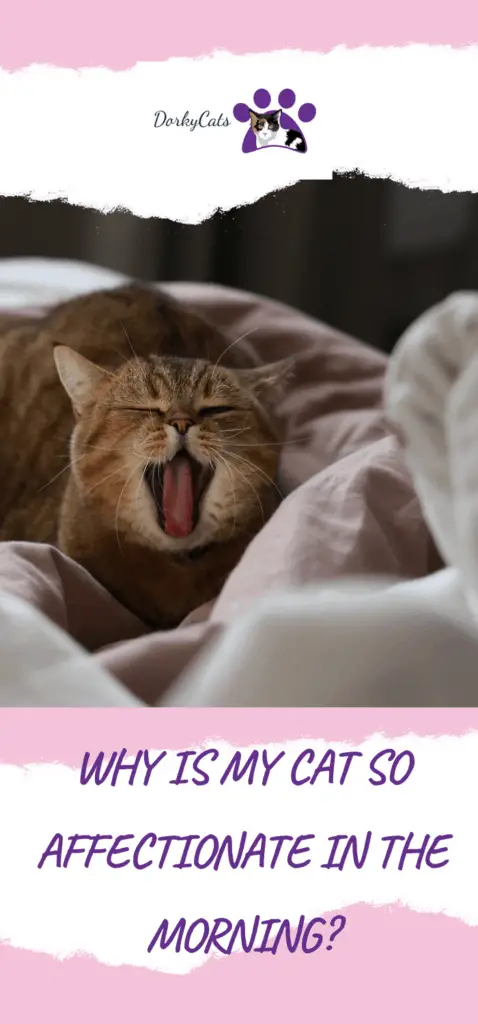 WHY IS MY CAT SO AFFECTIONATE IN THE MORNING?
Cats are morning people. If you have a cat, you have to know that this is an absolute habit for a cat; he will come to wake you up in the morning. I know that some people are complaining because they are not allowed to sleep in or sleep at all in the morning. Well, we say, "You got the bicycle, now you have to ride it," or "You made your bed, now lie in it," or "Be careful what you wish for!".
My cats use to come in the morning to wake me up; one is swinging at me, telling me to get up and feed him basically, the other one comes and purr like crazy, sleeps on me, kiss me, want to be petted, and she doesn't mind to cuddle for 20 to 30 minutes enjoying the cuddle.
The cat that is now swinging at me in the morning used to come on me and purr like crazy too; he likes to get scratches and cuddles as well. But since when I got a second cat, he doesn't do that anymore. He usually comes, pokes me in the face. I usually scratch him anyway under the chin, and he likes it. He usually starts to sleep on sit next to me to get the scratches. If I do not stand up, he will sleep next to my head. So I have two cats to scratch now.
The morning are my favorite times because my cats are coming to cuddle and give me love. I really like those 20 or 30 minutes of purring and kisses. At the early times with my first cat, I would get upset if he would not come in the morning to wake me and be with me for a bit. After all, why am I feeding them if I can't get love?
Anyway, why is my cat so affectionate in the morning?
HE WANTS TO AFFECTION
I know many people say that cats want only to be fed, which is why they come in the morning purring and cuddling because they want you to feed them. Yes and no. I do think that they really want your company and affection as well.
You have been sleeping for many hours, and they are somehow wondering what is up with you. They have been alone for so long now they need some scratches and cuddles. If I do not wake up immediately, they stay for pets and cuddles and may start sleeping with me. Therefore I know it is not only food.
I also leave out food for them at night, the dry food to eat if hungry. They definitively need affection.
THEY WONDER WHAT'S UP WITH YOU
I realized that cats become worried, not sure it is the right word when you are long in bed, not moving. There have been days that I have been sleeping in, or sometimes I napped in the afternoon; my cat could not have it.
If I started sleeping for a few hours longer or in the afternoon, he would come around my face, push me with his paws, smelling me. It looked like he was checking me up. Of course, I cannot be sure, but the way he moved around me made me think about it.
FOOD OF COURSE
True, they want food as well. In the morning, my cats like me give them the wet food; when they see me standing up, the first thing they do is run near the food bowl, meowing. Really funny, if I don't give them food, they both stand there, near the food bowl, staring at it, or me, waiting that food materialize magically,
Sometimes one of my cats literally swings at me to wake up if I dare not feed him in time. I do not really need an alarm clock with them.
OPEN THE FRONT DOOR
Some of the mornings, my cat wants me to open him the door to go out. Instead of going for the food bowl, he goes straight for the door. In summer, I do not mind opening him the door. In winter, it is a bit different. In any case, cats may want you to stand up because they want to go out.
It can be that your cat wants to take a tour and look at the birds, that time in the morning for them is the best for hunting. They could come to cuddle and purr, so you stand up to open them the door. They can even kiss you in the face. In the morning, cats are very gentle. I think it also depends on the fact that we are sleeping and feel more comfortable interacting.
My cats can be affectionate also through the day, it happens they come purring, but in the morning, they allow me an extended time and the green light to their belly and infinite cuddles. I take advantage of it.
I look forward to those moments. Why is my cat so affectionate in the morning? Besides the above reason, I think that they really haven't seen me for many hours and truly they are happy to spend some time with me at the beginning of their day.
You have more answers for: Why is my cat so affectionate in the morning? Let us know in the comments below.
I can see that it can be annoying when you are trying to sleep to have the cat constantly waking you up. Mornings are the best sleepy hours. I am a cat person, and I totally love it. What about the one who does not like it?
HOW DO I STOP MY CAT FROM WAKING ME UP?
I am the worse person to give you advice on this since I demand my cats come and wake me up in the morning, or I fire them! However, there have been mornings and times when I did not want to stand up and sleep in. So there are some things you can do to let your cat know that he has to wait or he should not wake you up.
1.DO NOT STAND UP
Normally, cats give up and sleep next to you or go away if you do not stand up. If my cats have no success in getting me out of bed, they settle for sleeping next to me and waiting that I finally decide. Some cats are more insistent than others. If you want to teach them not to wake you up at all, never stand up when they want. With repetition, they will learn that it is not a good technique.
2.LEAVE FOOD OUT
It is not a guarantee that your cat will not be affectionate in the morning and come to you anyway. But it can delay your cat alarm clock! Instead of waking you up at 5 am, let's say he will come at 7 am. Ahah!
My cats have food and can eat when they want. If I do stand up in the morning, they can go and eat it, they still come for cuddles, but if I keep sleeping, they sleep next to me waiting. Cats are very patient creatures; they will stalk you even when you sleep.
3. A LITTLE BIT OF SCRATCHES
If nothing else works, when your cat is coming purring in the morning, giving some cuddles, and then continue sleeping, he will be happy and possibly sleep as well next to you somewhere in the bed.
4. TRAIN HIM
This is the longer route, teach your cats commands like NO, associating this with stopping him from doing things. My cats know the word NO, and they would stop in their track if I tell them. It takes a bit of training and interaction, but after a while, they come to understand. If you have a Maine Coon cat, it is even easier.
---
Here some idea of natural cat treats to make your cat happy
Preview
Product
Vital Cat Freeze-Dried All-Natural Minnows Cat Treats, 0.5...
Greenies FELINE GREENIES SMARTBITES Healthy Skin and Fur Cat...
Wildly Natural Cat Treat Variety Pack with Chicken, Tuna and...
WELLNESS Kittles Natural Grain Free Cat Treats, Tuna &...
ORIJEN Freeze Dried Cat Treats, Grain Free, Natural & Raw...
Preview
Product
Vital Cat Freeze-Dried All-Natural Minnows Cat Treats, 0.5...
Preview
Product
Greenies FELINE GREENIES SMARTBITES Healthy Skin and Fur Cat...
Preview
Product
Wildly Natural Cat Treat Variety Pack with Chicken, Tuna and...
Preview
Product
WELLNESS Kittles Natural Grain Free Cat Treats, Tuna &...
Preview
Product
ORIJEN Freeze Dried Cat Treats, Grain Free, Natural & Raw...
---
5. CLOSED DOOR
Leaving the cat in another room can create an opposite effect. If you really cannot have your cat coming to you in the morning, you can train your cat to not scratch or try to open the door; after a while, he will know not to do it. But know that closed-door are attracting cats like crazy, so at first, he may be all over the closed door, especially if you are on the other side.
RELATED QUESTIONS
Here some related questions for " Why is my cat so affectionate in the morning?" and related answers:
Do cats get more affectionate as they get older?
Definitively cats become more affectionate as they get older. It has been like this with all my cats, the crazy kitten period goes away, and they become calmer and more willing to let you cuddle them and be near you. One of my cats is a perfect example as when he was a kitten, he was really hyper, and I could touch him maybe a minute per day. Now he is adorable.
What time do cats usually wake up?
Cats can wake you up at different times depending on the individual cat and the situations, but to give a fair answer, they can start waking you up at 4 am. My experience is that when my cats grew up a bit more, they started waking me up later and later. Sometimes cats are just playing and decide that they do not care if they are running over you while you sleep. In this case, they are not really trying to wake you up, but they are just doing their cat things.
CONCLUSION
Why is my cat so affectionate in the morning? I think it is great they do, I know some people do not like it, but cats comes with a whole package of things. If you have any questions, leave it in the comments below.