MY CAT LICKS ME WHEN I PET HIM? NAUGHTY CATS?
My cat licks me when I pet him in most cases. Do you have a cat that starts licking you when you rub him? Have you wondered why cats do it? Let's find out.
When you pet your cat, he may start licking your hand or arm as well. Cats think you are another cat or mother cat, and he is socializing with you; when cats are grooming other cats, they are friends with them, and they are part of their family. If your cat starts licking you and grooming you, it is because you are family and he likes you. He is leaving his scent on you to claim you as his property.
Let's go more into it.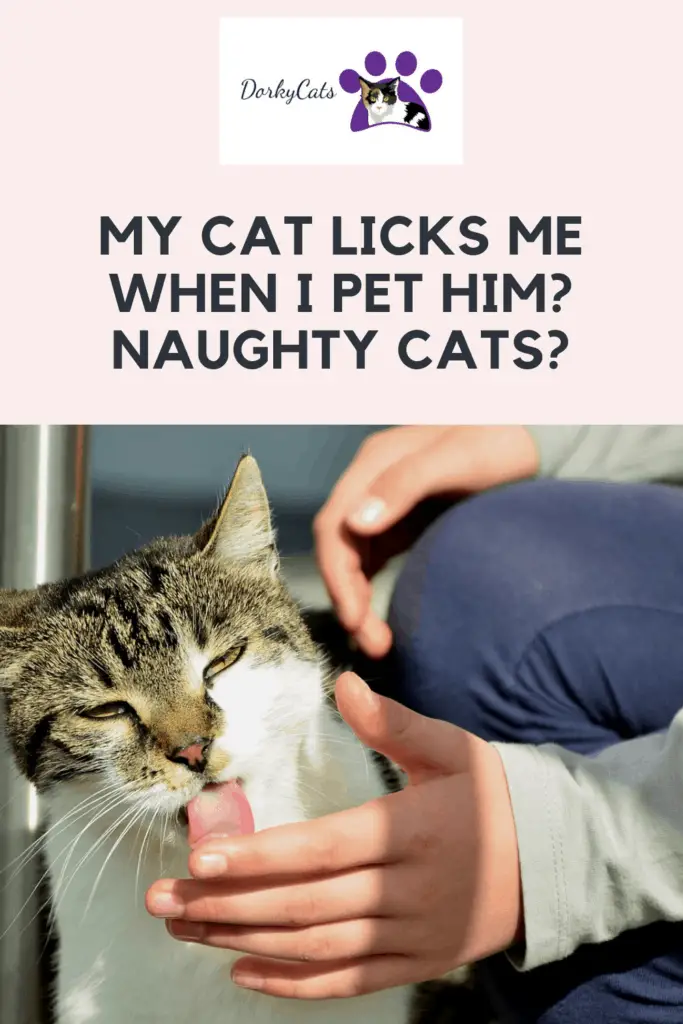 WHY MY CAT LICKS ME WHEN I PET HIM?
It has happened to me that my cat comes close and demands to be petted, I start petting him in the face and under his chin, and suddenly he starts licking my hands while I am petting him. I continue petting him in the face, and he continues the process arriving at the rest of my hand, and sometimes he arrives at my arm as well.
He goes out to town with it!
When he started doing it, I thought he was weird, but then I understood that he is thinking I am a kind of mother cat or another cat, and he is taking care of me as he would do to another cat. In fact, he does the same with the other cat, really sweet to see.
He also leaves his scent on me during the grooming process, and thus I am officially my cat's property. He likes me enough to allow me into his territory! Very nice of him!
Sometimes my cats are sleeping on me and licking and bite my hand when I pet them because they want to play. I see it specifically with kittens and younger cats, but they do it even as a grown-up.
If I pet them, they would extend their paws and start licking and biting my hand. It happens especially when they are sleeping or resting, and I come close to pet them.
Therefore my cat licks me when I pet him because:
HE IS AFFECTIONATE
HE IS PLAYING
HE IS LEAVING HIS SCENT ON ME
HE WANTS TO GROOM ME
HE WANTS TO CREATE A BOND WITH ME
Even if cats saliva is not the first thing you want to have on you, remember your cat likes you. I usually do not send him away if he does it, I may go and wash right after. He is trying to be a good cat and be nice.
If you do not like him licking you, you could continue guiding the petting instead of letting him lick you; pet him over the head where he can't reach you with his tongue. In this way, you are not kicking him out and can show affection back without being licked all over.
WHY MY CAT LICKS ME WHEN I PET HIM AND BITES ME?
You may have experienced your cat licks and bites when you pet him, normally are soft bites, called love bites. Why cats would do that?
If they are in the process of licking you while petting and they are grooming you, they could gently bite you as part of the grooming process. Sometimes cats grab your hand and bite you while petting them as part of the play, they think they are playing with you.
Sometimes those love bites and play bites can be painful because your cat is now adult, and his teeth are pretty sharp. In other words, your cat is not a kitten anymore, but he doesn't realize that. Therefore he keeps on his behavior.
While engaging in grooming and love bites, your cat may grab your hand or arm with his paws, sometimes using his claws. This can also be painful as your cat doesn't realize that his claws are also very sharp.
Either way, your cat doesn't want to harm you. He is just lovely; pay attention to the fact that this can happen, and you should teach your cat not to use his claws or be more gentle. I do it by touching his paws with the other hand and making him take his paws back. Not always, he does that, so be careful what you do with your hands if you do not want to be scratched.
RELATED QUESTIONS
Here some related questions to " Why my cat licks me when I pet him?" and related answers:
Should I let my cat lick me?
If your cat is licking you is mainly a festive sing, he is affectionate, and he loves you. That is how cats show their affection. If you mistreat them or scold them because they are licking you, they may think you do not like them.
It doesn't mean you should let them lick you if you do not like it or want it, you can pet him or kiss them or gently take their attention off your hands' grooming. If you should let them lick you, it is up to you, really.
If your cat is healthy, living indoor, and vaccinated, there are no dangers in your cat licking you. If you are dealing with a cat you do not know, and you may be more careful about it.
Why does my cat lick me when we cuddle?
If your cat licks you when you are cuddling, it is a clear sign of affection and love. He likes you and wants to share some good time with you. It is a nice gesture. Your cat is lovely.
Why is my cat obsessed with my fingers?
Cats like to play with moving things, especially kittens. I have a kitten, and she likes to stand on me and bite my moving fingers even if I pet her, cats things fingers are toys. If you dealt with cats, you know that they like to play with moving hands, especially when very young. Somehow your hands are a great toy for cats!
My cat licks me when I pet him and attacks my hands if I move them too fast.
CONCLUSION
Why my cat licks me when I pet him? I hope we were able to answer your questions. If you want to add anything, leave it in the comments below.
Read also: WHY DOES MY CAT SLEEP ON MY SPOT? OBSESSION?