DO CATS BREATHE FAST WHEN HOT?
Do cats breathe fast when hot? Have you experienced your cat breathing really fast, even if not moving? When it is really hot, they sound like they are running a marathon and can be concerning to cat owners. How to know if they are ok and how to help them?
When cats are exposed to excessive heat, they may start panting, meaning they breathe with the mouth opened and very fast. The action of panting enables cats to regulate their temperature when it is too hot. It is obvious when the heat is the cause of panting in cats since they do it when they are exposed to it. If they start panting when exposed to heat, you have to intervene.
Let's see what we can do to help out cats.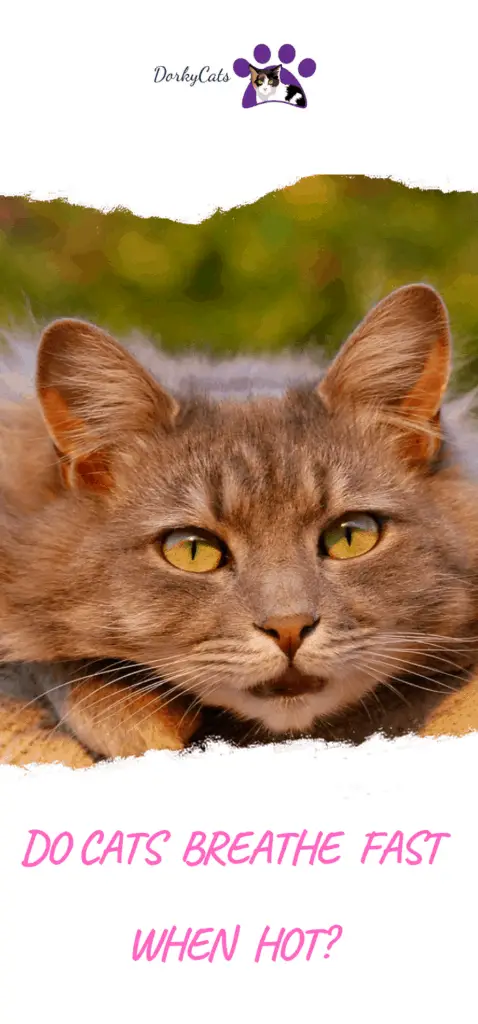 DO CATS BREATHE FAST WHEN HOT?
I realized cats are panting when exposed to heat when I went to adopt my second cat; she was a beautiful 3 months old kitten. I went to the shelter and picked her up, I placed her in a carrier, and I had to walk for a while to reach the car.
Halfway through, I observed that she started panting and breathing really fast. She was sitting in the carrier, but still, she was panting.
It was a hot day. I was sweating a lot. I did not think that the little kitten would have a problem is sitting in the carrier in the shade. Therefore I had to stop and enter another shop to cool down the kitten before arriving at the destination.
Inside the shop, she stopped panting. We were in the fresh air conditioning. Therefore it is important to cool down cats in any way possible to make them stop panting.
Hot temperatures, going into the sun can make cats breathe fast and pant; this is their way to cool down.  The rapid breathing allows saliva to evaporate from their tongue and allows them to cool down. Cats use other expedients to cool down when it is hot, like grooming themselves and sweat through the glands in their paws.
It is clear when cats start panting due to the heat and not because of other reasons. You have to pay attention to heat strokes and make sure your cat cool down if it is too hot. However, cats can breathe really fast also for other reasons.
PREVENT AND RESOLVE CATS HEAT STROKES
When cats are overexposed to hot weather, they may get a heat stroke. It can be really dangerous for cats to get into such a situation. Therefore we have to know the signs of heat strokes and what to do if you notice it.
Cats, especially indoor cats, are less subject to heat strokes; they can find places in the house where it is cool and place themselves on it. Since cats are not used to go out on a walk, they are also subject to minimal danger.
However, even if in the house, they may suffer a lot from the hot weather in summer, so you have to develop ways to keep your cat cool.
PREVENT CATS HEAT STROKE
Here some things that can be done to keep a cat cool in summer and hot weather:
DO NOT LET THE CAT OUT IF IT IS TOO HOT
AIR CONDITIONING IF POSSIBLE
SET UP PLACES THAT YOUR CAT CAN USE THAT PROVIDE SHADE
HAVE HIM PLAY WITH ICE FROM TIME TO TIME
PROVIDE PLENTY OR WATER OR A WATER FOUNTAIN TO MAKE HIM DRINK MORE
WET TOWEL
ICE UNDER PACKS UNDER HIS BED
SIGNS OF HEAT STOKE IN CATS
Heres some signs and symptoms of heat stroke and overheating in cats:
Unusually rapid panting with the tongue hanging out.
Lethargy.
Unwillingness to move.
Dehydration.
Rapid or irregular heartbeat.
Difficulty urinating.
Black or tar-like stool.
Vomiting and diarrhea.
Uncoordinated movements and muscle weakness.
Dizziness or stupor.
Glazed eyes.
Thick saliva.
Dark red or very pale discoloration of moist tissues (gums and tongue)
Vomiting blood.
Bloody stool.
Sudden breathing distress, possibly with fluid in the lungs.
Muscle tremors and seizures.
Shock.
In case your cat presents symptoms of a heat stroke, you have to lower the body temperature. It has to be done gradually. It would help if you did not try to make them cold too fast. You have to do it or go into a greater shock gradually.
You can start bringing them to a cool place. Try wet the tip of their paws and mouth. You may try using a wet cloth on their fur to make them cool off. If you see they do not respond, get to the vet.
If you see that it is too hot, supervise your cat to make sure he will not get into a situation where he can get a heat stroke. There can be bad consequences for internal organs if cats are not helped promptly.
DO CATS BREATHE FAST WHEN HOT? OR THERE ARE OTHER REASONS?
There can be other reasons for rapid breathing in cats, not coming from high temperatures. Some possible causes include:
Allergies
Anemia
Emotional distress
Exertion
Heart Disease
Heat
Pain
Pleural effusion (abnormal accumulation of fluid within the chest cavity)
Pulmonary edema (lungs filling with fluid) 
Foreign objects lodged in windpipe or other airway obstruction.
Respiratory infections
Trauma, exposure to toxins, or injury
Tumors in chest or throat
A stressed cat can breathe too fast, and so a cat that is getting too much heat. Normally those are the most common reasons, but if you see that your cat is doing it often and there is no sign of heat or stress, it is necessary to go to the vet.
A hot, stressed, or active cat may exhibit rapid breathing, but this should decrease after a few minutes. If it doesn't happen, it may be an emergency to address immediately with medical attention.
RELATED QUESTIONS
Here some related questions to "Do cats breathe fast when hot?" and related answers:
What indoor temperature is too hot for cats?
Over 25 degrees Celcius or 75 degrees Fahrenheit, it may be bee too much for cats already. In summer, cats often seek cool places, like tiles to sit on or shade. I used to live in Nevada, Las Vegas. It is brutal in summer. When I left to go to work, I would leave the air conditioning on for my cats. I would set it between 70 degrees to 75.
How can I keep my cat cool in the summer without AC?
If there isn't any AC, it is important to provide places where a cat can cool off; usually, my cat would go into the bathroom and cool off on the tiles.
Keep blinds on to prevent the sun from coming in can help, use ventilators to make the air moving, use some ice for the cat so he can play with. Wet towels to lower the cat temperature. Similar methods and things can help to keep cats cool. It is better not to make the cat run or exercise too much in hot weather. He may start panting very soon.
What Is Normal Breathing (Respiratory Rate) in a Cat?
It is 15 to 30 breaths per minute when resting calmly or sleeping.
Should I leave AC on for cat?
Yes. I can't imagine my cat standing in the house with no AC when it is really too hot. I would have a problem, and cats do too. Unfortunately, one has to think about it when adopting a cat or any other pet. It is part of the costs.
Is it normal for a cat to pant in hot weather?
Yes, cats can pant in hot weather, especially if they are playing or running. Some cats can pant in hot weather even if they are not running. If it is too hot and they are panting, the weather is the reason.
What weather is too hot for cats?
If the temperature goes over 100 degrees Fahrenheit you should start worrying for your cat health. Move your cat in cooler place and make sure he is not getting an heat stroke.
CONCLUSION
Do cats breathe fast when hot? I hope you found all the answers you needed, if you have any question leave it in the comments below.